Disney's new annual Flex Pass aims to ease crowding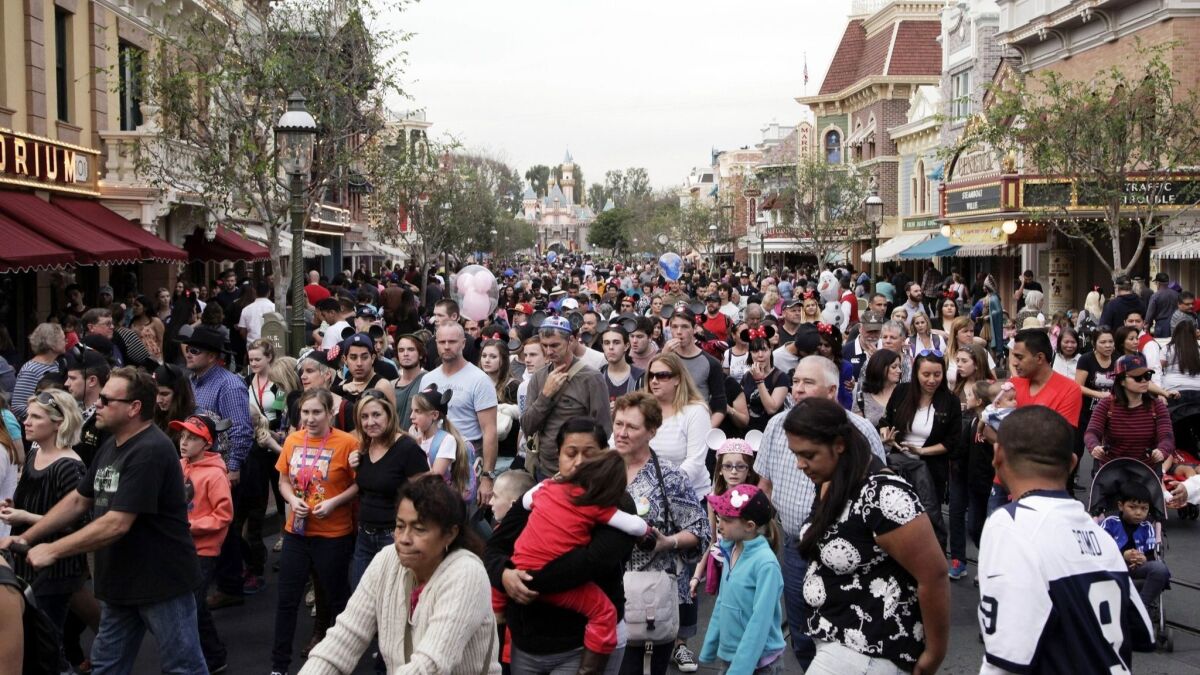 Hoping to ease crowding, Disneyland Resort is introducing an annual pass that lets visitors in on slow days but requires reservations for weekends and other popular times.
"We are trying to smooth demand," said Annika Chase, vice president of marketing and commercial strategy at the resort.
The so-called Flex Pass will go on sale May 21 for $599 and can be used with no restrictions on most Mondays through Thursdays — when demand is usually low.
But on most weekends and during the high-demand summer months, Flex Pass holders must log onto a Disneyland website or use the resort's smartphone app to book a reservation as late as the morning of the visit to Disneyland, California Adventure or both. The pass can't be used at all during two weeks surrounding Christmas.
By requiring reservations, Disneyland can regulate the number of people who enter the parks by denying access when crowds are heavy and permitting reservations when foot traffic is light, Chase said.
The new pass isn't the first effort by Walt Disney Co. to use pricing to ease crowding. In 2016, Disney began selling daily tickets that cost more on high-demand days and less on low-demand days.
After hyping a $1-billion Star Wars land, how does Disney get visitors to leave? »
Disney's biggest rival, Universal Studios Hollywood, also adopted a variable pricing system in 2016, in an effort to ease crowding before it opened the Wizarding World of Harry Potter area.
Theme parks typically don't disclose their attendance numbers, but the crowds at the Disneyland Resort don't appear to have been affected much by admission price hikes.
In January, the Disneyland Resort announced price increases of up to 25% for daily tickets, annual passes and parking. The increases came less than a year after the resort raised prices by up to 18%.
Under the latest increases, a one-day, one-park ticket for Disneyland or California Adventure park climbed to $104 from $97 for low-demand days, such as weekdays in May. That is a 7.2% increase. Meanwhile, the consumer price index for the 12-month period ended in November rose 2.2%.
A ticket for regular-demand days increased to $129 from $117, a 10.3% increase. The price of a ticket on peak-demand days jumped to $149 from $135, a 10.4% increase. Daily parking prices rose to $25 from $20 — a 25% increase.
Annual passes start at $399 for a Select Pass that bars access on more than 300 days of the year and go as high as $1,399 for a Signature Plus pass that comes with no blackout dates and free parking.
The Flex Pass will arrive less than two weeks before the May 31 opening of Disneyland's highly anticipated expansion, Star Wars: Galaxy's Edge, a $1-billion land based on the popular sci-fi franchise.
Flex Pass holders can make up to two reservations at a time, up to 30 days in advance. Each reservation is good for up to eight parkgoers who also have Flex Passes. The pass does not include parking but it offers a 10% discount on food and merchandise.
If a pass holder abuses the system by making three or more reservations in a 90-day period without showing up to the park or canceling the reservations, Chase said, Disney may block the pass holder from making reservations for a 30-day period.
"We are trying to find the right balance," she said.
To read more about the travel and tourism industries, follow @hugomartin on Twitter.
Sign up for the California Politics newsletter to get exclusive analysis from our reporters.
You may occasionally receive promotional content from the Los Angeles Times.