Hollywood bracing for a writers strike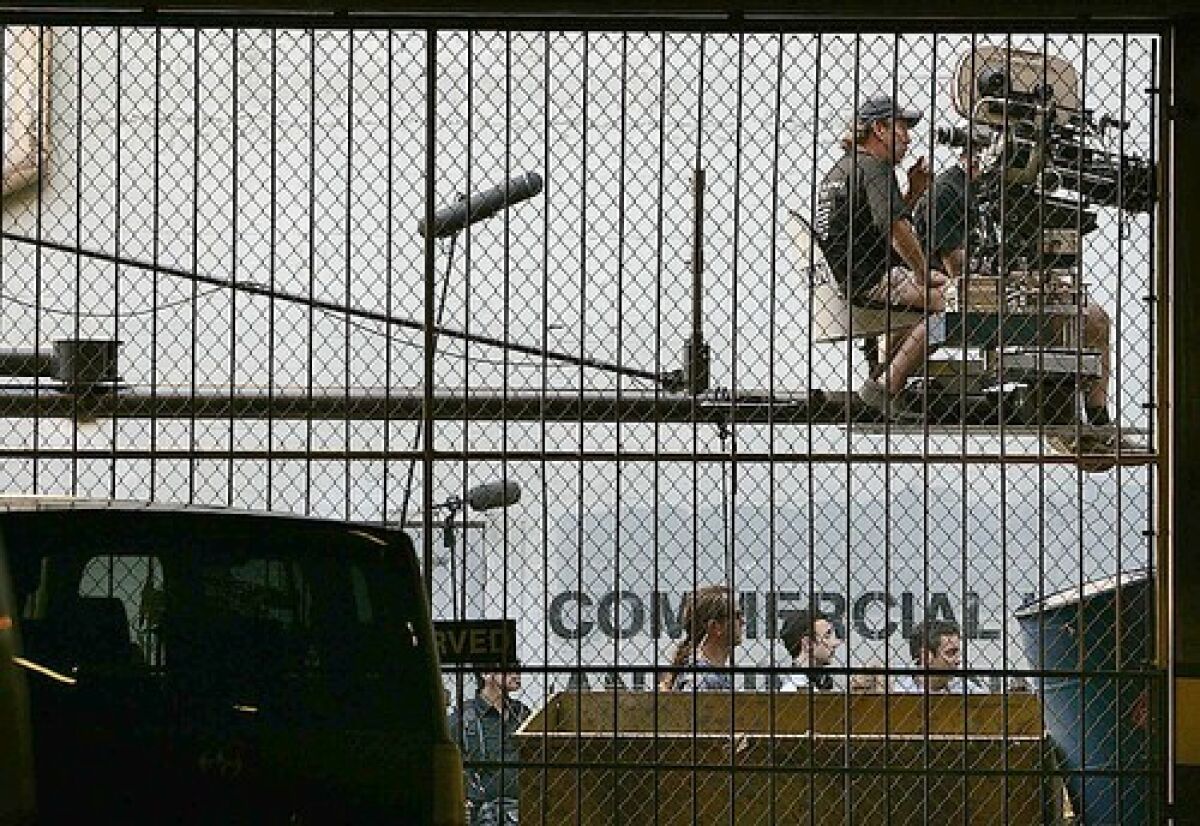 Los Angeles Times Staff Writers
Film and TV writers, actors and crew members are canceling vacations, working overtime and squirreling away savings while they still can.
Talent agencies, postproduction houses and equipment rental shops have drawn up plans to cut costs and payrolls while caterers and special-effects houses scramble to find jobs that reduce their dependence on the entertainment industry.
All over Hollywood, people are bracing for a strike.
Writers could walk out as early as Thursday if their union can't hammer out a new three-year employment contract with the studios to replace one that expires at midnight on Wednesday. The two sides were huddled Friday at the Writers Guild of America West offices in the Fairfax district to wrangle a deal but, after four hours, had made little headway. They agreed to meet with a federal mediator Tuesday, people involved said.
It would be the first writers strike in 20 years -- and, economists say, more painful than the last one, in 1988, which lasted five months. Hollywood is a more dominant force in the region today, with studios and networks part of media giants -- such as Time Warner Inc., Walt Disney Co. and News Corp. -- that have bulked up to feed an entertainment-hungry world.
The timing would be unfortunate, given the already disruptive housing downturn and, most recently, the wildfires.
"If it [cost the industry] $500 million in 1988, a slowdown of that length would have over a $1-billion impact today. I'm very concerned," Los Angeles Mayor Antonio Villaraigosa said in an interview.
Because scores of businesses rely on the industry, a long walkout would inflict pain beyond Hollywood's studio gates.
"It would affect everyone: the people who mow your lawn and those who serve you at restaurants," said Richard Riordan, who worked to avert a Hollywood labor dispute when he was mayor in 2001. "It's not just the wealthy that are going to get hurt."
The entertainment industry contributes nearly 7% -- an estimated $30 billion annually -- to Los Angles County's $442-billion economy, supporting not only studio jobs but companies tied to the industry, including hotels, restaurants, florists and even dog groomers.
Though tourism and international trade employ more people, entertainment remains L.A.'s signature industry, accounting for about 250,000 jobs and as many more that are indirectly tied to the business. That is up from about 69,000 in 1985, although certain jobs counted now were not included then.
If a strike were to occur, one of the hardest-hit sectors would be the tens of thousands of technical workers who toil behind the scenes on the sets of movies and TV shows. Electricians, camera operators and other blue-collar crews work under separate contracts and don't have a say in whether writers walk.
No one can predict how long any strike might last. Although the film and TV writers were not discussing their plan of attack, picket lines probably would form at select studios around town.
Production would not come to a halt. Writers for commercials, sports programs and reality TV would be free to work because they are not covered under the guild contract.
Filming on movies with finished screenplays would continue. Television programs with a stockpile of scripts would still be made. Networks appear to have enough shows to carry them through most of the fall TV season. However, some series could run dry as early as December.
The networks have been looking through their libraries for reruns and various unscripted programs such as game shows that they could use in the event of a prolonged strike.
The danger is that TV viewers, without their favorite shows, would turn to the Internet and other forms of entertainment that are increasingly grabbing younger audiences. "Moonlighting" never recovered after going off the air during the 1988 strike.
"Look what happened during the baseball strike," said former Warner Bros. Chairman and Dodgers CEO Bob Daly, now retired, who is no stranger to labor disputes. "Attendance was down and didn't come back right away."
In this case, he added: "The average person doesn't pick sides. They just say, 'Why can't I watch "Law & Order" and "Desperate Housewives?" ' "
The writers guild and studio representatives have made little progress since they began negotiating in July. The two sides are far apart on several issues, including extra payments when guild members' work appears on home video and is distributed via the Internet.
Further fueling labor tensions are upcoming contract talks with two other unions -- representing actors and directors -- whose contracts will end concurrently June 30. Although the Directors Guild of America probably will negotiate an early deal with studios, as it has in the past, the Screen Actors Guild -- which shares many of the writers' concerns -- is expected to engage in contentious talks.
The prospect of one or more strikes would come at a bad time for Southern California, where the local economy has been squeezed by a downturn in the housing market and the financial services industry. That helped to increase Los Angeles County's unemployment rate to 5.1% in September, up from 4.6% last year, economists said.
Even without a strike, L.A.'s economy is expected to slow next year, growing by 0.9%, down from 1.1% in 2007, according to the Los Angeles County Economic Development Corp.
"It's not the best of times for something like this to happen," said Jack Kyser, chief economist for the development organization. "If a strike lasts a few weeks, it will be a blip. If it lasts several months, it would definitely have a significant impact."
A prime-time TV program employs hundreds of people. Take Fox's spy drama "24," filmed in L.A. About 350 people work on the show and most of them are not in the writers guild. Beyond nine writers and 11 actors who are series regulars, the crew includes 35 set builders, 14 security guards, 27 people who work in transportation, 17 lighting technicians and riggers, three medics, 14 set decorators and 25 directors, production managers and others.
A drawn-out strike could throw thousands of such workers out of work and have an immediate trickle-down effect.
David Offer, a real estate broker with Prudential California Realty in Brentwood who specializes in high-end sales on the Westside, said: "At a time when the mortgage market is a mess and there are depreciating home values, we don't need any other outside forces impacting us."
In preparation for a possible strike, the studios have accelerated projects, scrambling to shoot episodes of existing series before any work stoppage. They have imposed a Wednesday deadline for writers to submit scripts.
A strike would be most disruptive to midseason programs that will begin airing in January and to next year's TV pilot season. A prolonged walkout could force networks to cancel series in advance of the February sweeps period, when station advertising prices are set.
As for movies, studios are shooting some sooner than they would have, mainly to get them completed before a possible actors strike. The studios have enough films in their pipelines to supply theaters in 2008.
---
Sign up for the California Politics newsletter to get exclusive analysis from our reporters.
You may occasionally receive promotional content from the Los Angeles Times.