Throttle on? T-Mobile to pay $48 million for misleading customers about 'unlimited' data plans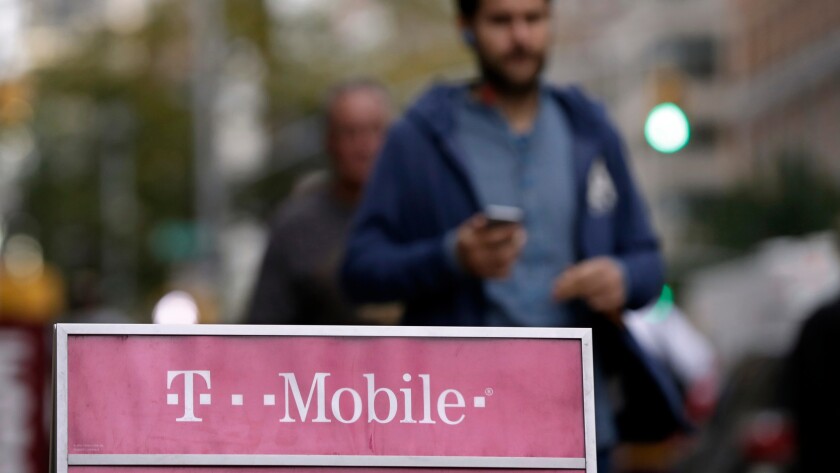 Reporting from Washington —
T-Mobile USA Inc. has agreed to pay at least $48 million for failing to tell customers that its unlimited data plans actually had some limits, the Federal Communications Commission said Wednesday.
The settlement resolves an FCC investigation that began last year into whether the company adequately disclosed that data speeds could be slowed or even halted for heavy users during periods of network congestion, the agency said.
T-Mobile agreed to pay a $7.5-million fine and provide $35.5 million in customer benefits, including a data upgrade and discounts on accessories. The company also will spend at least $5 million to improve mobile high-speed Internet access for up to 80,000 low-income public school students.
"Consumers should not have to guess whether so-called unlimited data plans contain key restrictions, like speed constraints, data caps and other material limitations," said Travis LeBlanc, head of the FCC's Enforcement Bureau.
"When broadband providers are accurate, honest and upfront in their ads and disclosures, consumers aren't surprised and they get what they've paid for," he said.
T-Mobile Chief Executive John Legere said on Twitter that it was "a good settlement" and that the company "believes more info is best for customers."
"Glad we could help schools with this solution as well," Legere also tweeted.
The settlement applies to T-Mobile's unlimited data plans and not its Binge On service, unveiled after the FCC investigation began, that exempts video and other services from data caps.
The FCC said its probe began in March 2015 after complaints from customers of T-Mobile and prepaid carrier MetroPCS, which the company had acquired about two years earlier.
Those customers "felt misled when they discovered their 'unlimited' data plan included 'de-prioritized' data speeds after using a fixed amount of data each month," the FCC said.
During times of network congestion, unlimited plan subscribers who had used more than 17 gigabytes of data in a given month — the heaviest 3% of its users — were subject to slower speeds than advertised.
"According to consumers, this policy rendered data services 'unusable' for many hours each day and substantially limited their access to data," the FCC said.
From August 2014 to June 12, 2015, T-Mobile failed to adequately disclose the restrictions to its unlimited data customers, the FCC said.
As part of the settlement, the company has agreed to improve its disclosures further, including notifying customers when their data usage approaches the threshold at which it could be slowed.
The company will offer eligible unlimited data customers two benefits.
They will get up to 20% off the regular price for any accessories, with the discount capped at $20.
In addition, T-Mobile customers will receive an automatic upgrade of 4 gigabytes of data for one month, valued at $15, which could be used over the course of a year under its "data stash" program.
MetroPCS customers automatically would get the 4GB of data to use over two months.
T-Mobile must notify eligible customers of the benefits by Dec. 15.
T-Mobile also agreed to spend at least $5 million to provide free tablets and other mobile devices to low-income public school districts to help address the "homework gap" that exists for households with no Internet access.
The schools will receive reduced-cost mobile broadband services for the devices, and students and their families will get the service at no cost.
The program is expected to start in October 2017 and enroll 20,000 students annually over four years.
Follow @JimPuzzanghera on Twitter
MORE BUSINESS NEWS
Snapchat and Facebook have a new rival in their sights: television
Airlines must refund bag fee if your luggage is delayed, Obama administration says
Aliso Canyon leak prompts feds to recommend dozens of safety changes
---
Your guide to our new economic reality.
Get our free business newsletter for insights and tips for getting by.
You may occasionally receive promotional content from the Los Angeles Times.