Workers' lawsuit accuses ritzy Terranea Resort of wage theft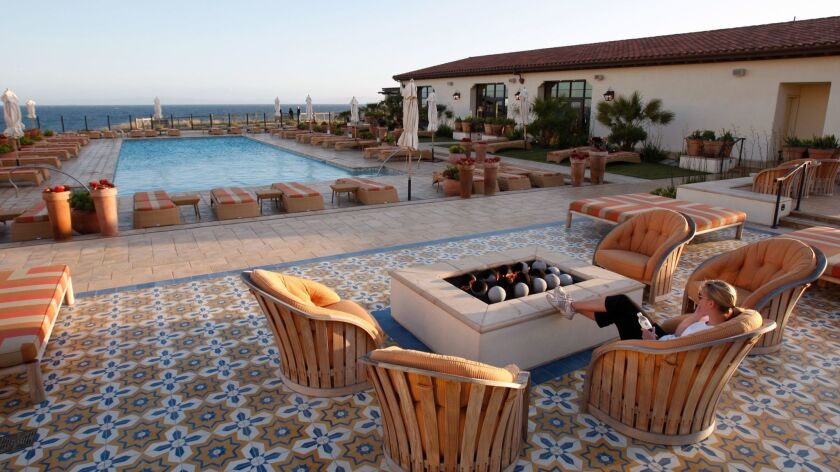 Workers at the Terranea Resort in Rancho Palos Verdes have sued the ritzy hotel, contending they aren't paid for the time they spend waiting to get uniforms before each shift and being driven on a bus from a remote parking lot.
The lawsuit, filed Thursday in Los Angeles County Superior Court, names two workers as plaintiffs. But if approved by the court, the complaint could become a class-action suit, representing about 600 employees at the resort.
The resort issued a statement, saying it had not seen the lawsuit and could not comment on the allegations.
Still, the statement said the resort "strictly adheres to and abides by all labor laws. We value each of our associates and are committed to ensuring fair treatment and compensation for their time and dedication."
The workers' lawsuit contends that hotel management violated California labor law by requiring employees to show up as much as 30 minutes before their shifts to a remote parking lot to take a company shuttle to work, without providing compensation for that time.
In addition, the suit contends that workers are required to show up an additional 15 minutes before their shifts to get and put on a work uniform, also without compensation for that time.
"That is a fairly significant amount of time to be uncompensated," said Lauren Teukolsky, the attorney representing the two workers in the lawsuit, Galen Landsberg, a cook at the resort, and Marvin Ivarenga, a server.
The lawsuit delves into a question that has been argued as high as the U.S. Supreme Court: At what point should employees be considered on duty and therefore earning their hourly wages?
In 2014, the Supreme Court ruled unanimously that warehouse workers for online shopping giant Amazon were not obligated to be paid for the time they spent undergoing security screenings after each shift.
Teukolsky said the Amazon case focused on a federal law, the Fair Labor Standards Act, and the court ruled that the security screenings fell into an exemption in the act.
In contrast, Teukolsky said, her lawsuit is supported by a 2000 ruling by the California Supreme Court that agriculture workers who spent time commuting on employer buses to the fields must be compensated for that time. Based on that case, she said, her clients should be compensated for time spent traveling on company shuttles to the resort.
"There are many examples where California law is more protective of workers than federal law," she said.
UC Berkeley law school professor Catherine Fisk agreed that California has very protective labor laws. But despite such protections, she said, many employers continue to take advantage of their workers when it comes to paying wages.
"There are a lot of times where employers conclude that it's worth running the risk of being sued in order to save quite a bit of money," she said.
Landsberg, the resort cook, said Terranea offers no alternative but to ride the company shuttle bus. (Landsberg's father is an editor at the Los Angeles Times.)
"We can't park on public streets in the neighborhoods surrounding the hotel because Terranea security patrols these areas and the hotel will give you a write-up if they find your car parked there," he said.
The resort also doesn't reimburse some kitchen employees for cooking equipment they are required to bring to work, the lawsuit asserts.
Terranea was the subject of a class-action lawsuit in 2011 that contended the resort wasn't paying overtime wages and minimum wages as required by law. The suit was settled with the resort operators and owners agreeing to pay $1.1 million to the workers and to cover attorney fees, according to court records.
To read more about the travel and tourism industries, follow @hugomartin on Twitter.
---
UPDATES:
2:55 p.m.: This article was updated with comments from UC Berkeley law school professor Catherine Fisk.
12:05 p.m.: This article was updated with background information about the legal question at the heart of the lawsuit.
This article was originally published at 10:30 a.m.
---
Must-read stories from the L.A. Times
Get the day's top news with our Today's Headlines newsletter, sent every weekday morning.
You may occasionally receive promotional content from the Los Angeles Times.