How California's wine country and Las Vegas are trying to win tourists back after tragedies
In the wake of the worst mass shooting in modern U.S. history, Las Vegas shelved its fun-loving motto of "What happens in Vegas, stays in Vegas," replacing it with a hashtag — #VegasStrong — to promote tourism to the gambling mecca.
Weeks after wildfires charred California's wine country, that region is preparing a fundraising event and campaign, dubbed Grateful Table, to show that most of the wineries and vineyards were spared from the flames and are operating as usual.
Persuading visitors to return after a natural disaster or mass tragedy can be a delicate balance between remaining sensitive to loss and getting on with life. In Las Vegas and Northern California, tourism advocates are turning to a reliable theme: spending, partying and vacationing are not only acceptable but a needed boost to local businesses trying to recover.
"Our message is intertwined with the message that by visiting the wine country you are financially supporting the community," said Caroline Beteta, president and chief executive of Visit California, the tourism agency for the state.
It's a smart move, communications experts say, but tourism agencies shouldn't linger too long on a message of tragedy and recovery.
"So far, Las Vegas has done it tastefully, and that is the key to it," said Eric Rose, a crisis and reputation management expert with Englander Knabe & Allen.
A lot is riding on getting the message right.
In Las Vegas, tourism is the biggest industry, employing about 300,000 people in the leisure and hospitality sector. In Napa, Sonoma and Mendocino counties, tourism is the second-largest industry, behind wine making, and generates nearly $4 billion in annual spending.
In Las Vegas and Northern California's wine region, the campaign messages from tourism agencies focus on patriotism and altruism to get visitors to come there for a vacation.
Immediately after the mass shooting in Las Vegas on Oct. 1, Las Vegas began running ads encouraging visitors to return, coupled with the message of unity and strength in the recovery.
A television ad featuring tennis legend and Las Vegas resident Andre Agassi, which pays tribute to the strength of shooting victims and first responders, has been running since the shooting.
"For the time being, we're continuing to listen to our customers on an on-going basis and taking community and visitor sentiment into consideration as we think about our next campaign steps and the eventual return to the 'What Happens in Vegas' campaign," said Maria Phelan, a spokeswoman for the Las Vegas Convention and Visitors Authority.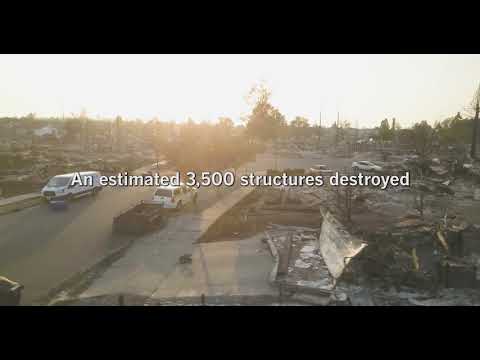 Over 160,000 acres have been destroyed in northern California fires.
In Napa Valley, the local tourism agency, Visit Napa Valley, told local businesses that it had launched a two-phase campaign:
"Phase 1 is designed as an expression of strength, hope and understanding to all of those affected by these wildfires and their devastating aftermath," according to an email sent out by Visit Napa Valley to businesses in the region. "Once the fires are under control and air quality improves, we will move to Phase 2, which will be designed as an open for business/welcome back message."
To help with the recovery, Beteta said, the Grateful Table fundraiser has been scheduled for Nov. 21, featuring a gourmet meal served to about 750 guests by celebrity chef Tyler Florence on a long table in the middle of a vineyard.
She said the event will be featured in a 60-minute film documentary about the fires to show that most vineyards are unscorched.
"You have to look pretty hard to see where that fire was," Beteta said.
Since Hurricane Harvey struck Houston in August, the city's tourism agency has been promoting travel packages to the city, with the profits from each deal used to boost relief efforts in Houston.
Although coverage of the World Series over the last week has shown a national audience images of downtown Houston with thriving shops and businesses, Houston's tourism agency, Visit Houston, plans to stick with its message of recovery for the rest of the year.
"We are slowly moving back to the message that Houston is a great city to visit," said Leah Shah, a spokeswoman for the agency.
Some other tourist destinations struck by disaster have already skipped past the message of rebuilding and recovery.
Tourism officials in Mendocino County, where wildfires raged last month, have launched a campaign that promotes November as "mushroom month," a time when visitors can forage for mushrooms with fungi experts, take a class on how to cook with mushrooms and enjoy special mushroom-packed meals at local restaurants and eateries.
"What is coming up is to promote a positive vein," said Koleen C. Hamblin, a spokeswoman for Visit Mendocino County. "The fire is behind us."
The motto for the month, she said, is: "Keep calm and mushroom on."
To read more about the travel and tourism industries, follow @hugomartin on Twitter.
ALSO
Warner Bros. cuts ties with Brett Ratner after sexual misconduct allegations
Los Angeles Times, other news outlets file lawsuits to obtain Las Vegas shooting records
She searched desperately for a man she helped after the Las Vegas shooting. Then she found him