Giant Toyota campus in Torrance being sold to Irvine developer Sares Regis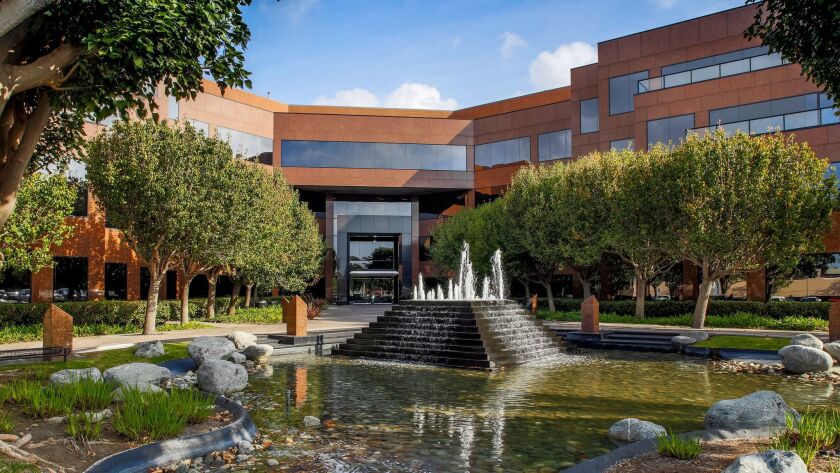 Irvine developer Sares Regis is buying the sprawling Toyota office complex in Torrance that was formerly the Japanese car manufacturer's North American headquarters.
The sale by Toyota of its 110-acre campus near the 405 Freeway is expected to close this month, according to people who know about the deal but aren't authorized to speak publicly about it.
The price has yet to be disclosed. The property contains about 2 million square feet of office and industrial space and could surpass $150 million in value.
In 2006, Nissan Motor Co. sold its campus near the intersection of the 110 and 405 freeways for more than $75 million. The Nissan operation also was a configuration of offices and light industrial space but was less than half the size of Toyota's campus.
The Nissan campus was turned into an office and manufacturing park for multiple businesses by a Los Angeles developer. Sares Regis' plans for the Toyota campus are unknown, but demand is steady in the region for offices serving growing technology and entertainment companies.
Toyota and Sares Regis declined to comment on the expected sale.
Toyota announced its plans to leave Torrance for Plano, Texas, a suburb of Dallas, in 2014. The departure of about 3,000 workers should be complete by the end of the year.
Its Torrance property includes some automobile-specific uses such as hydrogen fueling stations, a carwash and an auto-test facility. But most of it is a self-contained environment set up to support Toyota's corporate functions such as accounting, finance and communications.
There are 18 buildings on multiple city blocks, a data center, five diesel power generators, two helipads, two dining centers, one cafeteria, a tennis court and a fitness center with a swimming pool. It also has 8,000 parking places.
"It's a ready-to-go corporate campus," Toyota's property broker, Jeff Adkison of JLL, said when it hit the market in February. JLL also declined to comment on the pending sale.
Toyota will employ about 4,000 workers in Plano, including 3,000 positions transferred from Torrance and an additional 1,000 from Kentucky and New York.
Up to 75% of Toyota's workers in Torrance are expected to make the move to Texas, Toyota Motor North America President James Lentz has said.
Twitter: @rogervincent
ALSO
How I Made It: 'Shark Tank' passed on his company. Now John Tabis is disrupting the flower industry, one bouquet at a time
Goldman Sachs is exploring options for its stake in Harvey Weinstein's studio
Michael Hiltzik: Trump reneges on Obamacare payments, portending turmoil for consumers and taxpayers
---
Be your money's boss! Learn how to make a budget and take control of your finances with this eight-week newsletter course.
You may occasionally receive promotional content from the Los Angeles Times.