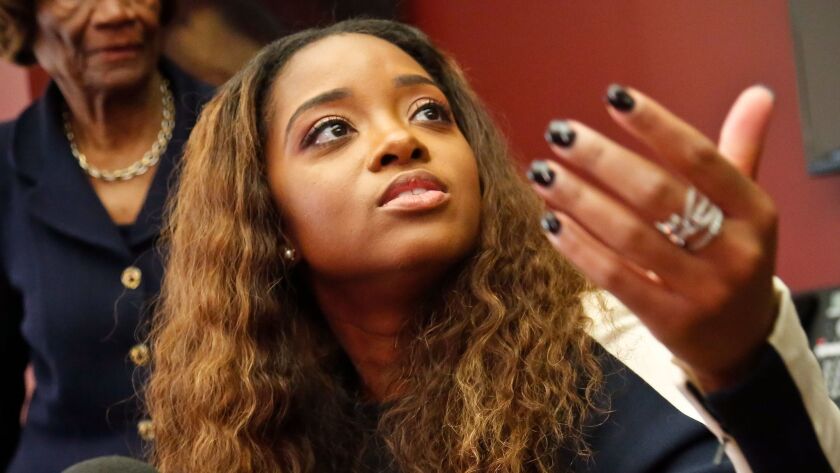 In response to complaints by the NAACP that African Americans may be treated with disrespect on American Airlines, the carrier has announced plans to implement new bias training and a diversity study, among other changes.
American Airlines Chief Executive Doug Parker issued a letter to his employees Thursday after meeting with NAACP representatives and other activists over their allegations that the carrier's employees mistreat African Americans.
The meeting was prompted by a travel advisory the National Assn. for the Advancement of Colored People issued in October, saying African Americans who fly on American Airlines could be subject to "disrespectful, discriminatory or unsafe conditions."
The civil rights group cited four incidents in which African American passengers were removed from a flight or forced to give up a first-class seat.
Among the people who met with Parker was Tamika Mallory, an activist who has told several media outlets that she was kicked off an American Airlines plane in Miami simply because she complained that she was assigned to a middle seat even though she used an airline kiosk to switch to an aisle seat.
After the meeting Thursday, Parker said his airline is taking up four actions to "make our airline a more diverse and inclusive company."
Ajmel Quereshi, senior counsel to the NAACP Legal Defense Fund, called the meeting "a positive step for American Airlines" but said his organization will continue to monitor the progress at the airline.
Parker said the Fort Worth-based airline will conduct a diversity analysis that will look at the hiring, promotion and training practices at the company. Every employee at the airline, including executives, will also undergo "implicit bias training," he said in the letter.
The airline also plans to overhaul the process it uses to address claims of discrimination and to "sharpen our focus" on the problems and environment of its employees, he said.
To read more about the travel and tourism industries, follow @hugomartin on Twitter.
---