United Airlines says it won't change its policy about carry-on bags for basic economy fliers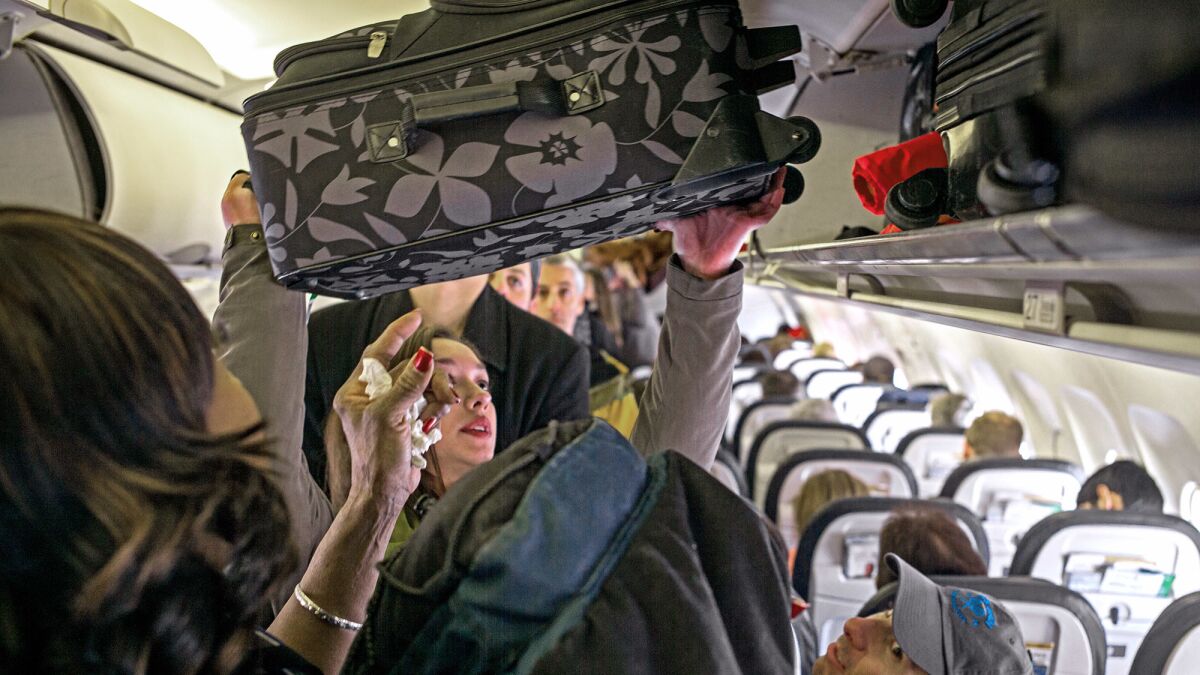 If you pay a bare-bones basic economy fare on United Airlines, don't expect the carrier to cut you a break on your carry-on luggage.
The Chicago-based carrier has announced that it won't follow the lead of its rival, American Airlines, which began in September to allow basic economy fliers to pack a carry-on bag into the overhead compartment free of charge.
"There are no plans to change any policies," said Andrew Nocella, United's executive vice president and chief commercial officer, when asked about the bag policy during a conference call with analysts this week. If a basic economy passenger brings a carry-on bag that has to go in the overhead compartment, that passenger will be charged a $25 "gate handling charge" in addition to the checked bag fee.
United, Delta and American — the nation's three major carriers — all sell a fare called basic economy that is designed to compete with the no-frills tickets sold by ultra low-cost rivals such as Spirit and Frontier Airlines.
Delta has for years allowed basic economy passengers to bring into the cabin a small personal item, such as a laptop bag or backpack that fit under the seat, along with a carry-on bag that goes into the overhead compartment, free of charge.
At American Airlines, basic economy passengers who brought a carry-on bag were initially charged a $25 gate fee to have the luggage checked, plus the regular checked baggage fee. But in September, American began allowing carry-on bags for basic economy fliers, free of charge.
Many airline industry analysts expected United would follow American's lead.
But when asked during its third-quarter earnings call about United's policy, Nocella said no change is planned.
"On basic [economy], we are happy with where we're at," he said. "The way we designed basic was carefully constructed to be, I think, a win for allowing us to segment our products, to allow us to compete effectively against the ultra low-cost competitors and allow our operation to deliver better results for everybody in terms of on-time departures. And it's working as designed, and so we're full speed ahead with where we're at."
Twitter: @hugomartin
---
Sign up for the California Politics newsletter to get exclusive analysis from our reporters.
You may occasionally receive promotional content from the Los Angeles Times.