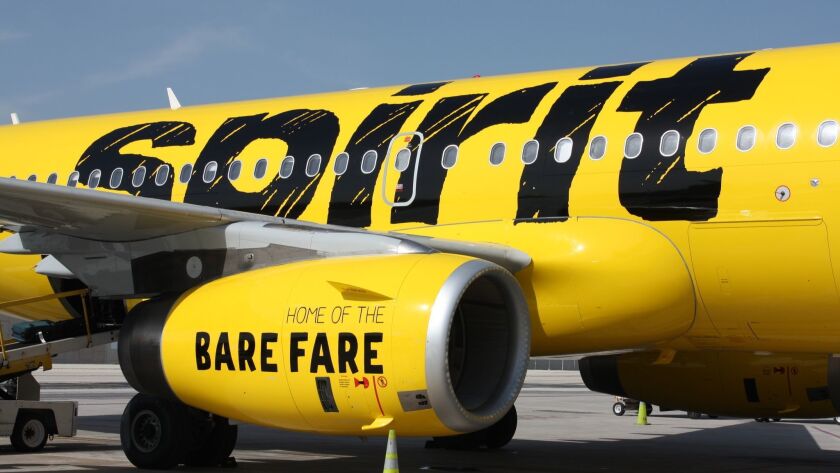 Ultra-low-cost carrier Spirit Airlines announced plans to offer onboard wireless internet on all of its planes by next summer — a first for the carrier known for its low fares and fees for its a la carte services.
Spirit may also be launching a first among U.S. airlines by planning to charge a fee for the Wi-Fi service based on the popularity of a route.
"We are testing this out," said Stephen Schuler, a Spirit spokesman. "We want to see what people want."
The move may not come as a surprise to Spirit passengers who already pay a bag fee that varies based on when they pay and on the route they fly.
Spirit, which typically has the lowest base fares on the routes it serves, is considered an industry pioneer in dreaming up new fees for onboard extras. For example, Spirit is one of the few airlines to charge $2 to print out a boarding pass at an airport kiosk.
Most U.S. airlines charge Wi-Fi fees for a one-hour period or for a 24-hour period, with some carriers even offering a rate that lets passengers connect on the airline for an entire month. Some airlines, such as Alaska, Delta and American, let passengers use the onboard Wi-Fi service to send text messages for free.
Schuler said the pricing policy for Spirit's Wi-Fi service has not been set. Still, he said the airline expects to charge an average of about $6.50 per passenger, with prices rising or falling based on the popularity of the route. Passengers will know the price when they try to connect to the onboard Wi-Fi server.
That might mean that Wi-Fi on a Florida flight from Fort Lauderdale to Orlando might be more expensive than Wi-Fi on a less-popular route, he said.
Spirit is teaming up with the Thales Group, a French multinational, to provide the new satellite-based, high-speed internet service. The airline says it will increase the speed in 2021, with the launch of a new satellite built by a Thales subsidiary.
To read more about the travel and tourism industries, follow @hugomartin on Twitter.
---