Airlines propose long list of rules to kill or revise as part of Trump deregulation initiative
Airlines are required to give passengers the option to get off a flight that is delayed too long on a tarmac.
Nearly an hour after her American Airlines flight was scheduled to leave Honolulu International Airport, passenger Lisa Hill heard the pilot announce that a maintenance problem would delay the takeoff.
The pilot gave fliers the option of getting off the plane but Hill, who was flying to Boston after visiting her son, decided to remain seated, hoping to be in the air shortly.
Three more hours passed before the flight last November was canceled.
"For four hours I sat on that plane," said Hill, the co-owner of a house cleaning business. "When the pilot finally said we should deboard, it was like a Black Friday sale at Macy's. Everyone rushed off."
Now, the Trump administration may roll back a rule that requires airlines to give passengers such as Hill the option of getting off a flight that is delayed too long on an airport tarmac. And that's not the only regulation that might be weakened or scrapped.
Last year, the U.S. Department of Transportation temporarily froze all pending airline-industry regulations as part of an administration push to cut the burden of red tape on American businesses. And it asked the public and airlines for comments on existing regulations that could be halted, revised or repealed.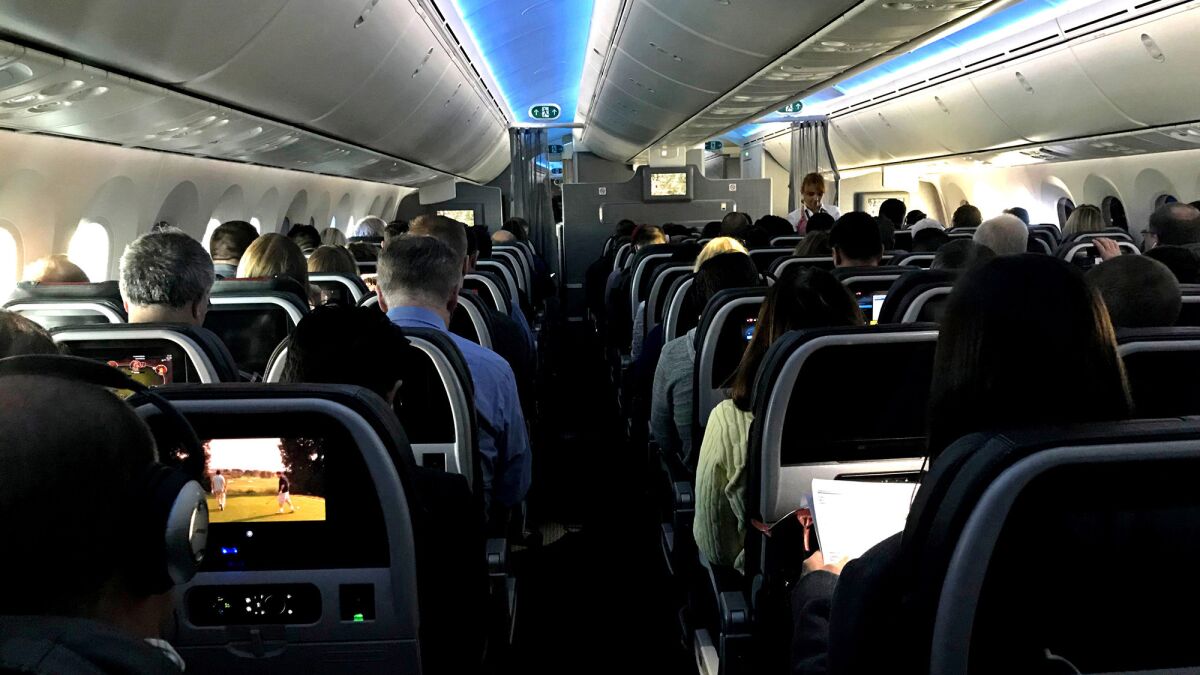 The so-called "tarmac delay rule" — adopted in 2009 after a series of incidents in which passengers were trapped in planes for hours — was just one of dozens that either airlines or an industry trade group targeted in response to the request.
The deregulation initiative is a dramatic shift for the federal agency, which under President Obama adopted or proposed more than 80 airline-related consumer-protection and safety regulations — prompting an outcry from the airline industry.
The agency also meted out stiff penalties. From 2015 to 2016, the transportation department increased the total amount of civil penalties on airlines and travel agents to $6.4 million from $2.4 million.
Southwest Airlines, for example, was fined $1.6 million for stranding passengers on 16 planes during storms on Jan. 1 and 2 in 2014 at Midway International Airport in Chicago. Some passengers were stuck on the tarmac for more than four hours.
"The airlines are pretty clear that they want every consumer protection law repealed or not enforced," said Paul Hudson, president of Flyersrights.org, a nonprofit group with more than 60,000 members. "I'm concerned that they would try to repeal the few consumer-protection regulations that are out there."
3-hour limit placed on airline passengers' tarmac waits »
For its part, Airlines for America, a Washington, D.C.-based industry trade group, called the Transportation Department's initiative "a much-welcomed shift from a decade's-long Washington practice of regulatory interference in the market."
The group is specifically asking to modify or rescind more than 30 regulations, while individual airlines such as Delta, United and American either echoed those ideas or suggested rule changes of their own with the Transportation Department. All three airlines declined to comment on their filings.
Beyond the tarmac rule, other popular regulations that could be changed include one that requires airlines to advertise fares that include all fees and taxes. Another mandates that passengers be informed about how to file a service complaint with the department.
The deregulation push comes as the industry is basking in profit. Airlines reported a combined $17.6 billion in profit last year, a dramatic improvement from the nine years after the 9/11 terrorist strikes when the entire U.S. airline industry lost a combined $65 billion.
That improved financial performance resulted in an industry profit margin of more than 6% last year, compared with an average loss of 6.3% in the previous nine years, according to Airlines for America. Still, carriers say the regulations imposed by Washington are hurting their bottom lines.
"Many of the regulations/initiatives adopted or issued at the end of the previous administration are extremely costly, will be unduly burdensome on the airline industry, and should be repealed or permanently terminated," United Airlines said in its statement filed with the Transportation Department.
For its part, the department said it will hold public hearings on the industry's requests if it determines it wants to alter an existing rule. The process could take months and, in the end, the airlines may not get all or many of the changes they want.
"We are currently reviewing these comments carefully to determine what, if any, next steps to take," the department said in a statement.
When you buy a plane ticket, here's what you have to agree to »
Alison McAfee, a spokeswoman for Airlines for America, said she understands that all or most of the recommendations for revisions or repeals won't be adopted. But she hopes that "an open and honest dialogue" with the department will lead to positive change.
Consumer groups worry, though, that the Transportation Department under President Trump will be more concerned with the financial well-being of the airline industry than the rights of passengers.
And it strikes them as audacious that the industry would seek to reduce its regulatory burden given its poor reputation. In 2017, airlines received a score of 75 out of 100 on the American Consumer Satisfaction Index. That is lower than U.S. banks (80), drugstores (79) and gas stations (76).
"It appears the only voice that matters are the airlines and the big powerful concerns," said Kurt Ebenhoch, executive director of the Air Travel Fairness Coalition, an advocacy group that is pushing for full transparency of fares.
The 2012 rule that forces airline to advertise their full fares was in response to complaints from travelers who for years reserved tickets only to find that the final fare was as much as 30% higher when fees and taxes were included.
Now, when travelers search on airline websites, Expedia or other travel sites for a flight, they see the final price, with no hidden fees that cause sticker shock when it is time to pay the bill.
"For travelers to make fair comparisons among different itineraries, we have to know what flights will cost, apples to apples, so to speak," said Steven Youra, a retired writing instructor from South Pasadena who flies about six times a year.
"That means we need, first, to have easy access to the full fare, including taxes and fees. If the government does not require that full disclosure, it's just inviting the airlines to practice bait-and-switch," he said.
But in its filing to the Transportation Department, Delta Air Lines suggested that the full price "distorts consumers' views of what they pay for airline service (as opposed to what they pay in government-imposed fees and taxes), causing consumer confusion and engendering negative views of airfares."
Another rule the industry is targeting is the 2011 regulation that gives passengers 24 hours after booking a flight the right to cancel and get a full refund. American Airlines told the department that it and other carriers already sell tickets with various options, including those that are nonrefundable and those that offer the right to cancel beyond 24 hours for a higher price.
Airlines for America, in its filing, said the rule allows passengers to hold "an unlimited number of reservations at once, free of any cancellation penalty during the 24-hour hold period," thus eliminating a carrier's ability to sell those seats to another buyer.
Perhaps the highest-profile consumer rule adopted during the Obama administration was the "tarmac rule." Under the 2009 law, airlines are required to provide water, food and access to bathrooms during long delays and must let passengers on domestic flights exit the plane if the delay on the tarmac lasts at least three hours. The rule extends to four hours for international flights.
Airlines can be fined as much as $27,500 for every passenger who is stranded. The rule was in response to several infamous cases of flight delays, including the plight in 2009 of passengers stranded for nearly six hours on a plane in Rochester, Minn.
United Airlines suggested that the Transportation Department ease its enforcement of the rule and "increase efforts to work cooperatively with the industry." The airline proposed that airlines be fined for every flight that is delayed on a tarmac — not for every passenger who is affected — and that the federal agency not fine airlines if delays are due to employee rest requirements or shift changes.
Another rule airlines and their trade group have complained about is a requirement that airlines "promptly" provide wheelchair assistance to passengers with disabilities, saying the rule should not be enforced until the term "promptly" is clarified.
Airlines also want to eliminate a requirement that they inform passengers how to file complaints with the federal agency, with the trade group saying it "displaces other information carriers wish to convey to their customers."
Among other paperwork Airlines for America wants to eliminate are the monthly filings about the loss, injury or death of animals on the plane. The trade group said the reports are costly and "are of little or no value because such animal losses, injuries or deaths are extremely limited in number."
The filing came before a French Bulldog died last week during a United Airlines flight from Houston to New York. A flight attendant ordered that the puppy and his carrier be placed in the overhead compartment but the airline said later that the flight attendant didn't know the dog was in the carrier — a contention disputed by the dog's owners.
United Airlines, which has since updated its policies for animals carried on board, declined to comment on the trade group's request to stop reports of animal deaths.
"Today, our focus is to continue to further ensure the comfort and safety of all animals that fly with us," United spokesman Charles Hobart said.
To read more about the travel and tourism industries, follow @hugomartin on Twitter.
Sign up for the California Politics newsletter to get exclusive analysis from our reporters.
You may occasionally receive promotional content from the Los Angeles Times.