To fight unemployment, Trump plans to push apprenticeships. But will he spend more money on them?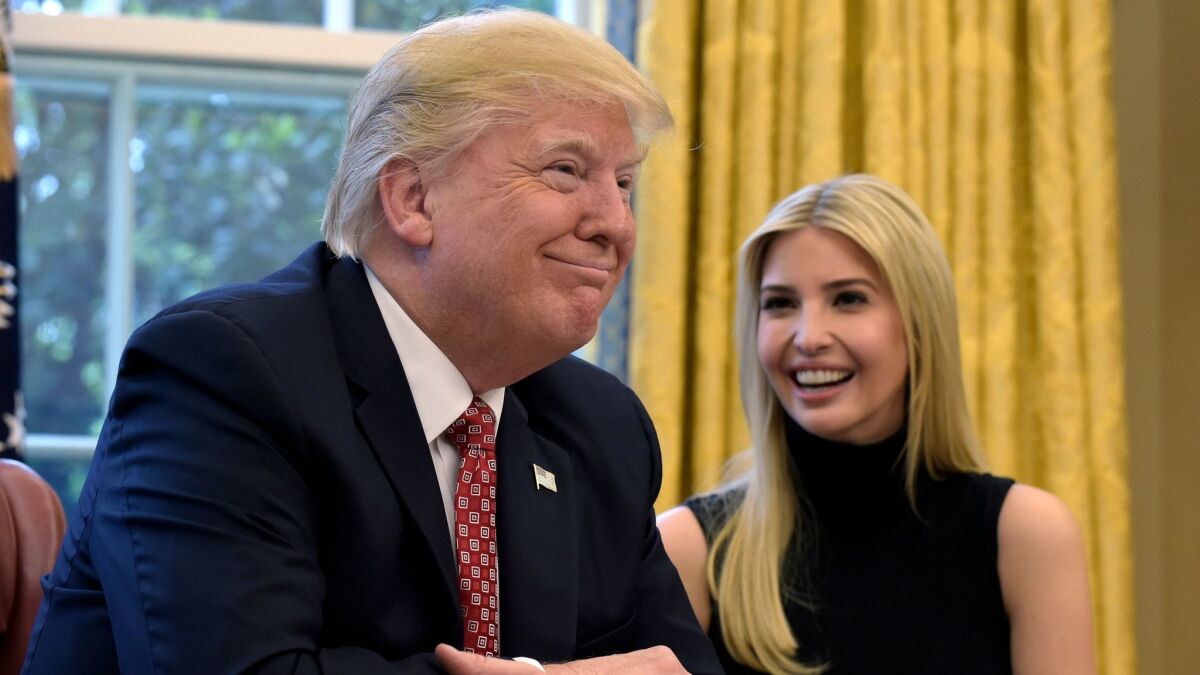 Reporting from Washington —
To reduce joblessness, President Trump will focus next week on something he knows well — apprentices.
He starred on the reality TV shows "The Apprentice" and "The Celebrity Apprentice." But Trump also has long experience with apprenticeship programs in construction and other building trades from his years as a real estate developer, the White House said.
Now Trump wants to encourage more apprenticeship programs in other fields to help give American workers the skills they need to fill some of the 6 million job openings in the United States, according to administration officials.
The effort will be centered on encouraging workforce training partnerships between businesses and schools, and apparently will not include additional federal money.
"The reality is that there are still Americans seeking employment despite low unemployment rates and companies are struggling to fill vacancies that require various levels of skills and training," said Ivanka Trump, the president's daughter and one of his advisors.
The administration will be launching "a series of initiatives" and will call on Congress "to pass reforms expanding apprenticeships and raise awareness about the fact [that] there are important, very viable career paths outside of the traditional four-year college experience," she said.
Ivanka Trump and Labor Secretary Alexander Acosta will join President Trump for three events next week on workforce development with a particular emphasis on apprenticeships — programs in which people learn skills from experienced workers while getting paid.
It will be the second straight week the White House tries to emphasize a theme — this week was infrastructure — in the face of the ongoing investigation into Russian interference in the 2016 presidential campaign.
On Tuesday, the president, his daughter and Acosta will travel to Waukesha County Technical College in Pewaukee, Wis. Joined by Wisconsin Gov. Scott Walker, they will tour classrooms, including one in which students are being trained to operate power generation equipment made by a local manufacturer, said Reed Cordish, assistant to the president for intergovernmental and technology initiatives.
There also will be a roundtable discussion with teachers, apprentices and local business owners looking to fill skilled jobs.
Back in Washington on Wednesday, President Trump then will give a speech at the Labor Department outlining the administration's workforce development initiatives. Ivanka Trump also will lead a roundtable discussion at the White House with about 15 chief executives on the topic.
And on Thursday, eight governors will join President Trump, his daughter, Acosta and Vice President Mike Pence for another workforce development roundtable.
"This is an initiative that has our absolute highest level of attention and focus," Ivanka Trump told reporters Friday.
There were no details of Trump's plans, but they are unlikely to include additional federal spending.
The administration is reviewing and could shift the $16.7 billion spent on 43 job training programs spread across 13 agencies. Trump's proposed 2018 budget would cut funding for adult, youth and dislocated worker training grants to states by 40%, to $1.6 billion, according to the Center for Budget and Policy Priorities, a liberal think tank.
Administration officials touted apprenticeship programs by IBM and Dow Chemical Co. And President Trump has praised Germany's experience with apprenticeships.
"For decades, Germany has been a model for highly successful apprenticeship — that's a name I like, apprentice — apprenticeship programs," Trump said in March during a roundtable discussion that he and German Chancellor Angela Merkel held with business leaders.
"As a result, Germany's youth unemployment rate is much lower than many of the other countries, especially the EU countries," he said.
The Trump administration wants to help workers get the training they need to fill jobs in manufacturing, among other fields, Ivanka Trump said.
The 6 million job openings in April are the most since the 1980s, and many of them are in manufacturing, information technology and healthcare, Acosta said.
With the U.S. unemployment rate at 4.3% last month, its lowest point since 2001, businesses complain they can't find workers with the skills needed to fill some jobs.
Less than 0.2% of workers have participated in apprenticeship programs. But 90% of those who did, had a job waiting with an average salary of about $60,000 a year, Acosta said.
"Apprenticeship programs should not be limited to areas where they're widely used now, which is the building trades," he said. "They can be used across a wide variety of sectors and industries."
Twitter: @JimPuzzanghera
---
Sign up for the California Politics newsletter to get exclusive analysis from our reporters.
You may occasionally receive promotional content from the Los Angeles Times.