President Trump boasts he's turned around American industry. With the election at hand, here are the facts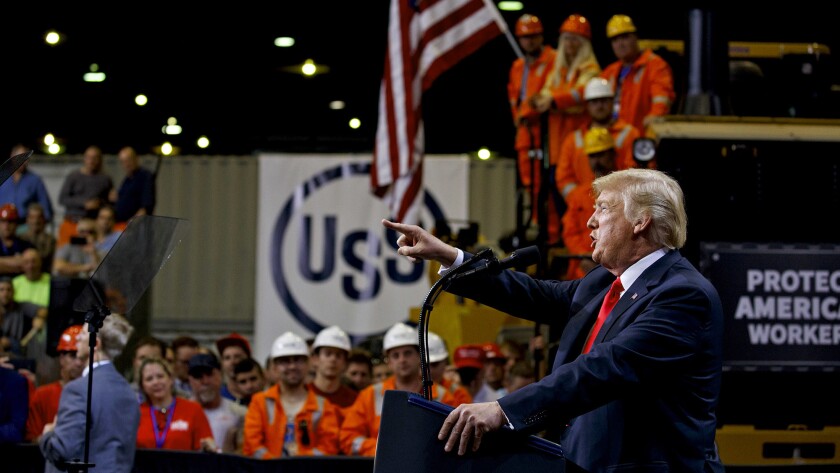 Reporting from Washington —
President Trump prefers sweeping superlatives when he talks about his record on the economy.
The Republican tax law has "the biggest tax cuts and reform in American history" (they're not). The new trade pact with Mexico and Canada is "the most important trade deal we've ever made by far" (the changes are more modest). And the unemployment rate has fallen "to the lowest level in more than 50 years" (it's 49 and the continuation of a nine-year trend).
Then there's Trump's most grandiose claim: His administration has produced "the greatest economy in the history of our country" (it hasn't; the combination of fast growth and low unemployment was better in at least three other periods since World War II).
But Trump sometimes gets more specific. In recent months, he's been boasting about five industries: steel, agriculture, autos, energy and manufacturing. With the congressional midterm elections Tuesday and many Republicans running on Trump's record, here are his claims and the facts about them.
Steel
The claims: "I came into office, steel was a dead business," Trump said at an Oct. 12 rally in Lebanon, Ohio. "Now they're opening up plants, U.S. Steel, Nucor. They're opening up plants all over the country, big ones, new ones."
Specifically, he said U.S. Steel Corp. is "opening up a minimum of eight plants" as a result of a 25% tariff his administration placed on billions of dollars of imported steel starting in March. On Oct. 18, he said it could be as many as nine plants, with the company spending "billions of dollars doing it."
Nucor Corp. "just announced a billion-dollar plant. Brand-new. Already started construction," Trump said on Oct. 1.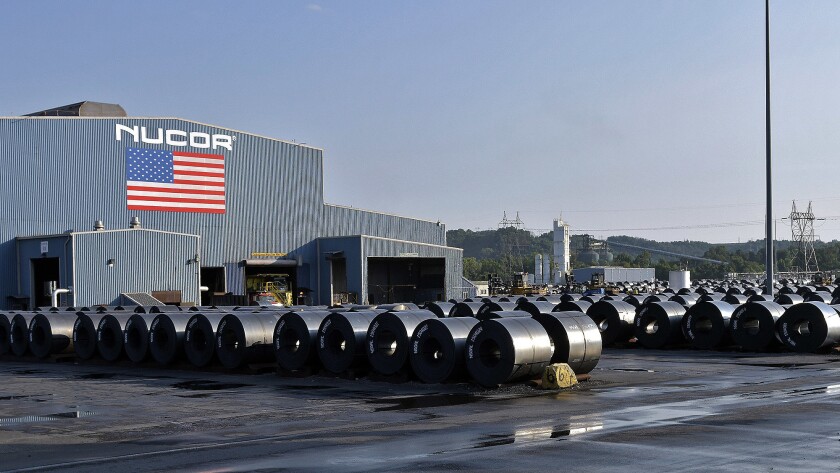 The facts: The steel industry is "generally healthier today than it was in 2016" before Trump took office, said Lisa Reisman, executive editor of MetalMiner, an online market intelligence platform that does industry forecasting.
"What you're generally seeing is a stronger economy today and that's partially policy — tax reform, regulatory reform — and that has created a lot of [steel] demand," she said.
But Trump can't claim all the credit and is exaggerating the state of the industry when he took office as well as the effect of tariffs.
The U.S. industry wasn't dead in 2016, but prices for oil, industrial metals and other commodities started crashing in 2014. Commodity price swings are cyclical, driven by global forces, and the pendulum swung the other way about a year or so ago.
"The commodity bull market started happening in July 2017. We didn't have any tariffs in place, tax reform hadn't been passed yet," Reisman said. "Commodity prices were going up before those things happened and then the policies came into play."
The tax cuts that took effect on Jan. 1 — including slashing the corporate rate to 21% from 35% — ongoing reductions in federal regulations and the tariffs have boosted the steel industry, she said. But the industry would be better off now than in 2016 regardless of U.S. government policies.
As for the eight new plants, U.S. Steel is not opening them, according to company announcements. Rather, U.S. Steel said this year that it is restarting two blast furnaces at its existing Granite City, Ill., plant and would spend $750 million to revitalize its existing Gary, Ind., plant.
And Nucor has not announced a new, $1-billion plant. The company said in September that it would spend $650 million to expand production at its plant in Ghent, Ky. The company also said in March that it was spending $240 million to build a rebar plant in Frostproof, Fla. And Nucor is spending $250 million to build a rebar plant in Sedalia, Mo., an investment announced in November 2017.
Agriculture
The claims: "Our farmers have gone through a lot over the last 15 years. They've been taken advantage of by everybody. Prices have gone way down," Trump said on Oct. 1 in announcing a revised North American Free Trade Agreement. "The agreement will give our farmers and ranchers far greater access to sell American-grown produce in Mexico and in Canada."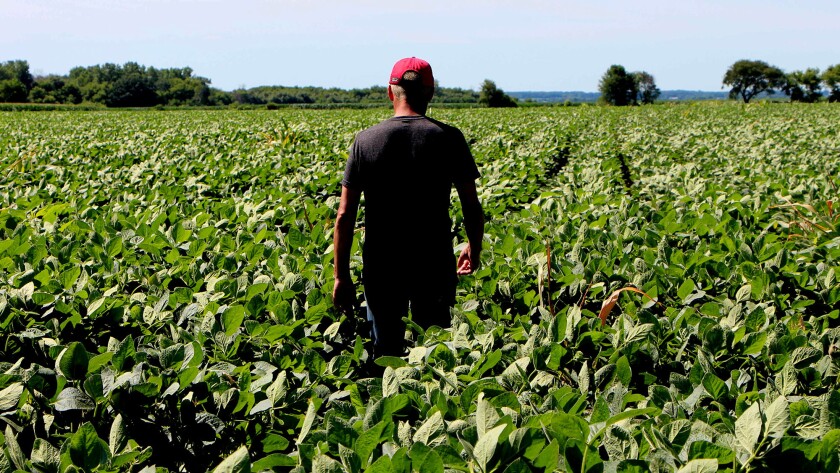 The facts: U.S. agriculture industry boomed from 2011 to 2014 because of strong commodity prices, boosted by exports, said the nonpartisan Congressional Research Service. During what it called "a golden period," net farm income hit a record high of $123.7 billion in 2013, but it's down 47% since then.
"Those years leading up to 2013 were very good in agriculture," said Nathan Kaufman, an expert on agricultural economics at the Federal Reserve Bank of Kansas City.
Strong demand domestically and from a fast-growing China led farmers to increase production. Trade has been a boost for agriculture, until recently.
"We did see a pretty significant increase in agricultural exports following passage of NAFTA in the mid-1990s," Kaufman said. China's entry into the World Trade Organization also "triggered a lot of demand," he said.
But larger harvests, fueled by good growing conditions, led to a drop in prices. And now the trade war is becoming a problem for farmers. U.S. crops have been hit with new tariffs from China, Mexico, Canada and the European Union in retaliation for tariffs put in place by Trump.
China is the largest purchaser of U.S. soybeans, and those imports now face a 25% tariff there. What's more, exports are dropping just as a bumper U.S. crop is coming in.
"Those soybean exports from U.S. to China have ground to a halt at a time when they typically pick up dramatically," Kaufman said.
The new trade deal with Mexico and Canada might help "on the margins" because of increased access to Canada for U.S. dairy farmers, he said.
Autos
The claims: "Many car companies are now building and expanding plants in the United States — something we have not seen for decades," Trump said in his State of the Union address in January. "For many years, companies and jobs were only leaving us. But now they are coming back."
Among his specific claims are that Toyota Motor Corp. and Mazda Motor Corp. will build a new plant in Alabama, Fiat Chrysler Automobiles is moving a major manufacturing plant back to Michigan from Mexico, and many more new auto plants are coming.
"They're going into Michigan and Ohio and all over. They're coming into Illinois … they're going North, South Carolina. They're coming into Florida," Trump said at an Oct. 27 rally in Murphysboro, Ill. At an Oct. 4 rally in Rochester, Minn., Trump said auto plants would be coming to that state and Pennsylvania too.
The facts: Toyota and Mazda announced in August 2017 that they would jointly build a $1.6-billion assembly plant in the United States and in January said the factory would be in Huntsville, Ala. That is the only new U.S. factory announced by any of the major automakers, said Kristin Dziczek, vice president of industry, labor and economics at the Center for Automotive Research, a nonprofit research organization in Ann Arbor, Mich.
That partly reflects the excess production capacity in U.S. factories. Plants here can produce 14 million vehicles a year but in 2017 produced only 11.2 million, Dziczek said. Auto sales hit a record 17.55 million in 2016 but have since plateaued, she said.
Fiat Chrysler said in January that it would move some of its pickup truck production back to an existing plant in Warren, Mich., from Mexico, citing the lower corporate tax rates that took effect this year in the Republican tax overhaul. But new Chief Executive Mike Manley told Reuters last month that he was reconsidering that move.
Dziczek said that made sense. She originally thought the move back to Michigan was less about tax changes and more about fear that Trump would pull out of the North American Free Trade Agreement with Mexico and Canada.
"They didn't want their trucks on the wrong side of the border" if there was no free-trade deal because truck imports from Mexico would have faced tariffs, she said. Now that a revised NAFTA has been agreed to, there is less of a need to build in the U.S.
Ford Chief Executive Jim Hackett told Bloomberg in September that tariffs have cost the company $1 billion in profits. Ford reportedly is looking at layoffs as part of a cost-cutting reorganization.
Meanwhile, the 25% tariffs Trump has imposed on steel and aluminum are a big financial hit for automakers. The tariffs have added $400 to $600 to the cost of each vehicle produced in the U.S., Dziczek said. And tariffs on many Chinese imports have raised the prices of auto parts from that country.
"There are so many risk factors across the board for the auto industry right now," Dziczek said.
Energy
The claims: "Think of it: We're the single largest producer of energy in the world. Did you ever think you were going to hear that? This all happened very quickly," Trump said Oct. 2 in a speech to the National Electrical Contractors Assn.'s convention in Philadelphia.
He's also said the U.S. is the No. 1 producer of crude oil and natural gas.
The facts: The U.S. is not the largest producer of energy in the world, according to the most recent data. In 2015, China produced 2,958 million tons of oil equivalent, a measure for primary energy supply that includes oil, natural gas, coal and biofuels, according to a report from the International Energy Agency. The U.S. was second with 2,167 million tons of oil equivalent.
White House officials have said Trump is talking about crude oil when he references energy. In that case, the U.S. has just become the world's No. 1 producer of crude oil, at 11.3 million barrels per day in August, compared with Russia's estimated 11.2 million barrels a day, the U.S. Energy Information Administration said Thursday.
That announcement predated Trump's boasts about energy production. But he had a reason to jump the gun. The EIA said in September that the U.S. probably had become the world's largest crude oil producer earlier this year, based on preliminary estimates. In February, the U.S. topped Saudi Arabia for No. 2.
The growth in crude oil production is the result of a revolution in fracking technology that has revived old fields and opened up new ones — long before Trump took office. The U.S. has been the world's largest producer of natural gas since 2009, according to the EIA, which forecast in 2012 that the U.S. would become the world's largest oil producer by 2017.
Manufacturing
The claims: "The last administration, without mentioning names, the last administration said manufacturing jobs, they're dead. They're gone," Trump said at an Oct. 9 rally in Council Bluffs, Iowa. "We have 600,000 [that] have come back since the election."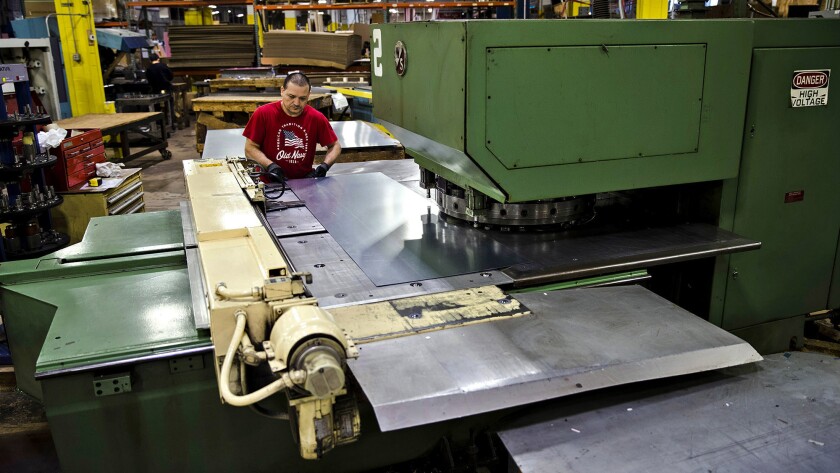 The facts: Data from the federal Bureau of Labor Statistics show there were 410,000 manufacturing jobs added from November 2016 to September 2018, the latest figures available when Trump made his claim in Iowa. (The Labor Department reported Friday that an additional 36,000 manufacturing jobs were added in September and in revisions from previous months.)
The sector was hit hard by the Great Recession, which accelerated a downward trend that had begun in 2000.
Manufacturers shed about 2.8 million jobs from early 2006 to early 2010. Employment bottomed out at 11.453 million jobs in March 2010. The sector began recovering with the rest of the job market and had added more than 900,000 jobs by early 2016.
A slump based on global forces hit in 2015, but manufacturing began recovering in late 2016, said Ned Hill, an Ohio State professor who is on the faculty at the school's Ohio Manufacturing Institute.
Trump's promises of tax cuts, improved trade deals and reduced regulations fueled a big jump in optimism among manufacturers, mirroring similar upbeat reactions from consumers and the broader business community.
"In conversations with manufacturers, the one thing that did increase the optimism of small and mid-sized manufacturers was regulatory relief," Hill said.
Manufacturing hiring accelerated and in July the year-over-year gain of 300,000 was the best since 1998, but the Trump administration policies have been a mixed bag, Hill said.
"The Trump tax cuts have had an impact on manufacturing … and offset some of the impact of the tariffs," said Hill, who noted manufacturers are big users of steel and aluminum, among other products made more expensive by the tariffs.
As for the Obama administration comment, Trump appears to be referring to a June 2016 town hall forum in Elkhart, Ind., during which President Obama discussed how technological change has both added and eliminated jobs.
Obama said that "there are entire new industries that are starting to pop up and you're actually seeing some manufacturers coming back to the United States." He went on to say that because of changing technology, "some of those jobs of the past are just not going to come back."
Twitter: @JimPuzzanghera
---
For reporting and exclusive analysis from bureau chief John Myers, get our California Politics newsletter.
You may occasionally receive promotional content from the Los Angeles Times.