Fewer foreign doctors are coming to study in the United States, report shows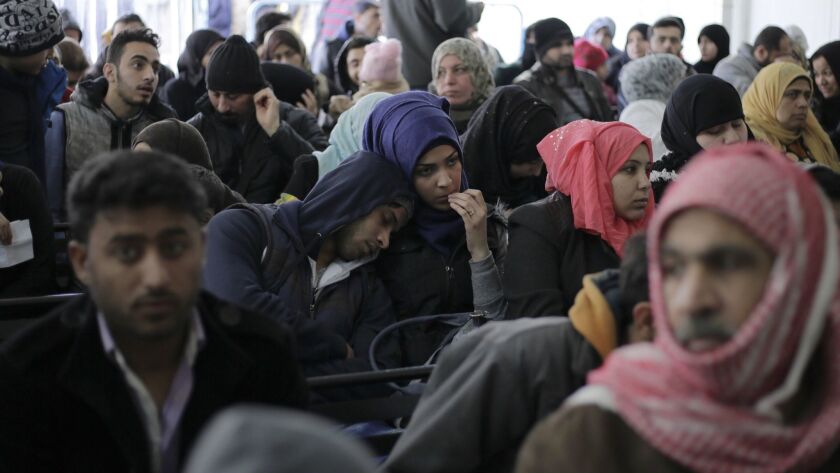 Fearing he would die if he stayed, Mohamed fled the civil war in his home country of Syria, heading to Saudi Arabia where he spent six years working as a physician. While there, Mohamed worked toward his goal of coming to the United States to train.
He aced the U.S. exams required of all physicians and scored an interview with a New York hospital. Officials there were so impressed that they offered Mohamed a spot in their residency program that day.
But when President Trump instituted an executive order barring Syrians from coming to the United States, Mohamed's chances of working in New York diminished.
"I did everything required to get the license in a formal way, and in a legal way, so I can start my training like any international physician who wants to complete his certification in the United States," said Mohamed, who asked not to use his last name for fear of affecting his visa application.
For the second consecutive year, the number of noncitizen international medical graduates who applied to study in U.S. residency programs has declined. A total of 7,067 foreign physicians submitted their choices for U.S. residency programs for 2018, down 217 from last year and 393 from 2016, according to data released Friday. That's almost 20% of the 37,103 total active applicants.
The number of foreign physicians seeking graduate medical education in the United States has fluctuated in years past. But the timing of the most recent decline raises concerns among medical professionals, who say the U.S. healthcare system is increasingly reliant on skilled immigrants.
The share of U.S. doctors and surgeons who are immigrants grew from 20% in 1990 to 28% in 2016, according to the Migration Policy Institute think tank in Washington. The number of immigrants in those positions more than doubled in that time.
"It's obviously concerning to us that this decline started at the same time that the administration began discussing implementing a travel ban or restrictions on foreign nationals entering this country," said Mona Signer, president and chief executive of the National Resident Matching Program, a private, nonprofit organization that uses an algorithm to match medical students to residency programs. "Can I tell you for certain that's the cause? No, I can't tell you it's cause and effect, but it's certainly concerning to us."
Mohamed is among those who applied for a residency, hoping to start July 1. But for physicians from the travel ban-affected countries — currently Chad, Iran, Libya, North Korea, Somalia, Syria, Venezuela and Yemen — the process remains convoluted. Students from each country face different requirements, and for Mohamed, his only hope is receiving a rare special exception.
Los Angeles has more than 500 physicians from Iran, Libya, Somalia, Sudan, Syria and Yemen — the countries included in the second version of the travel ban — providing more than 1 million appointments to patients each year, according to the Immigrant Doctors Project, an analysis of online physician data by Harvard and MIT doctoral students.
Los Angeles is one of five cities with the largest share of physicians from those countries. (The other cities are Detroit and Toledo, Cleveland and Dayton, Ohio.)
Southern California in particular has benefited from a large number of immigrating Iranian physicians, said Dr. Bahman Bandari, president of the SoCal Persian American Medical Assn. But as immigrant physicians feel less welcome by the Trump administration's policies, they might seek out education elsewhere, he said.
"They will go to other countries because of the fear of the way they will be treated here, and that could deteriorate the quality of the professionals who come to the United States compared to the past," Bandari said.
Trump's policies are exacerbating a problem that existed before he took office, some immigration researchers say.
"The U.S. — which used to be the primary and preferred destination for highly skilled immigrants more broadly, and healthcare professionals in particular — is losing its competitive edge because others have done much more to attract highly skilled immigrants in healthcare," said Jeanne Batalova, a senior policy analyst at the Migration Policy Institute.
That's a problem for a healthcare system heavily dependent on immigrants.
Nationwide, an estimated 260,600 physicians and surgeons are immigrants, according to an analysis by the Migration Policy Institute. Of those, 5% are from travel ban-affected countries.
Other countries — including Canada, Australia and some European nations — are streamlining the immigration process to ensure that foreign physicians can more easily train and stay there, Batalova said. Meanwhile, it remains costly and time-consuming for foreign physicians to train in the United States.
In Southeast Asia, an effort is underway to pass laws that allow physicians to easily train in one country — such as Vietnam — and work in another, like the Philippines. Leaders want to keep doctors closer to home — in a region from which an estimated 26,500 foreign physicians in the United States hail.
Immigrants help address some of the imbalance in the U.S. healthcare system, Batalova said, because they are often more willing to work as primary care physicians — family medicine doctors and pediatricians — than doctors born in the U.S.
That's partly because of how the U.S. visa system for international medical graduates works.
Most foreign physicians who do their residency in the U.S. come through the J-1 visa program, which generally requires them to return to their home country for two years once they've completed their training before they can apply to stay in the United States for longer or permanently. Foreign physicians on a J-1 visa can avoid going home, though, by receiving a waiver after agreeing to work in a medically underserved area, either in rural America or an urban area with a high need for physicians, for at least three years.
In Los Angeles County, qualifying areas include parts of Compton, Chinatown, El Monte, Long Beach and Westlake.
Dr. Clarence Braddock, vice dean for education at the UCLA David Geffen School of Medicine, said in a statement that although the Trump administration's immigration policies have not yet had a significant, direct impact on UCLA's residency programs, he and other faculty are concerned about the long-term implications for the broader healthcare community and for patients.
"We need more physicians to meet the country's growing healthcare needs, and the anxiety and confusion caused by the proposed travel ban and end of DACA present a barrier for foreign-born or undocumented physicians seeking to practice medicine in the United States," Braddock said, referring to the imperiled Deferred Action for Childhood Arrivals program that shields from deportation young immigrants brought to the U.S. illegally as children.
"The medical community and patients benefit from a diversity of practicing physicians," he said. "Medical students navigate a long and difficult road to become physicians" — it takes an average of three years for a foreign physician pursuing a residency in the U.S. to be vetted, take the required tests and be approved — "and the challenges are undeniably magnified for those who are foreign-born or undocumented. It's a disservice to patients to discourage qualified doctors from practicing medicine in this country."
Some maintain, though, that the reliance on imported medical professionals is not good for the U.S. — or other countries.
Mark Krikorian, executive director of the D.C.-based Center for Immigration Studies, which pushes for lower legal and illegal immigration, said the United States is "strip mining" other nations for their physicians, leaving countries that have fewer resources with weakened healthcare systems. Instead, federal and state leaders should ensure that medical school is affordable and accessible to American citizens, increasing funding to programs that allow U.S. physicians to pay off their student loans by working in medically underserved areas, he said.
"A country of a third of a billion people that spans an entire continent should be able to generate enough physicians for its needs," Krikorian said. "And if there aren't enough American doctors, for instance, who want to work in some small town in Oklahoma, the solution is not to import foreign doctors and indenture them to work in a small town. It's to create opportunities for Americans who otherwise couldn't afford medical school."
Foreign physicians should only be allowed to enter the United States on work visas when they possess a rare skill, such as being one of the only people in the world able to perform a certain type of surgery, he said.
"You can make a good case that would serve the interest of the American people, but a [physician from Syria] who wants to come here because our medical training is better — how does that benefit America in the long run?" Krikorian said, referencing Mohamed's case. "It doesn't."
For now, Mohamed anxiously waits in Saudi Arabia, his only shot at acceptance being a decision by a U.S. consular officer to approve a travel-ban waiver.
Waiver applicants must demonstrate that denying them entry would cause undue hardship, that their entry would not pose a threat to national security or public safety and that their entry would be "in the national interest." Approval is on a case-by-case basis.
Since December, when the most recent version of the travel ban went into effect, about 250 waivers have been approved from more than 8,400 applicants from the eight countries listed in the current travel ban, Reuters reported, citing State Department data.
Mohamed said he has spent thousands of dollars to get to the point where he can legally enter the United States as a physician.
"The chances aren't very good," he said, "but there's still hope, and I'm not losing hope. I will try."
---
UPDATES:
3:40 p.m.: This article has been updated with comment from the president of the SoCal Persian American Medical Assn.
11 a.m.: This article has been updated with data about the share of doctors and surgeons who are immigrants.
This article was originally published at 10:50 a.m.
---
For reporting and exclusive analysis from bureau chief John Myers, get our California Politics newsletter.
You may occasionally receive promotional content from the Los Angeles Times.