Uber CEO apologizes to London, saying his company 'got things wrong'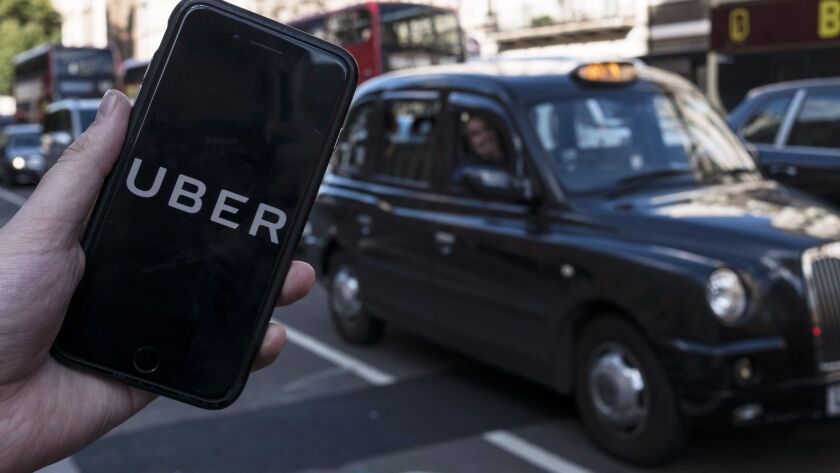 In a letter of apology to Londoners on Monday, Uber's new chief executive moved to repair his company's reputation after the city's transport authority said it would scrap the ride-hailing service's operating license.
Dara Khosrowshahi issued a letter to London's Evening Standard newspaper acknowledging that the San Francisco company "got things wrong along the way" as it expanded. He said the company will appeal the London decision but will do so "with the knowledge that we must also change."
"We won't be perfect, but we will listen to you; we will look to be long-term partners with the cities we serve; and we will run our business with humility, integrity and passion," he wrote.
The city's transportation agency, Transport for London, said Friday that it would not renew Uber's license when it expires Sept. 30, citing a lack of corporate responsibility and concern for public security.
The company has been subject to scandals concerning its management style, including accusations of sexism and the illegal use of software to trick regulators. London's transportation agency said the company was not fit to keep operating in London, where it has 3.5 million passengers and 40,000 drivers.
Uber has long been a target of complaints from taxi drivers and companies. Cab drivers say Uber drivers don't have to comply with the same licensing standards, giving the ride-hailing service an unfair advantage.
Khosrowshahi's apologetic letter comes after days of tense exchanges between Uber representatives and London Mayor Sadiq Khan, who said that any operator of taxi services in the city "needs to play by the rules" and that people angry about the decision should blame Uber.
On Monday, Khan welcomed the apology and said he was pleased to see Uber acknowledge the issues it faces. "Even though there is a legal process in place, I have asked [Transport for London] to make themselves available to meet with him," Khan said of Khosrowshahi.
The spat marks the first major crisis for Khosrowshahi, who is showing signs he plans to steer Uber away from the brash, swashbuckling culture it displayed when co-founder Travis Kalanick was CEO.
In an email last week, Khosrowshahi told employees not to cry foul but to be more self-reflective over the London decision. "The truth is that there is a high cost to a bad reputation," he said.
Reputation is probably what got Uber into its mess in one of Europe's most important markets for the burgeoning ride-hailing industry. Regulators in London never cited a specific violation for pulling Uber's license. Rather, the decision takes broad aim at the company's "approach" to transparency and safety, which experts say is a proxy for its culture.
Not that there haven't been serious problems.
Last month, London police accused Uber of failing to report a sexual assault committed by a driver, and said the driver later struck again.
The Sun newspaper reported that some Uber drivers allegedly had obtained falsified medical documents to drive for the service, and that background checks for about a tenth of Uber's driver workforce were invalid.
In his letter to Londoners, Khosrowshahi said Uber is already taking steps to show it is a force for good, citing more wheelchair-accessible vehicles and a plan to reduce pollution on the city's streets.
The company launched a change.org petition last week calling on London's mayor to reverse his decision over the license. As of Monday, it had more than 775,000 signatures.
The Associated Press was used in compiling this report.
---
UPDATES:
4:05 p.m.: This article was updated with comment from London's mayor.
8:20 a.m.: This article was updated throughout with Times staff reporting.
This article was originally published at 5:50 a.m.
---
Your guide to our new economic reality.
Get our free business newsletter for insights and tips for getting by.
You may occasionally receive promotional content from the Los Angeles Times.