Superbug outbreak: UCLA will test new scope-cleaning machine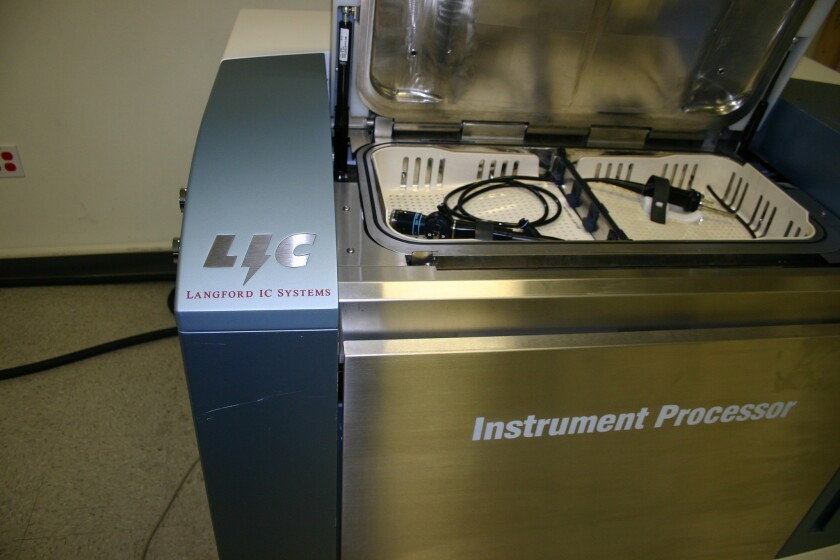 Following a superbug outbreak involving three deaths, UCLA officials are planning to test a new scope-cleaning machine designed by a small Arizona company.
The experiment could attract considerable attention since many hospitals across the country continue to grapple with how to prevent lethal patient infections from contaminated endoscopes.
A number of U.S. hospitals have experienced outbreaks of antibiotic-resistant superbugs from tainted duodenoscopes, which are put down a patient's throat to treat gallstones, blockages and cancers in the digestive tract.
The Food and Drug Administration, the Justice Department and members of Congress have been investigating the infections and potential safety lapses.
UCLA's Ronald Reagan Medical Center is scheduled to install the new scope-cleaning machine from Langford IC Systems Inc. next week on a trial basis and begin training employees on its use.
Dr. Raman Muthusamy, director of endoscopy at the UCLA hospital, said the new machine will be used as an extra cleaning step in addition to what the hospital is already doing.
"We are planning to study its effectiveness in the overall scope reprocessing protocol and see if it will be a useful tool for us long term," Muthusamy said. "We are trying to measure the level, if any, of bacterial contamination we see at each step in the process to identify where we see the greatest reductions."
Muthusamy said the hospital is still working out the details of the test, and he said results may be available in a couple of months.
"There isn't much data on this, but there is a lot of work that is being done," he said.
After an outbreak of scope-related infections from October 2014 to January, UCLA adopted the extra measure of sterilizing its reusable duodenoscopes with ethylene-oxide gas.
But gas sterilization has its drawbacks, such as high cost and potential damage to the scopes themselves. It's also primarily done at outside facilities, and the service isn't readily available in some areas.
A redesign of the hard-to-clean duodenoscopes by manufacturers isn't expected soon either. That has put pressure on hospitals to find new cleaning and surveillance methods that can ensure patient safety.
The FDA held a hearing in May on the safety of duodenoscopes, and it's expected to issue further guidance to hospitals and doctors.
Terry Langford, the 71-year-old founder and chief executive of the Tucson company, said the machine received FDA clearance in 2011 but hasn't been put to use as an endoscope cleaner until now.
The company's vice president of marketing called UCLA after its outbreak and pitched them on the product.
Langford said the machine is different than other scope-cleaning equipment because it subjects medical devices to a powerful two-way water flow without the use of connectors.
Conventional scope-washers, known as automated endoscope reprocessors, push water and disinfectants in one direction like a garden hose.
Langford said the shearing action of water rushing back and forth does a better job at dislodging debris and bacteria trapped in tiny crevices of the scope. This method could substitute for the manual cleaning done by hospital employees or eliminate the need for gas sterilization, according to the company.
"We have poured tens of millions of dollars into this. Now that it's superbug time it will pay off," Langford said. "This is why we're going into UCLA. It's an ideal spot to do an evaluation."
Some medical experts said the new machine is worth a look, but they remain wary until its effectiveness can be evaluated.
"They have an interesting idea if it really works, but I would be cautious," said Lawrence Muscarella, a hospital safety consultant and expert on endoscopes in Montgomeryville, Pa.
Langford's company, founded in 2002, has five full-time employees. It's working with a Massachusetts company, Proven Process Medical Devices Inc., on manufacturing and bringing the equipment to market.
Langford said there are no upfront capital costs to hospitals. Rather, he charges $35 each time the machine is used.
Twitter: @chadterhune
---
Your guide to our new economic reality.
Get our free business newsletter for insights and tips for getting by.
You may occasionally receive promotional content from the Los Angeles Times.