Vidiots movie rental store in Santa Monica is closing after 30 years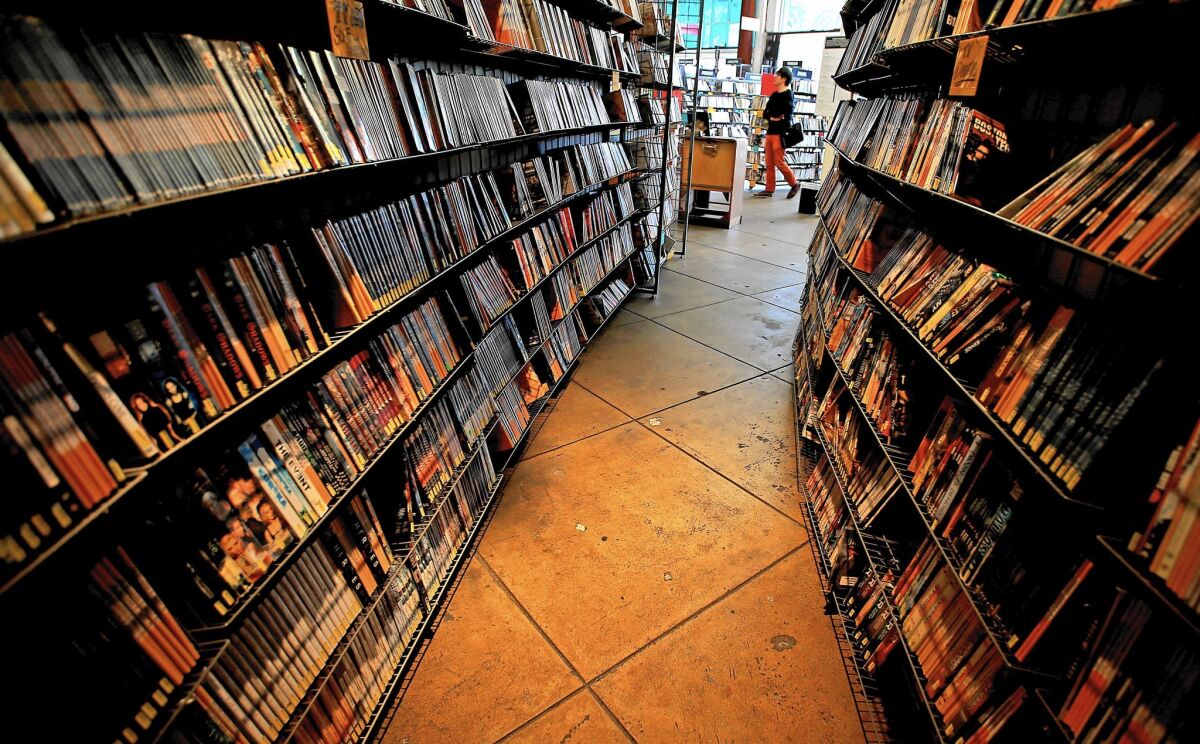 The shelves at the Vidiots movie rental store are covered with dozens of messages scribbled by filmmakers on the covers of faded VHS and DVD containers. Notes from "Chinatown" writer Robert Towne, reclusive "Thin Red Line" director Terrence Malick and others praise the Santa Monica store's brainy staff and the mammoth film selection that has made it famous among film buffs worldwide.
One message, from Oscar-winning director Oliver Stone, stands out now: "What would life be like without Vidiots?"
------------
FOR THE RECORD:
Vidiots closing: In the Jan. 30 Business section, an article about the upcoming closure of Vidiots movie rental store misspelled the name of Entertainment Merchants Assn. Chief Executive Mark Fisher as Marc.
------------
Its patrons and fans will soon find out. Vidiots is closing in April after years of struggling to survive the onslaught of Internet rentals, streaming services and online piracy.
Rentals have dropped 24% in the last six months and are down 60% from the store's peak years in the early 2000s, co-owner Cathy Tauber said.
The store tried being a nonprofit, soliciting donations and hosting in-store events with directors. It even auctioned off a lunch with actress Laura Dern and a pitch meeting with an executive producer of the TV series "Homeland" to raise funds.
Tauber said the store also considered launching an online crowdfunding campaign but thought that it wouldn't be a long-term fix.
"We are just bleeding money. We just can't do that anymore," she said. "We didn't want to do something and end up right back where we were in six months."
Video rental stores have been suffering for years after reaching a peak in the late 1990s and early 2000s as DVDs took off, said Mark Fisher, chief executive of the Entertainment Merchants Assn.
------------
FOR THE RECORD
Jan. 30, 12:20 p.m.: An earlier version of this article misspelled Entertainment Merchants Assn. Chief Executive Mark Fisher's name as Marc.
------------
There were about 20,000 locations that got at least 50% of their revenue from renting films in 1999 compared with the 3,900 independent and supermarket outlets that rented discs in the U.S. in 2013, he said. An explosion in movie rental kiosks like Redbox, which has more than 35,000 locations in the U.S., has also hurt stores such as Vidiots.
The stores that survive have found ways to supplement their revenue with other retail sales, Fisher said.
One chain in the Midwest, Family Video, owns and develops the land it is on and has actually expanded locations in recent years by integrating a pizza chain into its stores, according to a report from the Entertainment Merchants Assn.
But independent stores like Vidiots have struggled to find a model that works.
Cinefile Video on Santa Monica Boulevard in West Los Angeles sells its own line of director-themed T-shirts and buttons, which can bring as much as 40% of revenue in a year, store manager Dean Fernando said. The store also depends on talent agencies and studios that come in and rent entire filmographies for research purposes.
"We serve the industry. That is what keeps us going," he said. "It is a tough fight."
When the owners of another well-known niche-video store, Scarecrow Video in Seattle, wanted to sell the business, employees and customers raised $130,000 through online crowdfunding Kickstarter to take over the store as a nonprofit.
Matt Lynch, the marketing coordinator for the newly formed Scarecrow Project, said he hopes that film lovers can find a way to save Vidiots. "It is L.A.," he said. "It is pathetic if the community can't support a video store there."
Tucked between a pet store and a juice bar just a few blocks from the beach in a colorfully painted brick building highlighted in 1980s-style neon lighting, the store has a decidedly neighborhood feel that belies its reputation.
Glum patrons trickled into the store Wednesday as a store employee fielded constant phone calls from people trying to confirm the news.
Vidiots co-owner Tauber, who founded the store with her friend Patty Pollinger in 1985, said they are looking for a benefactor to take over the store or to at least keep their collection of 50,000 titles available to the public.
They have gotten calls from the American Film Institute, the Academy of Motion Picture Arts and Sciences and producer Harvey Weinstein inquiring about the purchasing parts of the collection, she said.
Film editor Maxx Gillman, 32, stood inside the store with 10 hard-to-find documentaries by filmmaker Frederick Wiseman under his arm and recalled first visiting the store as a curious teen. He came in to rent a newly released war movie when a fellow customer told him to skip it and rent the 1964 Cold War thriller "Fail Safe" by director Sidney Lumet instead.
It was the type of human interaction and film education that can only come from brick-and-mortar video rental stores, Gillman said. The documentaries he rented aren't available online.
"It is a place you can come and explore and get lost in," he said. "We don't have enough cultural archives like this. It would be a terrible loss."