Virgin Galactic reaches suborbital space for the first time. Now it's closer to flying customers there.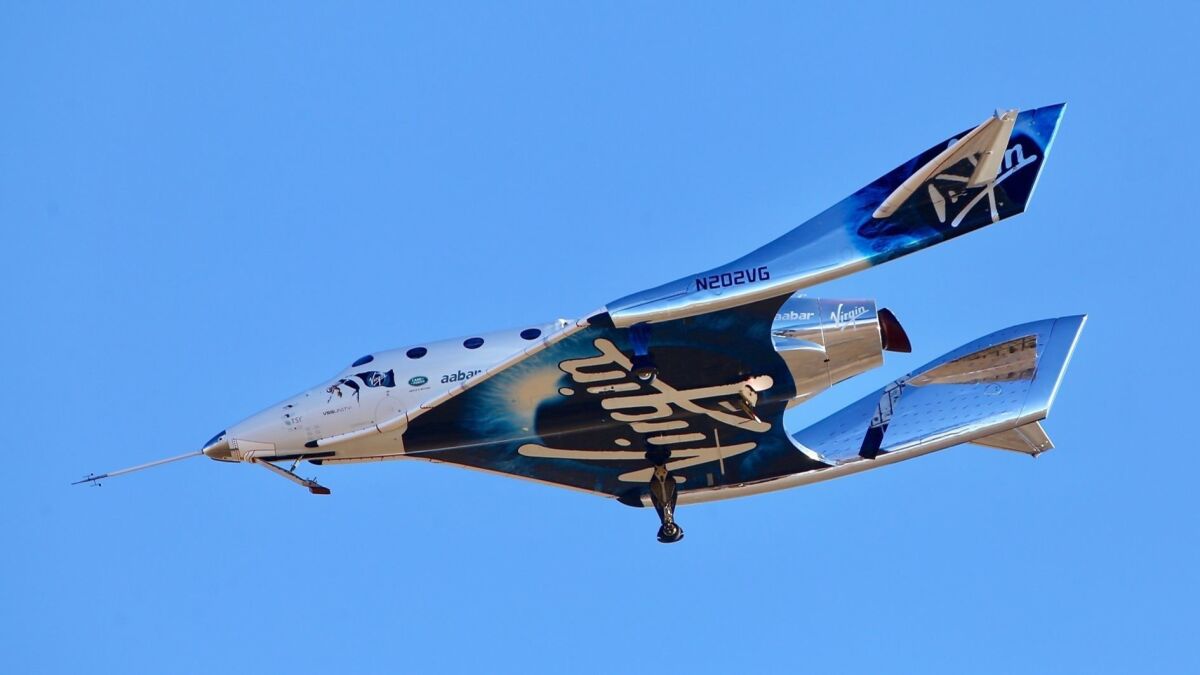 Reporting from Mojave —
Virgin Galactic reached suborbital space for the first time in a test flight Thursday, bringing Richard Branson's company closer to flying its customers beyond Earth's atmosphere.
Thursday was the fourth time VSS Unity fired up its rocket motor and flew on its own power after being released from the belly of a larger, twin-fuselage carrier airplane. The space plane reached a maximum altitude of 271,268 feet, or 51.4 miles, above the Earth, the company said.
Capping its hourlong journey, the space plane landed back on the runway at the Mojave Air and Space Port in front of a jubilant crowd. During post-flight speeches, one Virgin Galactic employee proposed to his girlfriend, offering her an engagement ring that had just taken the ride to suborbital space. She said yes.
Branson, a British billionaire, acknowledged the exultation as well as some heartbreak. "It's been 14 hard years," he said in a speech to the crowd. "We've had tears and joy. People have literally put their lives on the line to get us here. This day is as much for them as it is for all of us."
Thursday marked the latest step in Virgin Galactic's long test-flight campaign that restarted in September 2016, almost two years after a previous version of the SpaceShipTwo space plane broke apart in midair during a powered test flight. That accident killed the copilot, Michael Alsbury, and injured the pilot, Peter Siebold.
How Virgin Galactic's space plane pilot survived a 10-mile fall back to Earth »
The National Transportation Safety Board later said the space plane broke apart after the copilot prematurely opened the craft's "feather system," a movable tail designed to help slow it down as it reenters Earth's atmosphere.
The NTSB placed most of the blame on that plane's builder, Scaled Composites, saying the design should have protected against the possibility of this human error. Mojave-based Scaled Composites is now owned by Northrop Grumman Corp.
The current version of the space plane is now built in-house at Spaceship Co., Virgin's spacecraft manufacturing and assembly arm. Virgin Galactic has said it devised additional safety mechanisms to prevent pilots from opening the feather system too early.
Thursday's flight began with the takeoff of carrier aircraft VMS Eve at 7:11 a.m., just as the sun rose over the mountains. Over the better part of an hour, that aircraft and the attached space plane flew upward, reaching about 43,000 feet.
The space plane was released from the carrier aircraft about 7:59 a.m., and its rocket motor ignited shortly afterward. From the ground, it looked like a glowing red dot shooting up from the carrier aircraft's faint contrail.
The motor burned for about 60 seconds — longer than the 55 seconds Virgin Galactic expected, but less than the approximately 65 seconds it's capable of burning. (The pilots have a bit of leeway: If the flight is going well, they're allowed to push a little beyond their target.)
Thursday's flight reached a top speed of Mach 2.9, the company said — about 2.9 times the speed of sound. Previously, the fastest the space plane had flown was Mach 2.4.
The space plane landed about 8:13 a.m., with the carrier aircraft following at 8:45 a.m.
The flight is not only an important milestone for the company but also a positive for the larger, burgeoning suborbital space tourism industry, said Carissa Christensen, chief executive of Bryce Space & Technology. "Companies in very early-stage ecosystems benefit from the success of their competitors because it helps demonstrate that what they are seeking to sell is possible and that there is demand for it."
Virgin Galactic has been in the space tourism business a long time — Branson first announced his commercial space service in 2004, saying at the time that he expected the first flight to occur in 2007. Since then, a number of other firms have jumped into the fray.
Amazon.com Inc. Chief Executive Jeff Bezos' Blue Origin space company developed a capsule and rocket system called New Shepard that's designed to take tourists to suborbital space. The company has not yet announced ticket prices for the ride, which is expected to last for 11 minutes from liftoff to landing. So far, the rocket-and-capsule system has completed nine test flights.
Elon Musk's SpaceX also plans to tap into the space tourism market. In September, Musk announced that Japanese e-commerce billionaire Yusaku Maezawa would be the first paying customer to travel around the moon on the Hawthorne company's Starship spaceship and Super Heavy Rocket, formerly known as BFR. That launch system is still under development.
Maezawa has said he expects his flight to occur in 2023. He said he could not disclose the price of the trip, though Musk has called the down payment "significant."
Virgin Galactic charges as much as $250,000 per ticket for its rides to suborbital space, and Branson said Thursday that nearly 700 people have signed up for a trip as the company continues testing and fine-tuning its system. On Thursday, the company flew four research payloads for NASA to help simulate the weight of paying customers in the space plane, making Thursday's flight its first revenue-generating mission.
Branson estimated that development costs across his three space-related companies — Virgin Galactic, Spaceship Co., and small-satellite launch firm Virgin Orbit — have so far totaled about $1.3 billion.
Did Thursday's flight officially reach space? There's no universally accepted answer.
The U.S. military considers space to be at least 50 miles above Earth's surface. And after the space plane landed, a Federal Aviation Administration official said the two Virgin Galactic pilots — Mark "Forger" Stucky and Frederick "CJ" Sturckow — will be awarded commercial astronaut wings next year in Washington.
But the world governing body for aeronautic and astronautic records and other organizations define space as 62 miles above Earth, a designation known as the Karman line.
Regardless, Virgin Galactic's next steps include more flight tests, including flights with employees to ensure in-flight procedures are "safe and enjoyable," said George Whitesides, chief executive of Virgin Galactic and Spaceship Co.
Twitter: @smasunaga
Sign up for the California Politics newsletter to get exclusive analysis from our reporters.
You may occasionally receive promotional content from the Los Angeles Times.