Walgreens changes restroom policy after customer says a Hollywood store discriminated against her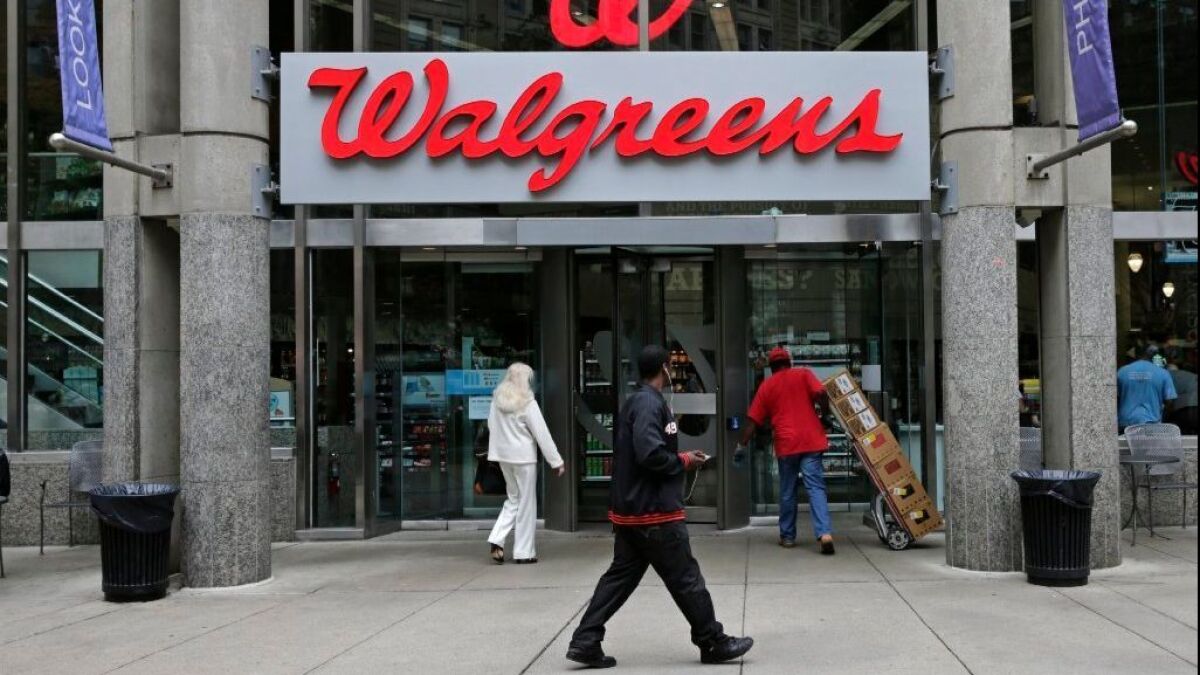 The Walgreens drugstore chain has adopted a companywide policy that allows people to use the bathroom that corresponds with their gender identity after a customer said she was discriminated against at a Hollywood store.
Jessie Meehan, who is not transgender, said she asked to use the restroom at a Walgreens on Sunset Boulevard after she spent about $20 on items there on her way to the LGBTQ Pride festival last year; a sales associate told her she could not use the women's restroom because she looked like a man.

For the record:
2:10 p.m. Feb. 7, 2018An earlier version of this article cited what it called a California State Report and said the data came from more than 27,000 respondents. The report was issued by the National Center for Transgender Equality, and it focused on data from 3,453 respondents who were California residents.
A store manager told her it was store policy to restrict access to a bathroom based on a customer's appearance, although when she complained later, another manager said there was no such policy.
"I had to go so I didn't put up much of a fight and used the stall while the men used the urinals next to me," Meehan wrote in an email to Walgreens. "This in itself was very humiliating for me and I felt extremely uncomfortable."
Meehan said she argued with a manager for several minutes and then went to the Pride festival and found an information booth staffed by the American Civil Liberties Union of Southern California.
Meehan, who is active in the LGBTQ community, wrote a letter to Walgreens, suggesting solutions and offering to help train staff. Two months later, when no action was taken, ACLU staff attorney Amanda Goad sent a letter to Walgreens laying out the California law, "which protects every person's right to access restrooms based on their gender identity in workplaces, schools and business establishments."
No litigation was required and no financial settlement was sought, Goad said. After hearing what happened to Meehan, Walgreens simply changed its policy at all 8,100 stores nationwide to comply with California law.
Although Walgreens specified the policy was for transgender individuals, it applies to all individuals. Goad said gender discrimination relating to bathroom usage is not just a transgender issue and that it's relatively common for women who are perceived as gender nonconforming to be questioned or challenged on their way to the women's restroom.
"In an ideal world, the best policies apply to everyone because it's not exclusively a transgender issue and having staff speculate who or who might not be transgender doesn't help anyone," she said.
Meehan said she supported Walgreens as a customer because she knew it was an LGBT-friendly business.
"When I think of Walgreens, I think of an ally," Meehan said in her email to Walgreens. "A company that really supports progressive issues which I really respect a lot."
In 2016, the Human Rights Campaign named Walgreens the best place to work for LGBT equality. Walgreens scored perfectly in the advocacy group's Corporate Equality Index, a national benchmarking survey and report on corporate policies and practices on LGBT workplace equality.
"People who work there, maybe their experience is different, but as a customer who spends a lot of time and money at Walgreens, I expected more out of them," she said in an interview.
Walgreens, which is owned by Walgreens Boots Alliance of Deerfield, Ill., confirmed the policy change, but would not comment further.
So-called bathroom equity has been hotly debated in recent years.
In December, North Carolina repealed a controversial requirement that people use public bathrooms based on the gender listed on their birth certificates.
In 2016, Target adopted a policy that allows customers and employees to use bathrooms based on their gender identity. The policy generated a backlash, including a boycott, from conservative groups.
A 2015 survey by the National Center for Transgender Equality found that, of the 3,453 respondents who were California residents, 9% had been denied access to a restroom that year, 12% had been verbally harassed while trying to access one and 60% had avoided using a public restroom in the past year.
California law bans businesses, nonprofits and government agencies that serve the public from not allowing people to use bathrooms that match their gender identity or from asking that people show identification to use a restroom or other sex-segregated facility. All single restrooms are also required to be designated as all-gender.
There should be clear policies that are comprehensible for customers and staff alike, Goad said. But there's no data on how well the staff is trained to enforce those policies, she said.
Meehan said she's not completely satisfied with the policy because it is labeled as a transgender inclusion policy and does not outline steps for employees to take if they encounter a similar situation, but "it's a good first step."
alejandra.reyesvelarde@latimes.com
Twitter: @r_valejandra
---
Sign up for the California Politics newsletter to get exclusive analysis from our reporters.
You may occasionally receive promotional content from the Los Angeles Times.