As Wells Fargo's earnings fall, new CEO wishes scandal was handled earlier
Wells Fargo & Co.'s new chief executive vowed Friday to take "the necessary actions to restore our customers' trust" as the scandal-plagued banking giant posted a 3% drop in third-quarter earnings.
"My immediate and highest priority is to restore trust in Wells Fargo," Timothy Sloan, who assumed the CEO's job vacated by John Stumpf only two days earlier, told Wall Street analysts on a conference call. "Make no mistake: I get it and our team is on it."
But there were signs of a consumer backlash last month in response to the bank's improper sales practices, and some experts cautioned that the scandal's full financial impact on Wells Fargo might be yet to come.
"It's going to take them several quarters to get their arms around this," independent banking analyst Bert Ely said.
Sloan, a longtime Wells Fargo employee who also remains the bank's president, took over after Stumpf quit under intense pressure from lawmakers and other critics who were outraged over the bank's aggressive cross-selling efforts dating back several years.
Wells Fargo employees were found to have created as many as 2 million accounts in customers' names without their consent, such as new credit card accounts. The tactics were first uncovered by the Los Angeles Times in 2013.
The San Francisco-based bank reached a $185-million agreement with regulators over the issue, including $5 million for repayment to customers, on Sept. 8.
In the three months that ended Sept. 30, Wells Fargo's net income fell to $5.6 billion, or $1.03 a share, from $5.8 billion, or $1.05 a share, a year earlier. The results topped analysts' forecasts of $1.01 a share in the latest quarter, according to FactSet Research Systems Inc.
But third-quarter profit at Wells Fargo's community banking division, which includes the unit responsible for the sales problems, fell 9% from a year earlier to $3.23 billion.
There also were signs that potential new customers were backing away from the bank. In September, openings of consumer checking accounts tumbled 30% from August and were down 25% from a year earlier, Wells Fargo said. Applications for credit cards also fell sharply.
"It is hard to imagine how [numbers] like those from September ... will not have a more pronounced financial impact going forward," analyst R. Scott Siefers of Sandler O'Neill & Partners said in a note to clients.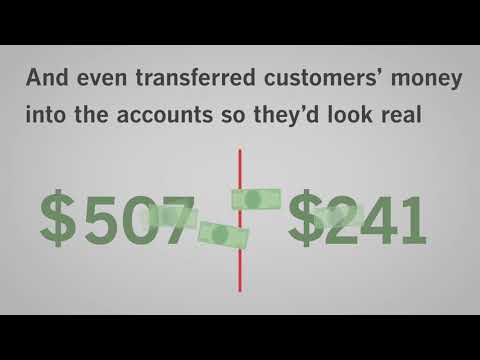 Quick breakdown of the Wells Fargo scandal.
Adding to the bank's woes, Ohio Gov. John Kasich said Friday that he is suspending Wells Fargo from doing business with state agencies or handling state bond offerings. Ohio joins California and Illinois in doing so.
The bank also acknowledged that it potentially faced uncertain costs related to any civil lawsuits or regulatory enforcement actions but that its other lines of business, such as mortgage banking, remained strong.
Wells Fargo, which has $1.94 trillion in assets, said its third-quarter revenue edged up 2% to $22.3 billion from $21.9 billion a year earlier.
During his 1½-hour conference call, Sloan outlined several steps Wells Fargo is taking in response to the scandal, including contacting all customers affected by the improper sales so that they can review their accounts.
He also noted that Wells Fargo's board of directors has commissioned an independent study of the sales practices but said he did not know when that inquiry would be completed or whether its results would be made public.
"We let down our customers, our shareholders and our team members," Sloan said. "We had serious problems in our retail bank, where products became the focus rather than the relationships with our customers."
The scandal's hit to Wells Fargo's profitability in the third quarter "is not very material, but the hit to its reputation has been huge and we don't know yet how that is going to translate into an actual financial impact," said Nancy Bush, whose NAB Research tracks the industry.
Sloan said a key lesson from the scandal was that the bank was too slow to recognize and fix its problems.
"When I think about the retail sales practices issues we've had at the company, I wish that the business had escalated the issue sooner" to Wells Fargo's top management, Sloan said.
"I wish when the business escalated the issue that — while the senior management did a lot in response — I wish we could have done more," he said. "We've got to escalate issues, wherever they occur within the company, sooner."
Wells Fargo said it has fired about 5,300 workers for improper sales practices since 2011. When one analyst asked if Wells Fargo might consider bonuses or some other way of saying "we're sorry" to its remaining employees who had been "put through the wringer," Sloan replied: "Saying we put our team members through the wringer is an understatement."
Sloan said that while "we offer a very competitive set of compensation and benefits" for workers, "all ideas are on the table" to retain and attract employees.
The same is true about whether Wells Fargo might offer a cut in fees or other discounts to keep customers and attract new ones, Sloan said. But he added that "I would not expect us to lead with price" because Wells Fargo's strategy is "building that lifelong relationship [with customers] that's not based on price."
The third-quarter results were released before the markets opened Friday. Wells Fargo's stock closed the day's trading at $44.71 a share, down four cents.
Twitter: @PeltzLATimes
ALSO
Wells Fargo needs to change more than just its CEO
New Wells Fargo CEO has 'one-week window' to prove he's right choice, critic says
Wells Fargo stock falls 2% as it tries to regain customers' trust
---
UPDATES:
2:50 p.m.: This article was updated throughout to include analyst comments and the company's closing stock price.
9:45 a.m.: This article was updated to include additional comments from Wells Fargo Chief Executive Timothy Sloan and to update Wells Fargo's stock price.
7:25 a.m.: This article was updated to include comments from Wells Fargo Chief Executive Timothy Sloan.
6:50 a.m.: This article was updated with staff reporting.
This article was originally published at 6:35 a.m.