Elizabeth Warren calls on Fed to remove Wells Fargo board members over accounts scandal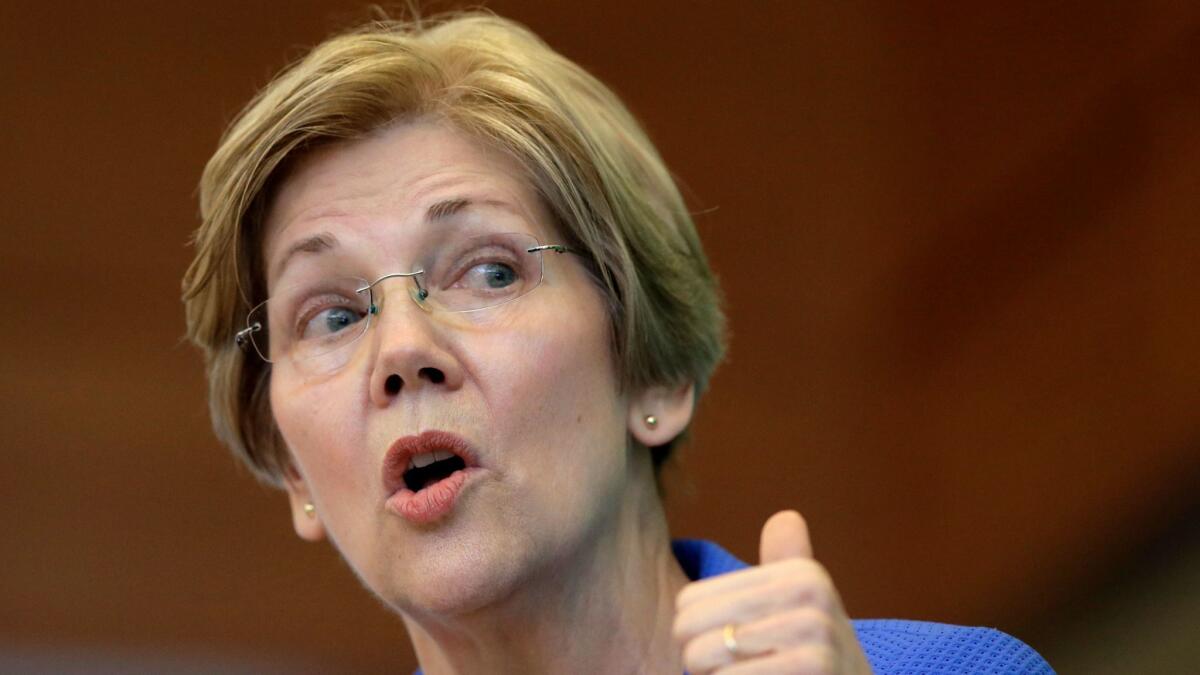 Sen. Elizabeth Warren is calling on the Federal Reserve to remove Wells Fargo & Co. board members who presided over the bank when it opened millions of consumer accounts without customers' authorization.
The scandal "revealed severe problems with the bank's risk management practices — problems that justify the Federal Reserve's removal of all responsible board members," the Massachusetts Democrat wrote in a Monday letter to Federal Reserve Chair Janet L. Yellen.
The letter primarily cites a report by New York law firm Sherman & Sterling, which was hired by the board to conduct an independent investigation into the scandal, which erupted last year.
The report, released in April, found that the board did not take an active enough role in monitoring the bank's practices, which in turn allowed problems to persist for years. Some critics said the report did not hold the board accountable enough, painting board members as out of the loop rather than negligent.
In her letter, Warren said the board's lack of oversight caused the company to suffer financial and reputational harm and that the lack of effective risk management amounted to an "unsafe and unsound practice" that put the bank at risk.
Federal banking regulators have the authority to remove bank directors, although it's something of a last resort.
Warren's letter requests the removal of 12 current board members who served between May 2011 and July 2015 — the period during which the bank admitted opening as many as 2.1 million sham accounts in a $185-million settlement with regulators and the Los Angeles city attorney's office.
Excluded from the call for removal are Chief Executive Timothy Sloan and directors Karen Peetz and Ronald Sargent, all of whom joined the board later.
Wells Fargo said Monday morning that it had not yet received a copy of Warren's letter, but defended the board's response to the scandal.
"Wells Fargo's board and management team have taken many actions in response to its retail sales practices issues, including changes in senior leadership, executive accountability actions and numerous steps to ensure we make things right with any customer affected by unacceptable sales practices," the statement said.
In April, the company's shareholders re-elected all the bank's board members, but with markedly less support than they've been accustomed to in previous years.
While the bank's three newest directors each received at least 99% support from shareholders, none of the other 12 directors received more than 80% of shareholder support.
At last year's meeting, every board member won the support of at least 94% of voting shareholders.
The letter by Warren is just the latest fallout from the scandal, which the bank has sought to put behind it.
Last week, the bank, seeking to settle related class-action lawsuits, made an open-ended commitment to fully compensate customers who paid fees or suffered damage to their credit due to any unauthorized account.
The bank had previously agreed to pay $110 million to settle the cases, and later upped the amount to $142 million as estimates of the number of unauthorized accounts rose to as many as 3.5 million.
"The fake accounts scandal cost Wells Fargo customers millions of dollars in unauthorized fees and damaged many of their credit scores," Warren wrote in the letter.
At a congressional hearing in September, Fed Chief Yellen was pressed on regulatory action against Wells Fargo and said, "I think it is very important that senior management be held accountable."
Since then, however, Wells Fargo Chief Executive John Stumpf resigned, and the bank has clawed back tens of millions of dollars' worth of compensation from Stumpf and former community banking executive Carrie Tolstedt.
The bank, which had earlier fired some 5,300 employees, also revised its incentive system to reward employees for new accounts that are actually used instead of just opened.
The bank's practices — which stemmed from employees trying to meet onerous sales quotas set by managers and executives — were first uncovered by a 2013 Los Angeles Times investigation.
Jaret Seiberg, an analyst for Cowen Washington Research Group, wrote in a note he doesn't expect action from the Fed.
"We find it as unlikely that the Federal Reserve would remove the existing directors," Seiberg wrote. "The CEO already has left and the board has conducted its own investigation."
Shares of Wells Fargo closed up 35 cents to $54.24.
Times staff writer Jim Puzzanghera contributed to this report.
---
UPDATES:
1:55 p.m.: This story was updated with Wells Fargo's stock price, more details from Elizabeth Warren's letter and a comment from analyst Jaret Seiberg.
This story was originally published at 9:45 a.m.