Sen. Elizabeth Warren pushes Federal Reserve to hold formal vote on Wells Fargo reform plan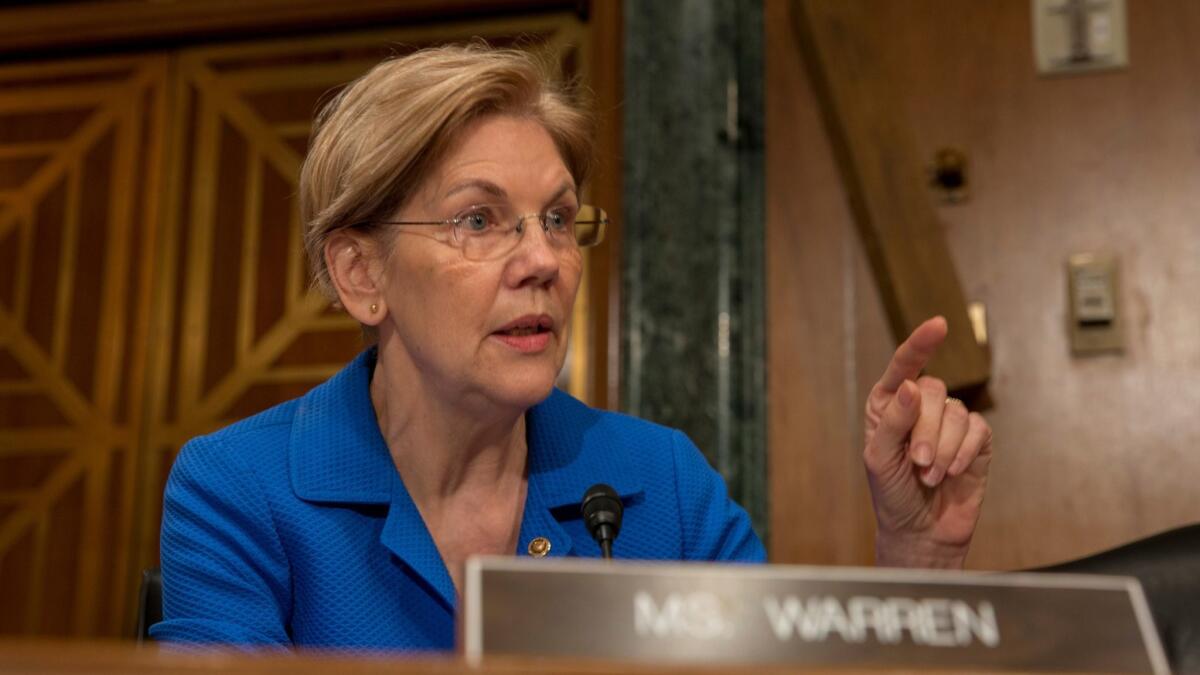 Reporting from Washington —
Sen. Elizabeth Warren (D-Mass.) is requesting that the Federal Reserve Board of Governors hold a formal vote on whether to accept a plan from Wells Fargo & Co. to address consumer abuses.
In a letter to Fed Chairman Jerome H. Powell released Wednesday, Warren said it was important for Senate-confirmed central bank governors to vote on enforcement decisions so Congress and the public can hold them accountable.
For the record:
12:30 p.m. April 4, 2018An earlier version of this article reported that Warren's letter was sent Monday and released Tuesday and that a Fed spokesman acknowledged its receipt Tuesday. The letter was sent Tuesday and released Wednesday. The Fed spokesman's comments were made Wednesday.
In February, the Fed board voted unanimously to order Wells Fargo to cap its growth and improve its corporate governance in response to the bank's unauthorized accounts scandal and other problems.
"Given the breadth of the wrongdoing at Wells Fargo and the enormous number of consumers affected, the Fed's governors — not its staff — should be responsible for determining whether Wells Fargo is complying with the consent order," Warren wrote in the letter she sent Powell on Tuesday.
"The Fed's consent order sent a powerful message to Wells Fargo and other big banks that there could be real consequences … if they break the law," Warren wrote. "The public deserves to see that the [Fed] board is strictly enforcing its order."
The Feb. 2 consent order requires Wells Fargo's board of directors to submit a written plan within 60 days to improve its oversight and risk management. Because that plan is due this month, Warren asked Powell to respond to her request by April 19.
Warren, a leading critic of Wells Fargo, had questioned Powell about the Fed's sanctions on the San Francisco-based bank during a March 1 Senate Banking Committee hearing. At the hearing, Warren objected when Powell said approval of Wells Fargo's plan would be delegated to the staff "in serious consultation" with Fed board members.
Powell agreed to Warren's request to consider requiring a board vote on the plan. In the letter, Warren asked Powell to formally commit to such a vote.
Powell has received the letter and will respond to it, Fed spokesman David Skidmore said Wednesday.
The consent order prohibits Wells Fargo from increasing its total assets beyond $1.95 trillion, where they stood at the end of last year, until the Fed determines the bank "sufficiently improves its governance and controls."
The move was the most serious regulatory action against Wells Fargo since it agreed in 2016 to pay $185 million to settle investigations by other regulators into the bank's creation of millions of accounts for customers without their authorization.
The practice was first reported by the Los Angeles Times in 2013.
Since then, Wells Fargo has admitted engaging in other questionable practices, including charging auto-loan customers for insurance they did not need and charging improper fees to mortgage borrowers.
Warren also asked in the letter for Powell to publicly release a third-party review that will be undertaken to determine if Wells Fargo is implementing its remediation plan. Powell said at the hearing he would see if that was possible.
Under questioning from Warren, Powell said that the growth cap would not be easily lifted, but that the bank would not have to fully implement its remediation plan before it was removed.
Twitter: @JimPuzzanghera
---
UPDATES:
11:05 a.m.: This article was updated with comment from a Fed spokesman.
This article originally was published at 9:10 a.m.