Fed chief says Wells Fargo needs to make 'significant' reforms before growth cap is lifted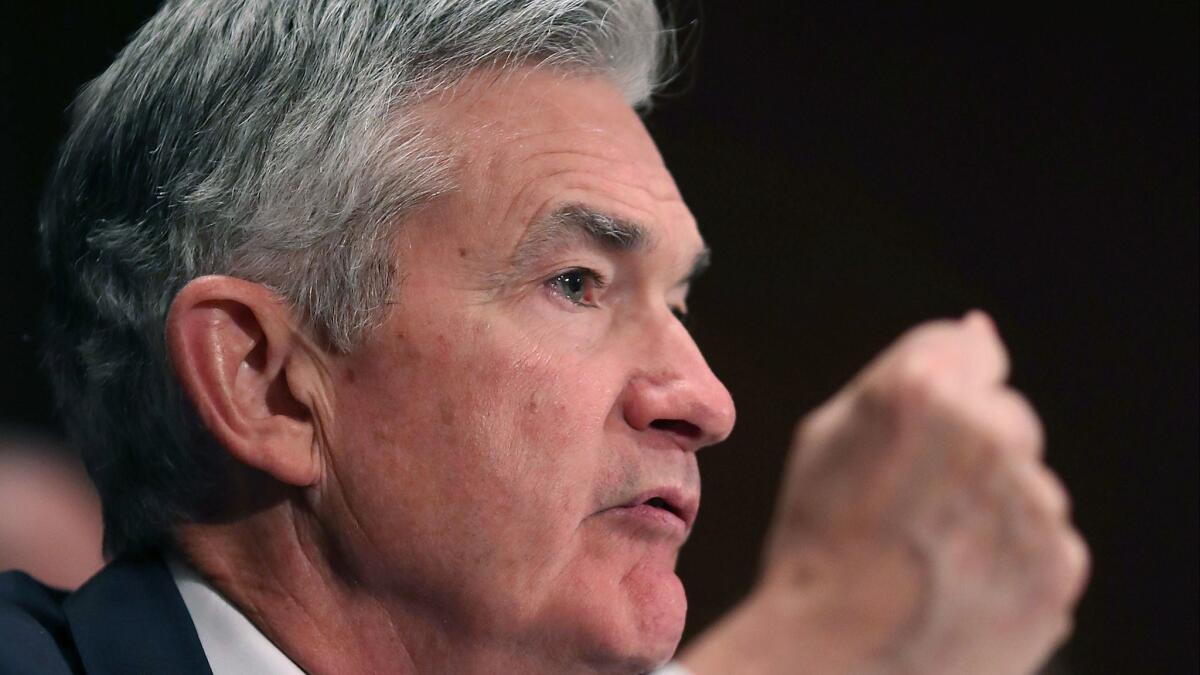 Reporting from Washington —
The new chief of the Federal Reserve said Thursday that a cap it placed on the growth of Wells Fargo & Co. after widespread consumer abuses would not be easily lifted — but the bank would not have to fully implement reform plans before it was removed.
Fed Chairman Jerome H. Powell sparred over the matter with Sen. Elizabeth Warren (D-Mass.), one of the leading critics of Wells Fargo after its creation of millions of unauthorized accounts and the disclosure of other questionable practices.
"Growth restriction is your really big stick here, and I hope that you won't consider lifting it just because Wells makes some marginal progress," Warren told Powell at his first appearance before the Senate Banking Committee since taking over as Fed chairman on Feb. 5.
"I want to be really clear on this — to lift the growth restriction, the Fed needs to see that the plans have been fully implemented, right?" Warren asked. "It's not enough that Wells has taken some preliminary steps toward implementing the plans, is that right?"
"No, I don't think that is right," Powell said. "Once we've improved the plans and they begin to implement them, we see them on track, the growth restriction could then be addressed. No guarantee there, but we would then be prepared to look at it."
Warren asked how much progress Wells needed to make. Powell said, "We'll have to be assured that the company has made these really significant measures and suffered a significant period of a growth cap."
"We will not lightly lift it," Powell said.
Warren objected to lifting the restriction before Wells Fargo fully addressed its problems.
The clash between the new Fed chief and Warren came during a day when there were new disclosures about additional problems at the bank and an announcement that four longtime board members will retire in the coming weeks.
The bank said in its annual report released Thursday that its board was conducting a review of some wealth and investment management unit activities in response to "inquiries from federal government agencies."
On top of that, there was a report that a former Wells Fargo fraud investigator had sued the bank and his supervisor for alleged whistleblower retaliation after telling his superiors about yet another bad practice that stuck customers with extra costs.
Powell, who has served as a Fed board member since 2012, voted with his other colleagues to put the growth cap in place on Feb. 2 in the last official move by his predecessor, Janet L. Yellen.
The consent order prohibits Wells Fargo from increasing its total assets beyond $1.95 trillion, where they stood at the end of last year, until the Fed determines the bank "sufficiently improves its governance and controls."
The move was the most serious regulatory step taken against the San Francisco financial giant after it agreed in 2016 to pay $185 million to settle investigations into the bank's creation of millions of accounts for customers without their authorization.
The practice was first reported by the Los Angeles Times in 2013.
Since then, Wells Fargo has admitted other questionable practices, including charging auto-loan customers for car insurance they did not need and charging improper fees to mortgage borrowers.
The consent order requires Wells Fargo's board of directors to submit written plans within 60 days to improve its oversight and risk management. In response to questions from Warren, Powell said Thursday that the approval of those plans would be delegated to the staff "in serious consultation" with Fed board members.
Warren said that wasn't good enough.
"Fed board members are supposed to make the big decisions, and Fed board members are supposed to be accountable for these decisions," she said.
Powell agreed to Warren's request to consider requiring the Fed board to vote to approve the plans.
The order requires an independent review to be completed by Sept. 30 to determine how Wells Fargo is implementing the plans. Warren requested that Powell make that review public while redacting any confidential information.
Powell said he couldn't commit to do that but would look into "if it can be made public."
Wells Fargo said in a statement that it was "working with the Federal Reserve to ensure our company fully satisfies the consent order's requirements, which includes meeting its Sept. 30 deadline for a third-party review of our plans."
Wells Fargo's review of its wealth and investment management unit is looking at "whether there have been inappropriate referrals or recommendations, including with respect to rollovers for 401(k) plan participants, certain alternative investments, or referrals of brokerage customers to the company's investment and fiduciary services business," the filing said.
The Wall Street Journal reported that the Justice Department asked the bank late last year to conduct the independent investigation after whistleblowers reported problems in the unit.
The annual report noted that a separate review of the wealth and investment management unit determined certain fiduciary and custody accounts had been subject to incorrect fees "resulting in customer overcharges."
In a message to bank employees Thursday, Sloan acknowledged the review and said that, "When we discover a problem, we are moving to find the root cause and fix it so we can be confident we are doing all we can to build a better, stronger Wells Fargo."
Regarding the incorrect fees, Sloan said "we have started work to fix this issue, and we will make things right for any customer that may have been impacted."
The annual report also noted Wells Fargo is reviewing its foreign exchange business in response to "inquiries from government agencies." The Wall Street Journal has reported that Wells Fargo bankers overcharged corporate clients for foreign exchange transactions to reap larger bonuses.
In the whistleblower lawsuit, which was filed Wednesday, Matthew Valles said he was fired from the bank's Portland office after complaining Wells Fargo would summarily close accounts where there was possible fraudulent activity even if it was the account holder who alerted the bank.
When accounts were closed without a required fraud investigation, customers would have to bear the cost of any transactions that turned out to be fraudulent instead of the bank, according to the lawsuit.
Valles said he complained about the practice to the human resources department in 2015 and was fired this January following a medical leave. Michael Fuller, Valles' attorney, alleged the bank was trying to save money by pushing fraud costs onto customers and by understaffing its fraud investigation unit.
"They had more internal complaints than they could handle," he said.
Wells Fargo spokesman Jim Seitz said that bank policy prohibits retaliation against workers who report unethical and illegal activities, including fraud.
"We take seriously the concerns of current and former team members and investigate them thoroughly, and we are reviewing the legal complaint that was filed on Wednesday afternoon," Seitz said.
Valles' lawsuit may provide a clue about an ongoing investigation by the Consumer Financial Protection Bureau into the bank's practices.
In the summer, Wells Fargo noted in securities filings that the agency had opened an investigation into whether customers were harmed by the bank's freezing or closing of accounts that had been subject to potentially fraudulent activity. Valles' lawsuit notes a CFPB complaint database includes customer complaints about the practice.
The bank's annual report said that it was looking at procedures for freezing and closing consumer deposit accounts "after the company detected suspected fraudulent activity (by third parties or account holders) that affected those accounts."
Late Thursday, Wells Fargo's board released a statement saying that longtime board members John S. Chen, Lloyd H. Dean, Enrique Hernandez Jr. and Federico F. Peña would all step down at the company's April 24 annual meeting.
The bank had said at the time of the Federal Reserve's enforcement action that four board members would be retiring this year, though at the time it did not identify them.
Twitter: @JimPuzzanghera
---
UPDATES:
3 p.m.: This article was updated with information about additional Wells Fargo inquiries and a lawsuit filed against the bank by a former employee.
This article originally was published at 10:40 a.m.