Justice Department is investigating Wells Fargo sales tactics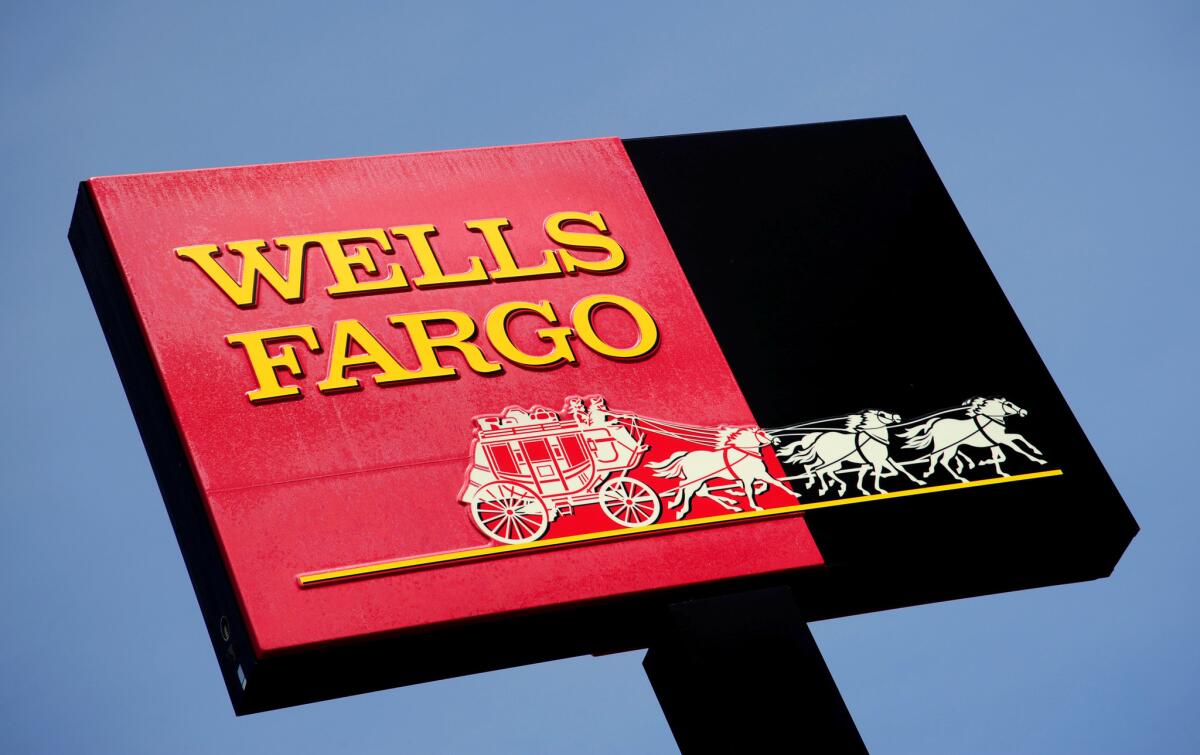 Reporting from Washington —
The Justice Department is investigating Wells Fargo & Co.'s improper sales tactics, according to a person familiar with the probe.
Federal prosecutors in San Francisco and New York are in the early stages of an investigation that could lead to criminal or civil charges, the person said Wednesday.
Last week, the San Francisco bank agreed to pay $185 million to settle investigations by Los Angeles City Atty. Mike Feuer and federal regulators.
The bank declined to comment on the Justice Department investigation.
The sales tactics, first uncovered by the Los Angeles Times in 2013, involved thousands of bank employees opening as many as 2 million accounts that customers did not authorize in order to meet aggressive sales goals.
Investigations by the city attorney's office and federal banking regulators described some of the steps employees took to open the savings, checking and credit card accounts as fraudulent and illegal.
Top executives have blamed low-level employees for the problem and said there were no incentives to take improper actions. The bank also said it discovered the problem itself and has fired 5,300 workers for improper sales practices since 2011.
"The people who we're talking about here weren't the high performers," Chief Financial Officer John Shrewsberry said at a financial services conference Tuesday. "It was really more at the lower end of the performance scale, where people apparently were making bad choices to hang on in their job."
But many of the workers that The Times interviewed were highly successful employees.
Bart Naylor, financial policy advocate for Public Citizen, a public interest group, said he welcomed news of a Justice Department investigation and that some higher-level employees needed to be held accountable.
"It's about time," he said. "To date, the message has been that if you want to make money, including making it illegally, Wall Street is the place to go."
The Senate Banking Committee will hold a hearing on the bank's sales tactics Tuesday.
Wells Fargo Chief Executive John Stumpf will testify along with the heads of the Consumer Financial Protection Bureau and the Office of the Comptroller of the Currency, the two regulators that joined Feuer's office in announcing the settlements last week.
The bank will pay the CFPB $100 million, the largest fine ever imposed by the agency.
Feuer's office began investigating Wells Fargo after The Times' story was published and sued the bank last year.
The suit alleged that Wells Fargo "victimized their customers by using pernicious and often illegal sales tactics," including tactics that were unrealistic and drove "bankers to engage in fraudulent activity."
The lawsuit led to investigations by federal regulators, who found that bank employees illegally transferred money from legitimate accounts into unauthorized ones, created personal identification numbers for debit cards that customers did not request and created fake email addresses to secretly sign up customers for online banking.
Wells Fargo did not admit any wrongdoing in the settlements, which closed those investigations.
The Justice Department probe opens a new chapter in the controversy and could lead to additional penalties.
The investigation was first reported by the Wall Street Journal, which said prosecutors are subpoenaing documents and the probe is focused on whether senior management was responsible for any illegal activity,
Treasury Secretary Jacob J. Lew on Tuesday said Wells Fargo's "bad behavior" was unacceptable. Speaking generally about improper activities by financial firms, Lew said it was up to prosecutors to decide whether to file criminal charges in such cases.
He pushed back against criticism of Obama administration officials for not being more aggressive against big banks for actions that helped trigger the 2008 financial crisis as well as other abuses.
"We have made it clear we don't believe anybody is too big to jail," Lew said at a New York City conference.
Shares of Wells Fargo closed down 1% Wednesday to $46.52. Shares have fallen 6.5% since the close of trading Sept. 7, the day before the settlement was announced.
By comparison the Standard & Poor's 500 index lost 2.5% over the same period.
jim.puzzanghera@latimes.com | del.wilber@latimes.com
Follow @JimPuzzanghera and @DelWilber on Twitter.
ALSO
Monsanto agrees to Bayer buyout, which would create a global chemical and agricultural giant
My ride in a self-driving Uber; or how I learned to stop worrying and trust the algorithm
Ford is moving all its North American small-car production to Mexico
---
UPDATES:
4:30 p.m.: This article was updated with additional details.
3:13 p.m.: This article was updated with comments from Bart Naylor and additional details.
This article was first published at 2:10 p.m