Wells Fargo hit with class-action lawsuit over mortgage lock-in fees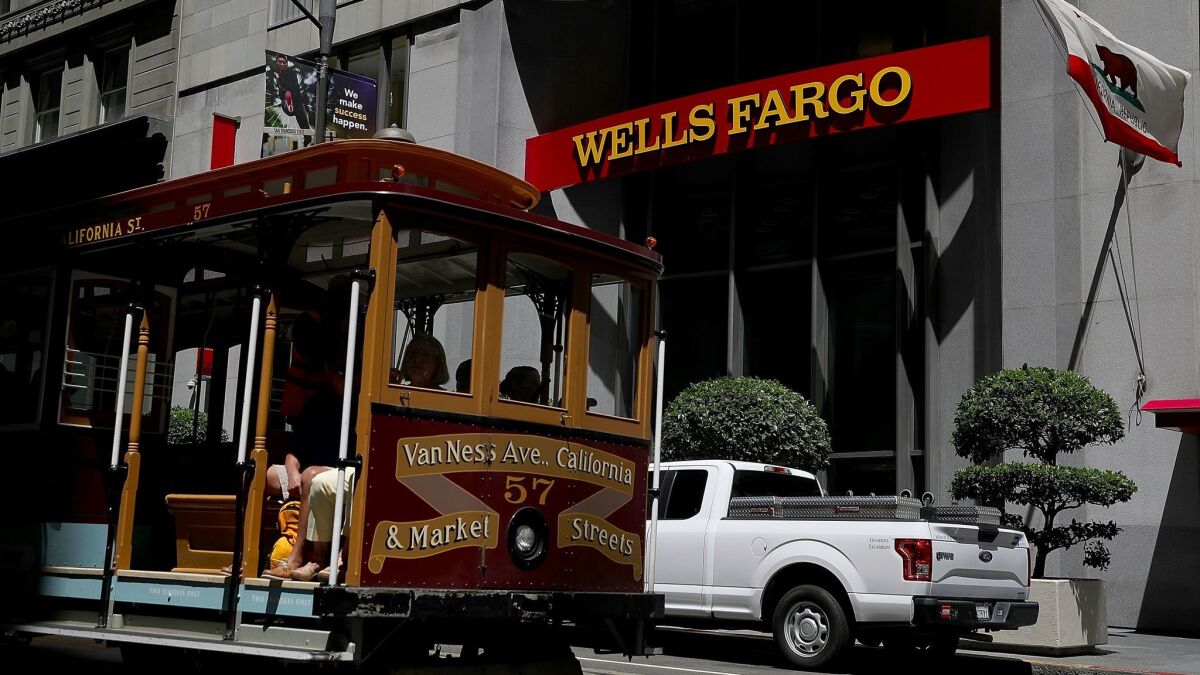 Wells Fargo & Co. is facing another consumer lawsuit, this time alleging that it bilked home loan borrowers by charging them extra fees when their applications were delayed — even when it was the bank's fault.
The new suit, filed Monday in federal court in San Francisco, is the latest development in a growing controversy over the practices of the bank's home loan unit and one of several new problems that have emerged at Wells Fargo over the last year in the wake of the bank's sham-accounts scandal.
The mortgage fee matter is already the subject of a whistle-blower's wrongful termination lawsuit and a probe by the Consumer Financial Protection Bureau. It has also spurred an internal review, which appears to have led to a shake-up in Wells Fargo's mortgage division.
The suit was filed by the same attorneys at Seattle law firm Keller Rohrback who in 2015 sued Wells Fargo over its creation of unauthorized checking, savings and credit card accounts. Their case, one of the few filed before the bank admitted last year to creating millions of potentially unauthorized accounts, led to a $142-million class-action settlement with Wells Fargo.
"The same profit-over-people culture that fostered Wells Fargo's fake account scandal appears to have led the bank to stick borrowers with unwarranted fees," said Derek Loeser, a Keller Rohrback partner.
The mortgage fees in question are known as rate-lock extension fees. When a borrower applies for a mortgage, the lender promises a set interest rate — as long as the loan is approved within a certain time period, usually 30 to 45 days. If it takes longer to approve the loan, the borrower must pay a fee to keep the previously promised rate.
At Wells Fargo, like at most lenders, the bank is supposed to waive the fee if it is responsible for holdups. Borrowers pay the fee if they cause delays by, for instance, failing to submit documents on time.
But in the new lawsuit, Las Vegas security guard Victor Muniz alleged that Wells Fargo charged him a rate-lock extension fee of $287.50, even though delays in his mortgage approval were caused by the bank and even though a banker initially told Muniz he would not have to pay the fee.
Muniz alleges the bank was responsible for delays in part because it hired an appraiser who was out of the country while Muniz's mortgage application was being processed. The suit, brought on behalf of Muniz and all other borrowers who may have paid improper fees, is seeking class-action status.
Wells Fargo spokesman Tom Goyda said that he could not comment on the new case, but that "we continue to work through a comprehensive review of our past practices regarding rate-lock extensions that will help us evaluate the facts, and will address additional steps for our customers as appropriate."
The claims in the case mirror those made in a lawsuit filed last month by former mortgage banker Mauricio Alaniz, who worked for Wells Fargo in Beverly Hills.
Alaniz alleged that the bank's mortgage processing and underwriting departments were chronically understaffed, leading to frequent bank-caused delays. Rather than have the bank waive the rate-lock fees, though, Alaniz alleged that workers would falsely report that borrowers had submitted incomplete or inaccurate information.
Goyda said last month that the bank has been reviewing the rate-lock fee matter, and the bank noted in a regulatory filing this month that the Consumer Financial Protection Bureau has opened an investigation into the issue.
Since starting its review, the bank has parted ways with a handful of mortgage executives, including its former national sales manager and regional managers in California, Oregon and Nevada.
Goyda said that findings of the bank's review contributed to the leadership changes.
"While there were a number of factors, some of the things we learned in our review of the rate-lock extension matter were factors in that decision," he told the Los Angeles Times last month.
Wells Fargo is also facing new class-action litigation related to other recent revelations of bad practices. The bank in July admitted that it forced hundreds of thousands of auto loan customers to pay for unneeded insurance policies.
Attorneys late last month filed a suit over those policies in federal court in San Francisco seeking class-action status. A similar suit was filed in federal court in Santa Ana on Monday.
Follow me: @jrkoren
---
Sign up for the California Politics newsletter to get exclusive analysis from our reporters.
You may occasionally receive promotional content from the Los Angeles Times.