Wells Fargo says it improperly foreclosed on more borrowers than originally estimated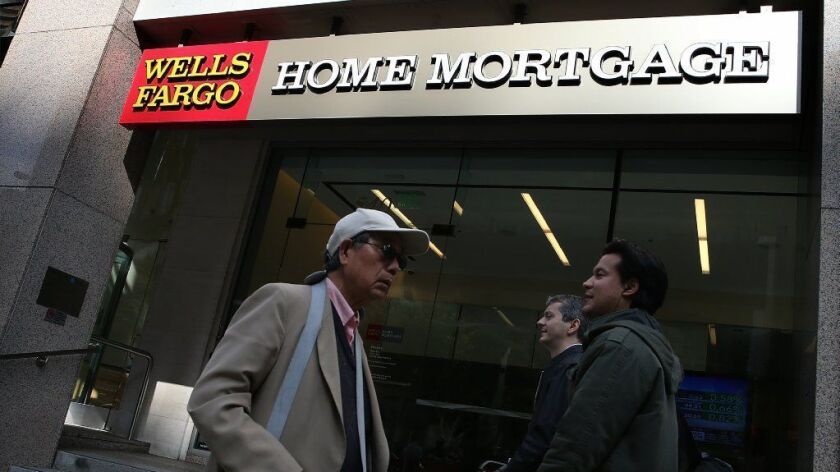 Wells Fargo & Co. acknowledged Tuesday that it failed to offer mortgage modifications to hundreds more borrowers who were due them and that many ultimately lost their homes because of the error.
The San Francisco bank reported in August that it miscalculated certain fees when determining whether borrowers were eligible for mortgage modifications and that it improperly denied modifications to 625 borrowers, 400 of whom eventually lost their homes to foreclosure.
Now, in a regulatory filing released Tuesday, the bank said it improperly denied modifications to 870 borrowers — nearly 40% more than first thought — and that 545 of those borrowers later lost their homes.
The bank initially looked at homes that were in the foreclosure process between April 2010 and October 2015. The bank later extended the review through April of this year, accounting for the new, higher figures.
In August, when the problem was first announced, the bank said it had set aside $8 million to compensate borrowers. Tuesday's filing does not indicate whether the bank will be paying more now that more problems have been found.
Wells Fargo spokesman Tom Goyda said he could not provide an estimate of how much the bank will pay or how much individual customers will receive.
"Our plan is to work with each customer to arrive at a resolution that addresses their particular situation," he said in an email. "Every customer situation is different. As a result, we don't have any details on the amount we expect to pay out in remediation."
R. Scott Siefers, an analyst at Sandler O'Neill + Partners, said he doesn't expect much market reaction to the news — the bank's many problems and reputational issues are already baked into its stock price, he said — though he said it's bad news for the bank to continue to expand the scope of those problems.
The bank has similarly had to raise the numbers of harmed customers in other business lines. When the bank in 2016 admitted to creating accounts without customers' authorization, it estimated that as many as 2.1 million such accounts might have been created. But later, after the bank was pushed to broaden its investigation, it estimated the number could be as high as 3.5 million.
"You don't like to see the further dribs and drabs," Siefers said, though he noted that the mortgage modification problems are small in scale.
"We're not talking about millions of foreclosures," he said. "It's a small, small fraction of the account scandal, but I'm sure it doesn't feel that way to the people involved."
The bank remains under pressure from federal regulators to clean up its practices.
Last year, the bank acknowledged that it had forced hundreds of thousands of automobile loan customers to pay for unnecessary insurance policies, with the added expense leading some borrowers to default and lose their vehicles. Wells Fargo also admitted to charging improper fees to some mortgage borrowers.
In February, the Federal Reserve cited those and other issues when it ordered the bank to stop growing until it can prove to regulators that it has systems in place to prevent consumer abuses. The Fed's asset cap remains in place, and bank executives have said they expect to continue to operate under that order into next year.
Other regulatory agencies fined the bank $1 billion over those issues, in addition to the $185 million Wells Fargo paid in 2016 over the unauthorized accounts scandal.
Shares of Wells Fargo closed down 11 cents to $53.55.
Follow me: @jrkoren
---
UPDATES:
2:05 p.m.: This article was updated with Wells Fargo's closing stock price.
This article was originally published at 10:40 a.m.
---
Your guide to our new economic reality.
Get our free business newsletter for insights and tips for getting by.
You may occasionally receive promotional content from the Los Angeles Times.