Much more than washing machines at stake in a trade case that could test Trump's agenda
Reporting from Clyde, Ohio —
As workers passed around cake and ice cream and farewell speeches rose over the din of the factory, Damesha Shine marveled at two men who were entering retirement after 50 years at the Whirlpool washing machine plant here.
The bubbly, 36-year-old Shine, with 11 years at Whirlpool, was already enjoying a measure of the good life after a meager childhood as the daughter of a single mother. The farewell party triggered thoughts about her own future.
"Oh, my gosh," she said, reflecting on the scene, "how many more years to go. That's a milestone I want to have."
But mingled with hope was anxiety: Would she or any of her 3,000 coworkers actually get the chance to spend a 50-year career at Whirlpool?
In Clyde, population 6,200, generations of workers have found a steady, rewarding career at Whirlpool to be as dependable as a birthright. Even as manufacturing shrank across the United States, Whirlpool survived the shifting economic winds. In recent years, it gobbled up domestic competitors, such as Maytag and Amana, and even brought some factory operations back from Mexico and Germany.
But even Whirlpool has not been immune from the forces that have challenged other U.S. manufacturers — advancing technology and foreign competition. In response to the growth of appliance imports from South Korea, the company has filed a rare type of trade complaint.
On Thursday the government's International Trade Commission ruled in Whirlpool's favor, as expected.
The 4-to-0 vote by the commission means that the over the next two months, the independent panel will consider specific protectionist measures to recommend to President Trump.
As a result, the case could become a test of Trump's new, more aggressive approach to trade — and some of the complications that come with it.
Whirlpool's targets are Samsung and LG, two giant South Korean conglomerates that became global leaders in cellphones, flat-screen televisions and other electronics, and have more recently taken aim at the U.S. appliance market, chalking up significant gains in market share.
Whirlpool has accused the Korean firms of foul play. In two earlier cases, the company convinced trade officials in Washington that Samsung and LG were dumping washing machines into the United States at below fair-market prices. But the early victories proved short-lived: LG and Samsung avoided country-specific tariffs by moving production first from South Korea and Mexico to China, and then to Thailand and Vietnam.
Enter Trump. Amid his fiery rhetoric to get tough on trade and make American industry great again, Whirlpool lawyers filed a new complaint under a rarely used, so-called global safeguard provision. Ultimately, if the trade commission rules in Whirlpool's favor, Trump could slap crushing penalties on imports of washers and key parts from anywhere in the world.
Just how Trump comes down on the tariffs could be a harbinger of similarly tough action against trading partners involving more consequential products such as steel and automobiles.
"I think the worry is that the Trump administration is open for business in terms of these petitions, and we may see a lot more of them," said Douglas Irwin, a trade expert at Dartmouth College. Because of the sweeping nature of global safeguards and their impact on imports, he said, they could noticeably raise prices for American consumers and spark tensions with countries and suppliers who may get caught up in the sanctions.
Whirlpool representatives say they had no choice but to bring the case and that it had nothing to do with who is in the White House. But until this year, the International Trade Commission had not investigated such a global safeguard complaint in 16 years. Aggrieved companies such as Whirlpool were reluctant to file such petitions, in no small part because U.S. presidents did not look favorably on them. Such complaints were regarded as extreme and likely to be ruled illegal by the World Trade Organization.
Whatever reluctance there was before isn't there anymore under Trump.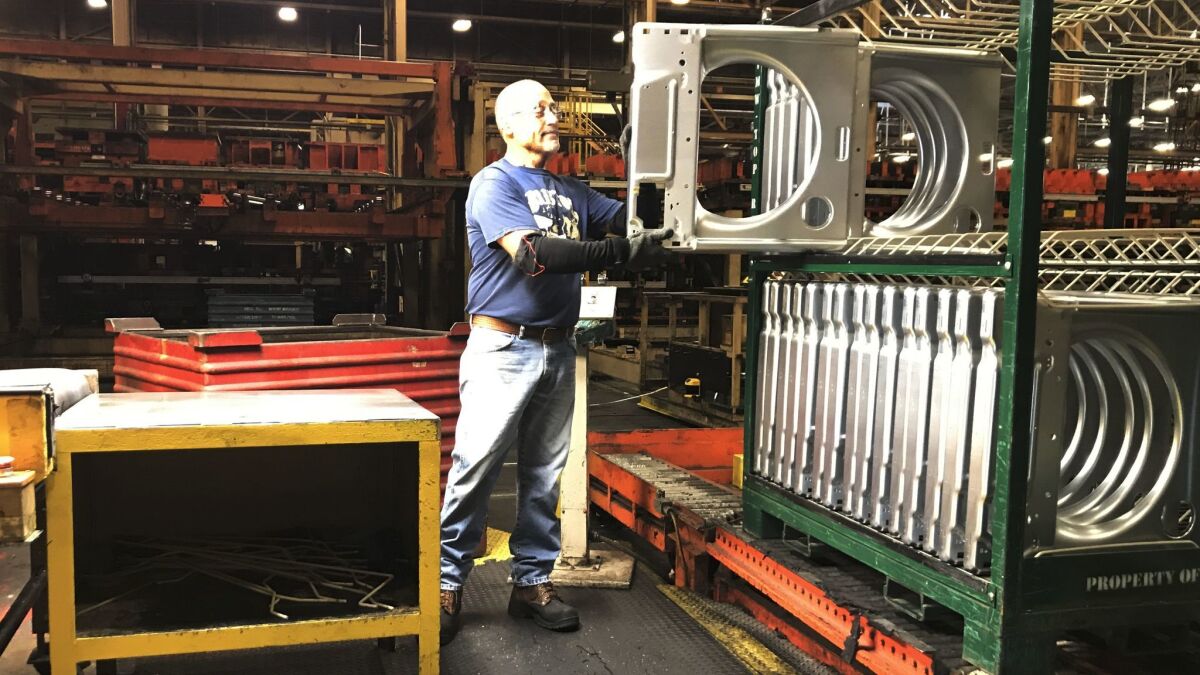 "I think it is emboldening companies," said Stephen Orava, a veteran trade attorney at King & Spalding.
Indeed, in another global safeguard case involving the solar energy industry, the International Trade Commission determined last month that solar panels were being imported in such quantities as to cause serious harm to domestic panel makers. The commission is now considering how much in duties it will recommend. The White House has signaled its support for the handful of U.S. solar-panel producers, even as the solar industry warns that restricting imports could threaten tens of thousands of jobs for installers of solar panels and related workers in California and elsewhere.
Trump faces no less a quandary with Whirlpool. It may seem an easy decision to sign off on duties targeting a couple of foreign players that could be threatening a big manufacturer in small-town America, especially in the battleground state of Ohio, which helped catapult Trump to the Oval Office. Trump won Sandusky County, where Clyde is located, with 57% of the vote.
But tariffs might provide only temporary relief. Both Samsung and LG say they are preparing to invest hundreds of millions of dollars to open washer manufacturing facilities on American soil. LG already has broken ground on a 310-acre site in Clarksville, Tenn., and Samsung has acquired an existing facility in Newberry, S.C., that Rep. Ralph Norman (R-S.C.) told the trade commission at a hearing last month would create 954 jobs in three years.
The South Korean firms would not be subject to tariffs for washing machines made inside the United States, but some officials in the states where the new plants would be located fear that Whirlpool's case might derail the plans.
If LG or Samsung loses market share or sees a dimmer future as a result of tariffs, they could hire fewer workers than they otherwise might, or even walk away from it all, Tennessee officials warned the trade commission.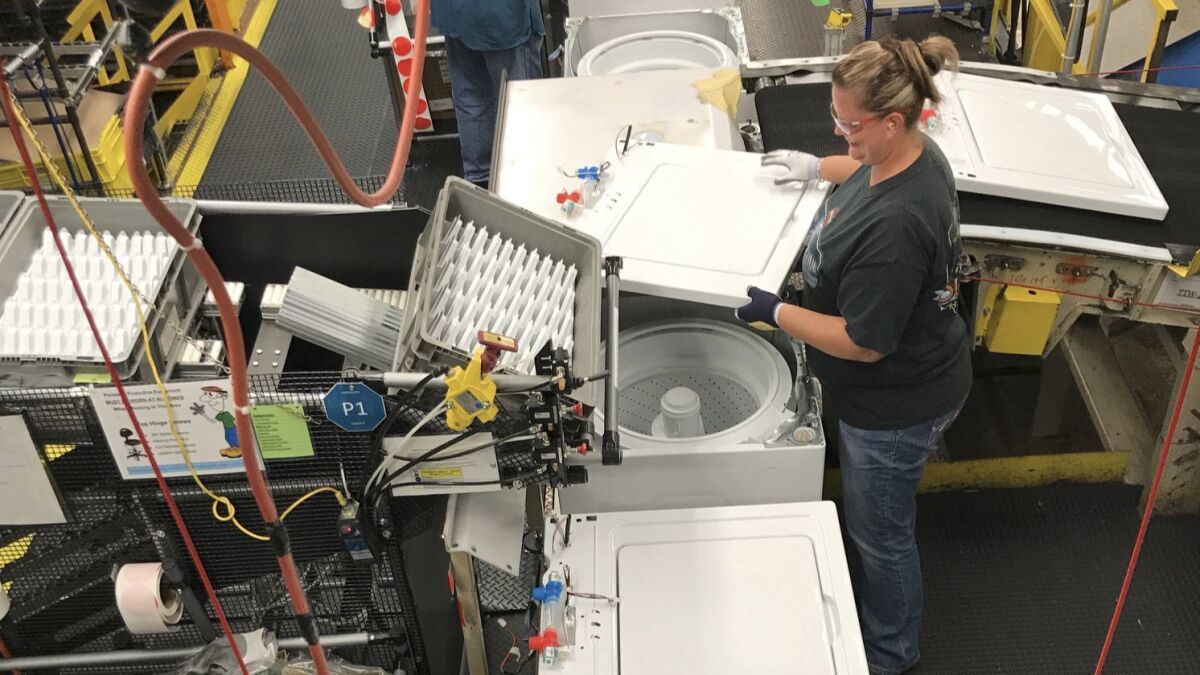 "This is a great opportunity for the citizens of my district, for veterans getting out of the Army looking for jobs, for our state, and for our nation," Tennessee State Sen. Mark E. Green told the commissioners. "We want to encourage investment in our state and in the United States, not discourage it," he said, reminding them that his district, where LG is building its facility, is also the home of Ft. Campbell, a major base.
Kim McMillan, mayor of Clarksville, put it more bluntly: "Yes, this case is about U.S. jobs, but it isn't just about U.S. jobs versus foreign competition," she said. "This is all about washing machines that will be made in the U.S. It's just a matter of whether they will be made in Tennessee, Ohio or South Carolina."
Whirlpool answered with both U.S. senators from Ohio, Democrat Sherrod Brown and Republican Rob Portman, testifying in its favor. The company also submitted a petition signed by 2,500 Whirlpool employees, including 50 who took a 10-hour bus ride last month to attend the commission's hearing in Washington.
One of them, Jeff Postl, a 32-year Whirlpool veteran and engineer, has taken apart washers made by Samsung and LG, among others. His conclusion was that there's not a whole lot of difference; they all have the basic core features. So what it comes down to is price, he said.
Whirlpool itself has invested tens of millions in Clyde in recent years as it brought back production of front-load washers from Mexico and Germany. That was supposed to add hundreds of jobs and secure the future of the factory and the community for decades to come. But production of those washers has never taken off as expected. In one instance, Whirlpool says it lost $200 million in sales when LG underbid it to make Kenmore washers for Sears.
Dan O'Brien, Whirlpool's plant manager, insists his employees could compete with anyone in the world. "The key is just to have a fair playing field," he said.
Shine, the 11-year Whirlpool employee hoping to get to 50, started as a temp and has worked her way up to team leader. The job allowed her to buy a house in 2014, and a year later she got her first new car, a Ford Taurus. Now, she says, she worries her future may depend on the outcome of a trade dispute.
"If we lose, it hurts. It hurts our company," she said of Whirlpool's case. "The job has been a lot to me. I don't want to be laid off."
Twitter: @dleelatimes
ALSO
American households finally earn more than they did in 1999
Trump's chance to reshape the Federal Reserve could be his biggest economic legacy
Why Trump's threat to withdraw from NAFTA is an empty one
---
UPDATES:
9 a.m.: This article was updated with the International Trade Commission's ruling.
This article was originally published at 5 a.m.
---
Sign up for the California Politics newsletter to get exclusive analysis from our reporters.
You may occasionally receive promotional content from the Los Angeles Times.