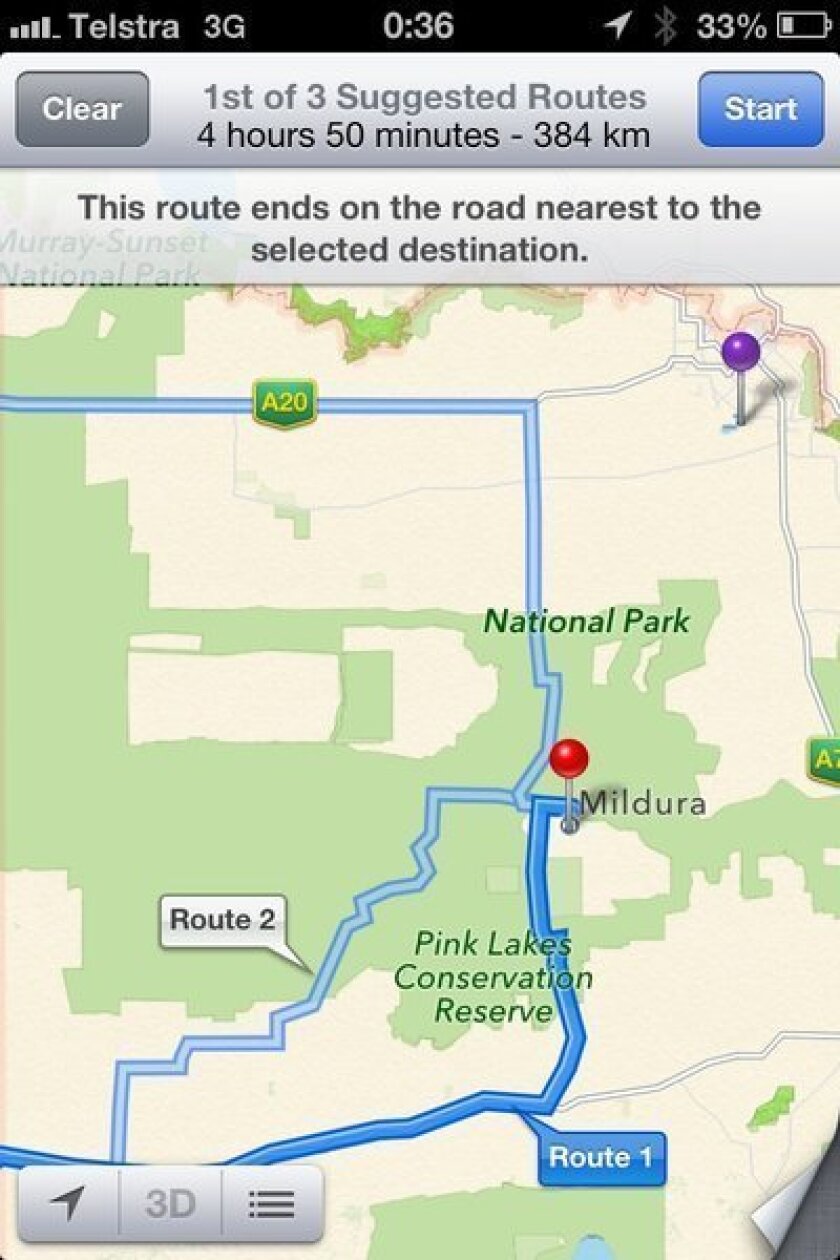 Apple Maps has hit a new low down under.
Police in the city of Mildura, Australia, have issued a warning to motorists urging them to be careful when using Apple Maps after the software stranded a number of motorists.
Travelers seeking Mildura using the mapping software on the latest operating system for the iPhone have instead been taken to the middle of the Murray Sunset National Park, according to the police note issued Monday. That's off by more than 43 miles.
PHOTOS: Top 10 tech products of 2012
That has led the police to call the situation "potentially life threatening." That's because of the lack of water supply in the park and extremely hot temperatures that can reach nearly 115 degrees Fahrenheit.
"Some of the motorists located by police have been stranded for up to 24 hours without food or water and have walked long distances through dangerous terrain to get phone reception," the police note says.
This will no doubt add to the embarrassment that Apple Maps has become for the Cupertino, Calif., tech company. The software has been plagued with issues stemming from inaccurate locations and directions to low-quality 3-D renderings. Apple Maps has been so bad, Apple CEO Tim Cook ended up issuing an apology shortly after its release.
The police have contacted Apple about the issue, but until it's resolved, they are urging motorists to use a different mapping tool.
"Anyone travelling to Mildura or other locations within Victoria should rely on other forms of mapping until this matter is rectified," the note says.
ALSO:
Social war: Facebook's Instagram disables feature on Twitter
Review: Samsung Galaxy Note II is a solid jumbo smartphone [Video]
Samsung teases new Galaxy S III features in 'Premium Suite' upgrade
---