Why did Apple's iTunes Radio fall short of the hype?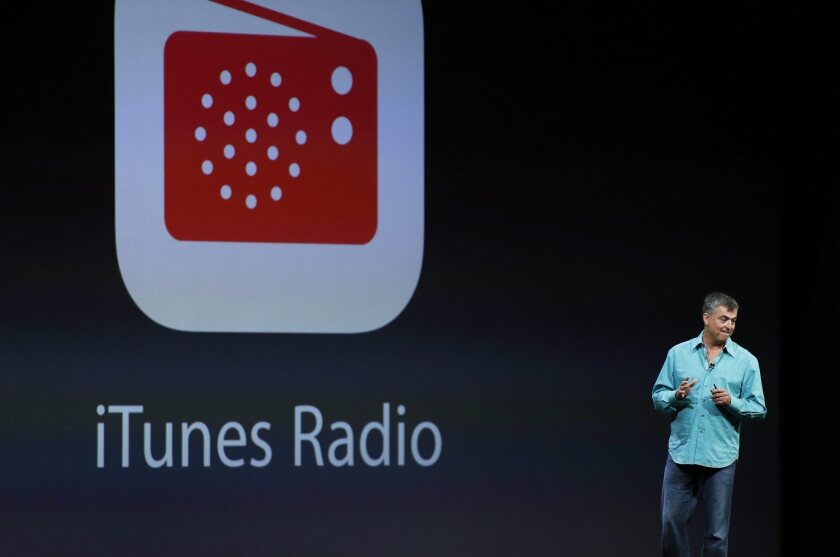 As Apple scrambled in recent weeks to wrap up deals with music companies for its new streaming music service, the expectations grew increasingly big for just what this so-called iRadio would be.
Pandora killer. Spotify killer. A wholesale reinvention of the digital music market.
So it was a surprise that Apple almost seemed to play down its significance when it did finally get around to revealing the service during the keynote that kicked off its Worldwide Developers Conference on Monday.
WWDC 2013: Vine videos from Apple's conference
Yes, Eddy Cue, Apple's senior vice president of Internet software and services, called it part of "the best music player we have ever done." But the actual announcement came as part of the larger demonstration of the new iOS 7, and was tucked into a list of 10 new features.
As expected, it will be an ad-supported service that allows users to create Pandora-like radio stations. Rolling Stone called it "surprisingly similar to Pandora."
Indeed, after months of freaking out about the implications of what's officially named iTunes Radio, Pandora investors seem to be breathing a major sigh of relief. The stock is still up slightly over the last two days.
Analysts seemed somewhat underwhelmed by the iTunes Radio announcement.
"After a long wait, Apple has announced iTunes Radio, and while to our eyes it looks like a compelling product, we don't believe it is a 'Pandora Killer,'" wrote Canaccord Genuity analyst Michael Graham.
"Apple's iTunes Radio announcement lessens competitive fears for Pandora, but does not eliminate them," wrote Lazard Capital Markets analyst. "The main positives for Pandora are a launch in the fall (vs. some reporting of an earlier debut), and a feature set that at first glance does not appear to be a major advance."
Apple had long been expected to create some kind of streaming music service. While growth in digital downloads of music, where Apple is king, have slowed, streaming has been growing. What seemed most notable is that Apple has come to this market so late, following not just Pandora and Spotify but rivals like Amazon.com and Google.
Of course, it's never a good idea to count Apple out. After all, they remain the largest music retailer in the world. And when iTunes Radio does become available, it will instantly be installed on millions of smarthphones around the world.
"We estimate Apple could generate $1 billion of annual revenue with less than 50% penetration of its 575 million account base," wrote Morgan Stanley analyst Katy Huberty.
If that turns out to be true, that would be more than double the $427 million in revenue that Pandora reported last year. On the other hand, getting to 50% usage seems like it would be a challenge.
Martin Scott, principal analyst at Analysys Mason, wrote in a note that Apple's iTunes Genius could perhaps have enough intelligence on users' listening preferences to give the new service an advantage in serving up music listeners' like.
Still, on the whole, it's fair to say the initial glance at iTunes Radio failed to wow. Here are a few reasons that analysts offered in the wake of the iTunes Radio announcement:
1. We got carried away. And by "we," I mean the media and the public. We just assumed that because this was Apple, the company that practically invented the digital download market, that whatever it did would be revolutionary.
"People who overhyped it probably overhyped Ping," said Colin Gillis, an analyst at BGC Partners. "Music is an important part of the ecosystem. It's something they need to get into. But that's it."
2. Apple didn't get the right deals. Cue was running around New York in recent weeks trying to get the music labels and publishers signed up. While he did reach the agreements needed to announce something, some analysts speculated that the music labels were wary of giving Apple too much flexibility. And because there are plenty of other streaming services out there, Apple didn't have enough leverage to get better terms.
"The music labels are not about to give the keys to the kingdom to Apple again," said Forrester Research analyst James McQuivey. "Maybe they did have great ideas about how to reinvent streaming music. And it's possible the music indsutry said, 'No.'"
3. Apple was worried about hurting its download business. This is the classic case of a legacy business being disrupted. Digital downloads are more profitable for Apple and the music biz, but the growth is in streaming. Is it possible that Apple is trying to defend the legacy business?
"They have some incentive to not promote these all-you-can-eat services," Gillis said. "They benefit more from individual sales."
This would seem odd for a couple of reasons.
First, Apple has generally stated that it runs iTunes more as a break-even proposition rather than to be a big profit center. And second, it would seem to clash with Apple's long-stated philosophy of not being afraid of cannibalizing its own products. As Apple execs have said many times over the years, if they don't disrupt their own business, someone else will.
4. It's actually a genius move. This is the counter-intuitive take. For all the growth in streaming, it's a terrible business to be in. Pandora's profitability is always in question. Spotify is not profitable (though it says that's because it's investing in growth).
Rather than making a big splash, Apple is deftly resetting the conversation about how much streaming matters.
"You can think of this as the ultimate put down," said Carl Howe, a research analyst at the Yankee Group. "There's a lot of companies getting into the streaming business. Apple is saying it's not a business. It's a feature."
ALSO:
Sen. John McCain thanks Apple for new feature
Will your Apple device be able to update to iOS 7?
WWDC 2013: Apple introduces iTunes Radio music streaming service
---
Must-read stories from the L.A. Times
Get the day's top news with our Today's Headlines newsletter, sent every weekday morning.
You may occasionally receive promotional content from the Los Angeles Times.