L.A. is a leader in greening of ports, Mayor Villaraigosa says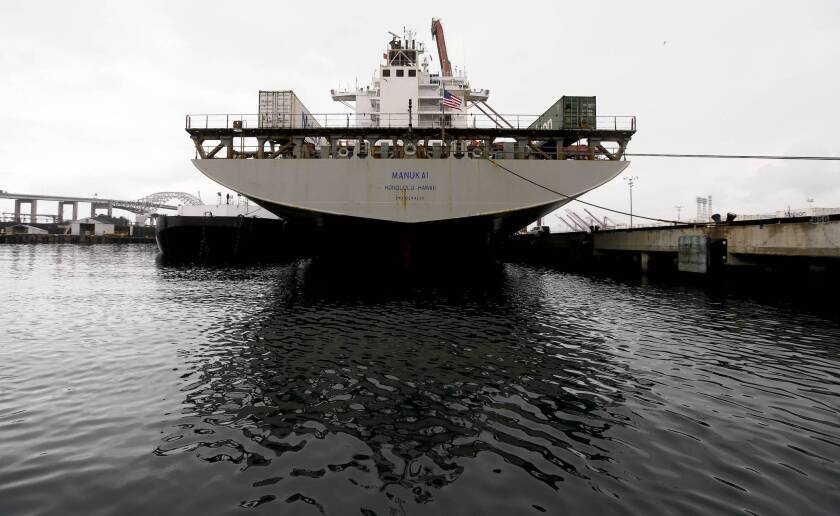 California ports are going green.
In a speech at the 28th World Ports Conference on Tuesday, Los Angeles Mayor Antonio Villaraigosa said the city's port is at the forefront of pushing for clean energy alternatives and reducing pollution.
The conference, which kicked off Tuesday in Los Angeles, attracted port officials from around the world to discuss issues such as climate change, piracy and other problems affecting ships and the ports where they dock.
Greening ports was at the top of many minds.
"When it comes to greening our shipping operations and growing our port in smart and sustainable ways, the world looks to us for leadership," Villaraigosa said.
Less than two months from leaving office, the mayor said that the L.A. port was one of the first things to come to mind when he reflects on his eight years as mayor. In 2011, he signed a $1.5-billion agreement to modernize the port over five years, in part by fostering clean energy initiatives.
The mayor pointed to a clean truck program that he says has reduced harmful emissions from trucks at the L.A. port 98%. Trucking companies have invested about $1 billion on cleaner vehicles to comply with the new regulations, he said.
In January, California mandated that cargo ships visiting the state's major ports turn off diesel engines and use onshore electricity at least 50% of the time when docked. Cargo ship fleets are also required to cut emissions 50% by the end of 2014 and 80% by 2020.
The Port of Los Angeles offered a plug-in dock as early as 2004 and now has 10 berths that allow ships to use on-shore electricity. The Port of Long Beach, which showed off its onshore power terminals Monday, has four such berths and a dozen under construction.
"The industry is on board" with reducing pollution, said Mario Cordero, chairman of the Federal Maritime Commission.
Cordero said major shipping companies have publicly committed to reducing harmful emissions. About 90% of the world's goods travel by sea, and those ships produce about 3% of global greenhouse gas, he said.
The conference was a homecoming of sorts. In 1955, the city hosted the original meeting of 34 ports from 14 countries and that led to the founding of the International Assn. of Ports and Harbors in Tokyo.
About 500 people from 109 ports around the world will attend this year.
The ports of Los Angeles and Long Beach are integral to the region's system of moving goods, which employs nearly 600,000 people. Experts have said that the two ports combined handle about 40% of the total value of cargo container imports entering the U.S.
But the conference wasn't all just talk of the economy and energy. Modern-day piracy — think less peg leg and more AK-47s — came up as well.
The keynote address was delivered by Richard Phillips, a retired cargo ship captain who was held hostage in April 2009 by Somali pirates off the Horn of Africa.
Phillips, who called piracy "the second-oldest profession we deal with" as a merchant marine, said four pirates boarded the Maersk Alabama, the container ship he captained. After being outwitted by the ship's crew, the sea bandits fled in a lifeboat — with Phillips along for ransom.
He was held hostage for five days, trussed up and beaten with AK-47s, before Navy SEALs shot three of his captors and rescued him (the other pirate had already surrendered).
"It's another lesson I learned" on the job, Phillips quipped during his speech. "Never trust a pirate."
---
Must-read stories from the L.A. Times
Get the day's top news with our Today's Headlines newsletter, sent every weekday morning.
You may occasionally receive promotional content from the Los Angeles Times.