Column: Completely unnecessary spat over CFPB leaves consumers out in the cold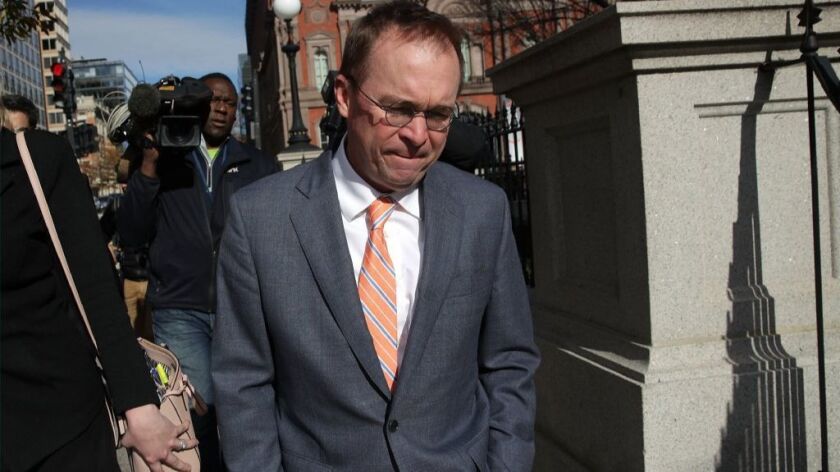 Don't be distracted. The White House would have you believe that the battle for control of the Consumer Financial Protection Bureau is about the rightful exercise of presidential power.
It's about screwing over consumers.
This latest completely unnecessary political crisis is the result of two competing claims to the title of acting director of the consumer agency.
Before he stepped down Friday as director, Richard Cordray named his deputy director, Leandra English, to take over as interim chief — which the federal law that created the CFPB allowed him to do.
President Trump followed up by naming White House Office of Management and Budget Director Mick Mulvaney as acting director — which a different federal law allowed him to do.
Now we have two rival claims to the bureau's top spot, a lawsuit filed by English challenging Trump's move and confusion overshadowing an agency that has been at the center of partisan bickering since it opened for business six years ago.
Consumer advocates quickly lined up behind English, who they said would continue the CFPB's mission of safeguarding people from greedy banks, credit card companies and payday lenders.
"Acting Director English is rightly in that post until the Senate confirms a new director," said Lisa Donner, executive director of Americans for Financial Reform.
Conservatives defended Trump and reiterated their criticism that the CFPB is a "rogue agency" with no accountability to Congress or the American people.
"The court now needs to quickly and forcefully reject Leandra English's frivolous lawsuit and Acting Director Mulvaney needs to get to work to roll back the agency's economy-crippling regulations," declared Rick Manning, president of Americans for Limited Government.
In fact, Mulvaney wasted no time Monday in bringing the CFPB's operations to a grinding halt. He issued a month-long moratorium on new regulatory actions and hiring. "Anything in the pipeline stops for at least 30 days," he said.
For his part, Trump tweeted over the weekend that the bureau "has been a total disaster" that has left financial firms "devastated and unable to properly serve the public."
That, of course, is total nonsense.
The CFPB has returned about $12 billion to consumers by stepping in after banks and others behave in abusive or illegal fashion. Two words: Wells Fargo.
At the same time, U.S. banks posted record profits last year and are on track for even more lucrative results this year. If that's being devastated, all industries should wish for similar carnage.
If Trump wanted to avoid all this foolishness, he'd name a permanent director for the CFPB, rather than a hostile caretaker such as Mulvaney, who has made clear where he stands by calling the bureau "a sick, sad joke."
The reason Trump hasn't is because Mulvaney, who has already received Senate approval to run OMB, requires no further congressional blessing to serve as the CFPB's acting director. That's what Trump doesn't want: New confirmation hearings that would allow the truth to be aired.
He doesn't want Senate Democrats talking about that $12 billion returned to consumers.
He doesn't want anyone talking about Wells Fargo, Equifax and other examples of financial firms blithely ignoring the interests of ordinary people.
He doesn't want anyone bringing up record bank profits, which completely undermine conservatives' case that the CFPB is bad for business.
Above all, Trump doesn't want it looking like his administration is interested solely in protecting the interests of big corporations when consumers — Trump's "forgotten men and women" — struggle daily to keep from being ripped off.
Mulvaney said Monday that he and Trump have other priorities on their minds. "We both share the belief that under the previous administration, this bureau had gone too far to strangle access to capital," he said.
Access to capital? What does he think this is, the Small Business Administration?
Apparently Mulvaney and Trump haven't seen the latest report from the Federal Reserve Bank of New York, which shows that consumer debt — access to capital — has reached a record $13 trillion. I'm not saying that's a good thing. But it's a clear sign that consumer lenders aren't being strangled.
"American voters of all political stripes support strong rules for financial giants and an independent consumer watchdog," said Lauren Saunders, associate director of the National Consumer Law Center.
"People should be outraged at this attempt to ignore the law in order to side with Wall Street over Main Street and take a strong cop off the consumer protection beat," she said.
The courts will now straighten things out.
But if Trump wanted to skip all the drama and controversy, which he does not, he'd do his job, name a full-time replacement for Cordray and defend his choice, without resorting to hyperbole and outright lies.
Republicans say they're all about protecting working families.
Prove it.
David Lazarus' column runs Tuesdays and Fridays. He also can be seen daily on KTLA-TV Channel 5 and followed on Twitter @Davidlaz. Send your tips or feedback to david.lazarus@latimes.com.
ALSO
Consumer bureau's deputy director sues to stop Trump appointee from taking temporary control of agency
Mulvaney moves to take reins as acting CFBP director amid legal dispute
Trump lashes out at departing consumer bureau chief in tweets
---
UPDATES:
3:10 p.m.: This article was updated with comments from Mick Mulvaney's Monday press conference.
This article was originally published at 10:40 a.m.
---