California has 70% of the nation's priciest ZIP codes when it comes to home sales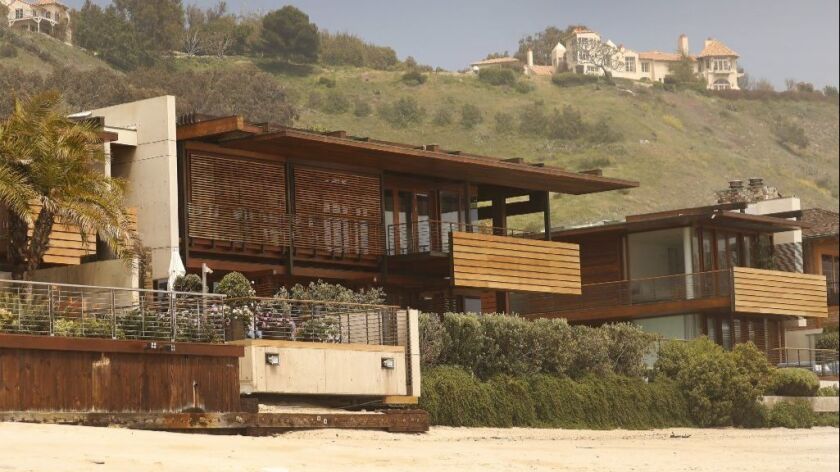 For the third consecutive year, California was legions ahead of the rest of the country in terms of priciest ZIP codes for home sales in 2018. California ZIP codes held 82 of the 117 most expensive spots, or roughly 70% of the list.
The data, compiled by real estate database PropertyShark, analyzed median sales prices for all condos, co-ops, and single-family and two-family homes.
The 94027 ZIP code — Atherton, Calif. — set the bar for the second straight year with a median sales price of $6.7 million, a 35% increase compared with 2017. The Silicon Valley city is home to numerous tech titans and athletes; Oracle co-founder Larry Ellison, Seagate exec Stephen Luczo, baseball slugger Barry Bonds and football great Jerry Rice are among current and former residents.
A pair of East Coast communities round out the top three. With its coastal crop of shingled mansions, the 11962 ZIP code (Sagaponack, N.Y.) took the second spot on the list with a median sales price of $5.5 million. Boston's 02199 ZIP code, found near the Charles River Basin, ranked third with a median sales price of $4.772 million.
Things aren't getting any cheaper in Santa Monica's 90402 ZIP code, home to the Annenberg Community Beach House and part of Palisades Park. The area was L.A. County's highest-ranking area, at the No.5 spot, with a median sales price of $3.762 million — up 7% year over year.
Four other California ZIP codes made the top 10: Palo Alto's 94301 ZIP code, at $3.755 million; Los Altos' 94022 ZIP code, at $3.5 million; the Portola Valley ZIP code, 94028, at $3.3 million; and Los Altos' 94024 ZIP code, at $3.254 million.
"In California and the rest of the country, prices in these markets are going up," said Eliza Theiss, who authored the report for PropertyShark. "California is running things when it comes to expensive real estate."
Beverly Hills' famous 90210 ZIP code — home to Rodeo Drive, Wilshire Boulevard and decades' worth of celebrity and affluent homeowners — ranked 11th with a median sales price of $3.212 million.
Malibu Colony, the most expensive neighborhood in the L.A. area, made the list as well. The median sales price in the private oceanfront enclave last year was $10.65 million, but less expensive pockets in the 90265 ZIP code, where Malibu Colony lies, brought the median for the entire area down to $2.1 million.
California has added five ZIP codes to the list in each of the previous two years, jumping from 72 in 2016 to 77 in 2017 and from 77 to 82 over the last year.
New York had the second-largest presence on the list with 19 ZIP codes, followed by Massachusetts with six. Connecticut had four of the priciest ZIP codes; New Jersey had two; and Nevada, Maryland, Florida and Washington each had one.
Breaking it down by city, San Francisco and New York City featured the most on the list with nine ZIP codes apiece. Los Angeles had six: 90049, Brentwood; 90077, Bel-Air; 90036, around La Brea; 90048 in Beverly Grove; 90064 in Rancho Park; and 90027 in Los Feliz.
By county, L.A. County held the most at 19 ZIP codes, followed by Santa Barbara County with 17.
jack.flemming@latimes.com | Twitter: @jflem94
---
Inside the homes of the rich and famous.
Glimpse their lives and latest real estate deals in our weekly newsletter.
You may occasionally receive promotional content from the Los Angeles Times.