Neighborhood Spotlight: Calabasas is a perk-filled haven that gives celebrities their space
A Rolex keeps time at the dining, shopping and entertainment center.
(Al Seib / Los Angeles Times)
Friends go out on a run at the park, whose activities include hiking, fishing and horseback riding.
(Jenna Schoenefeld / For The Times)
The menu at the former hunting lodge includes game dishes.
(Anne Cusack / Los Angeles Times)
Calabasas, home to some of the biggest stars in sports, music, and reality TV, has come a long way from its humble beginnings as a dusty El Camino Real crossroads named after a spilled wagonload of ripe pumpkins.
At the time that possibly apocryphal incident occurred in the 1800s, western San Fernando Valley was beyond the back of the beyond, completely given over to agriculture and ranching.
It was also home to a relatively sizable population of Basque immigrants, including Miguel Leonis, the pioneer and rogue who cheated his Native American wife's family out of their massive estate, the Rancho El Escorpion.
Before his death revealed his perfidy, he found and restored an abandoned adobe on the Calabasas crossroads. From there, he directed his businesses, expanding his fiefdom through shrewd exploitation of the Homestead Act of 1862.
The act rewarded squatters, which richly benefited men such as Leonis, who made sure he was always first to squat and deployed a band of armed men to protect his holdings. In fact, his power in the area was so absolute that Leonis was dubbed "the King of Calabasas."
The iron hand with which Leonis ruled was not enough, however, to prevent sporadic violent confrontations over property rights. As an item in The Times colorfully put it, "It is a cold day when a disturbance of some kind is not reported from Calabasas."
The end of the freewheeling pioneer days and the passing of peak agriculture in the San Fernando Valley led to the first attempts to develop Calabasas as a residential area in the 1920s, an endeavor complicated by the area's remoteness and lack of a municipal water source.
These early developments either failed outright or grew so slowly as to remain for decades a collection of unimproved lots, but in the 1930s one interesting neighborhood did arise.
Park Moderne, which featured homes designed by such architects as Rudolph Schindler, was the first development in Calabasas to cater to the creative class. Big names including Jimmy Durante and John Steinbeck were regular visitors, and artists such as Jan de Swart called the place home year-round.
The laid-back rural vibe that drew people to the area began to change in the 1960s with the formation of the Las Virgenes Municipal Water District, which brought a water supply sufficient to support a far larger population.
The resulting boom in luxury housing led to the rise of Calabasas as a home-buying destination for celebrities, including the Kardashian clan, Justin Bieber, Britney Spears and countless others.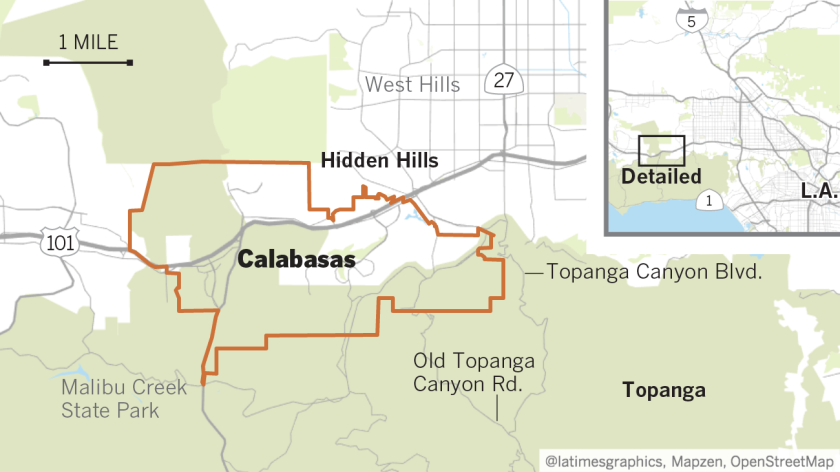 Neighborhood highlights
Hollywood glamour, suburban style: Valley living was previously considered somewhat déclassé for entertainment A-listers, but Calabasas has made itself into a true prestige address.
Town and country: With equal access to the wilds of the Santa Monica Mountains and luxury-car dealerships, residents enjoy the perks of open spaces without the downside of a lack of amenities.
Malibu North: OK, it is a 30-minute drive away, but the celebrity haunts of Malibu are easily accessible via scenic drives down Malibu and Topanga Canyon roads.
Neighborhood challenge
A dry heat: Calabasas might be close to the beaches as the crow flies, but forget feeling any sea breezes in this corner of the Valley where temps regularly reach the 100s during the summers.
Expert insight
Tomer Fridman, the Kardashians' longtime real estate agent, has been selling homes in Calabasas for 12 years. He said the area has been transformed by the Oaks, a gated community created in the early 2000s.
"The Oaks changed everything," Fridman said. "All of a sudden, these new developments started luring families and clients from the Westside, and Calabasas turned into a celebrity haven."
He said the city board is known for its fiscal responsibility and environmental stewardship, and it regularly carries out the goals of its residents — whether that means banning plastic bags, donating money to build trails up into the Santa Monica Mountains or protecting an endangered species of frog.
"Calabasas is growing, and there's plenty of reasons people are coming," Fridman said. "The communities here are bringing a new twist to the small-town feel."
Market snapshot
In the 91302 ZIP Code, based on 10 sales, the median sales price for single-family homes in November was $2.308 million, down 19.7% year over year, according to CoreLogic.
Report card
Four of the six public schools in Calabasas posted scores higher than 900 in the 2013 Academic Performance Index. Alice C. Stelle Middle scored the highest, at 921; Bay Laurel Elementary scored 914; and Arthur E. Wright Middle and Chaparral Elementary posted scores of 910 and 908, respectively. Lupin Hill Elementary scored 897, and Calabasas High scored 875.
Times staff writer Jack Flemming contributed to this report.
MORE FROM HOT PROPERTY
Baseball's Matt Kemp looks for a hit in the Poway home market
Producer Marshall Lewy gets asking price and more for Los Feliz estate
At $24.5 million, Angelina Jolie's big splash was Los Feliz's top home sale last year
---
Inside the homes of the rich and famous.
Glimpse their lives and latest real estate deals in our weekly newsletter.
You may occasionally receive promotional content from the Los Angeles Times.