Calling the impact of the coronavirus an economic crisis undersells it. "Crisis" suggests something acute, of finite duration. But for the almost 1 in 5 Californians out of work, and the millions more who've lost income and the support systems that allow them to earn it — there is no obvious end in sight. It's less crisis than new era.
And that's how many are approaching it — not as a brief storm to be weathered but as the start of a new chapter, one filled with hardship and uncertainty but also opportunity. In a survey of Californians who've lost income amid coronavirus shutdowns and the resulting economic downturn, The Times found example after example of people who are using this time to transform their lives — by learning new skills, reinventing their businesses, launching new endeavors, rediscovering old dreams and reviving them.
To be sure, many are doing so in the most precarious of circumstances, praying their unemployment assistance will arrive on time and fretting over what will happen if it runs out.
Here are the stories of 10 California residents who are finding creative ways to get by in the present and position themselves for a brighter future, whenever it arrives.
From festival-hopping to mask-making
Launching a restaurant when it's only takeout on the menu
A belly-dance teacher takes her moves online
An out-of-work event planner keeps her eyes on the skies
An ad agency owner accelerates his exit plan
Bringing people together for digital dance parties
A magician pulls a new trick out of his hat: teaching
A restaurateur and chef gets personal
A Hollywood casting director casts herself as screenwriter
Once upon a time in Eagle Rock
For the record:
3:11 p.m. July 11, 2020An earlier version of this article referred to work Jimmy Smith's work for Nike and Gatorade as performed by Amusement Park Entertainment. Smith worked on those campaigns before starting Amusement Park in 2011.
From festival-hopping to mask-making
Kristin Gallup, 34, Oakland
Occupation before coronavirus: Seamstress
"My brain feels a little mushy, I'm not going to lie," Kristin Gallup said in early April. A seamstress who sells hand-made items such as leather belts with pockets, Gallup retooled her business on the fly when the coronavirus hit California. For the previous few weeks, she had been pulling 16-hour days turning printed fabrics into face masks in the home she shares with her boyfriend.
"I think I have maybe another two weeks in me before I crack," she said.
Gallup had planned to spend her summer migrating between festivals such as Renaissance fairs in California and Las Vegas selling her wares. Last year, she brought in $250,000 that way. It's a friendly environment, she said, with people happy to pay a premium for products made in the United States. In her busy season, which runs from March to November, she could attend up to 40 events.
With the festival season looking like a complete scratch, Gallup started a fundraiser on Facebook to keep her 15 workers employed and to buy the material. After raising about $4,000, she and her team went to work. Gallup also applied for an Economic Injury Disaster Loan, but is still not sure if she will receive it.
She estimates she's made around $8,000 since March. For a while, it was enough to cover her costs plus "a little bit left over for me."
But after a frenetic few weeks, bigger companies began cranking out similar, cheaper masks, and the competition took a toll. By July, Gallup had laid off all her employees and was making the masks herself. At least the new pace is more sustainable, she said.
"It's by no means fun or glamorous, but I'm able to provide."
— Emmanuel Morgan
Launching a restaurant when it's only takeout on the menu
Rhondahl Keith Adams, 53, Los Angeles
Occupation before coronavirus: partner, general manager and head chef of not-yet-opened restaurant
How do you open a new restaurant when you can't invite your would-be customers inside? Sherman Oaks chef Rhondahl Keith Adams has been figuring it out.
With the financial backing of his brother-in-law, Emmy-winning director Eric Laneuville, Adams planned to open Fat Tuesday, a full-service eatery serving Louisiana cuisine, in early 2019. But in the restaurant business, hardly anything goes as planned.
Initially budgeted at $125,000, the project had consumed $300,000 by mid-March 2020, when Adams expected to obtain the last permit he needed.
"All of a sudden, boom, we get hit with the COVID-19 shutdown and we couldn't open for curbside service without it," Adams said.
"I go to the building inspector and I said, 'Hey man, this is our last step. We just need this one piece to open up because they're letting restaurants do pickup and delivery,'" Adams said. A day later, he had it.
Fat Tuesday, which bills itself as "a taste of New Orleans," had no competition for miles around for its Fried Po' Boy shrimp, chicken or oyster sandwiches, char-grilled oysters and jambalaya. After the long buildup, Adams said, "people were anticipating us, they knew we were coming. When we opened for curbside, the whole neighborhood was just like, 'we're so glad you're here.'"
Making money in an environment where even established restaurants are lucky to break even has not been easy. Adams is hoping to hit that point by the middle of next year.
One early tweak: changing the name to Mardi Gras Tuesday, which better captures the fun atmosphere Adams is hoping to create, whenever he can start doing dine-in service.
Turning a profit is a long way off, Adams said, "We're hopeful," he said. "The community seems to understand that we have been through a lot just to get to this point."
— Ronald D. White
A belly-dance teacher takes her moves online
Kim Almanzar Mischook, 65, Altadena
Occupation before coronavirus: Belly-dance teacher
With four decades spent hustling in the world of belly dance, Kim Almanzar Mischook is no stranger to pivoting. One challenge she wasn't prepared for: Zoom.
After stay-at-home orders took effect in March, the Altadena resident was forced to take her classes online.
"As an artist, you need this energy from other people," Almanzar Mischook, 65, said. "To go from that to Zoom classes, where people are on little screens, it was very different and very strange."
After bursting onto the L.A. belly-dance scene in the 1970s, Almanzar Mischook appeared in films such as "The Man with Bogart's Face," danced at nightclubs in Hollywood and even performed alongside art punk icons the Talking Heads. She eventually became an educator and choreographer, which up until recently had her teaching six days a week at independent studios throughout Los Angeles.
Early in the pandemic, Almanzar Mischook turned the spare bedroom of her home into her teaching studio. Three times a week she put on a headset and attempted to convey the art of belly dance through a screen. Attempting to teach a practice so steeped in physicality online was unnerving.
"I was almost afraid to go in to teach because I wasn't sure if I was going to be able to do it very well," she said. "It was more of a new thing than anything else I've ever done."
After weeks of trying to find her flow from home, Almanzar Mischook recently began teaching her Zoom classes back at one of her regular studios, DanceGardenLA. Having a large monitor, more dedicated floor space and technical support has been helpful, she said.
She now teaches twice a week. At first, class sizes were small, with many of her regulars struggling with their own financial instability. Lately, they've begun to fill up, attracting 12 students on average paying $19 each. Almanzar Mischook earns 50% of the proceeds for the first 10 students who pop up on her screen, and 60% for 11 students or more.
Before the pandemic, Almanzar Mischook raked in about $20,000 a year. She entered 2020 poised to make more than usual with added choreography and teaching gigs — but that was before everything changed.
Almanzar Mischook's husband was furloughed from his job as an engineer for iHeartRadio and is now receiving unemployment. Almanzar Mischook has not yet applied, and other than a $100 check she received from Dance Resource Center's COVID-19 Emergency Fund, she hasn't had any additional source of income since March.
Despite the hardship and fear that come with losing income, Almanzar Mischook said mastering virtual teaching in her 60s has been empowering.
"I always knew I was adaptable, but I surprised myself at how easily I could make that change and now I feel so comfortable with it."
— Julissa James
An out-of-work event planner keeps her eyes on the skies
Christina Jimenez, 30, Quartz Hill
Occupation before the coronavirus: marketing and events organizer for the wine and spirits industry
Before the coronavirus, Christina Jimenez's life was a carefully choreographed dance: nights spent managing events for liquor brands, days taking care of her 11-year-old daughter and studying mechanical engineering at Cal State Northridge.
The behind-the-scenes work Jimenez performed for spirits industry customers such as Bacardi, Jameson and Anheuser-Busch included everything from planning galas and concerts to making sure bartenders mixed drinks correctly. She made about $40,000 last year.
Then the music stopped, leaving her with less money but more time — time she's been using to plan the next step of her career.
"Ever since the lockdown," she said, "I've been hearing 'next month, we'll restart the events next month,' but it hasn't happened."
An independent contractor, Jimenez has been eating into her savings despite occasional paychecks for training sessions on upcoming spirits products. She did receive a federal pandemic stimulus check and after 30 phone calls for unemployment compensation, she's received her first debit card funds.
Altogether, "it should be enough to continue my scaled-back lifestyle" for at least two more months, she said.
In the meantime, Jimenez has been job hunting, applying for three positions, two of them with SpaceX. The third is with Antelope Valley College, where she earned a two-year degree in Airframe Mechanics and Aircraft Maintenance Technology/Technician studies in 2012.
"I'd be making about $4,200 a month assisting students. It would be a dream job for me. I'm really hoping I get that one," Jimenez said.
With her extra time, Jimenez and three female friends have also started a nonprofit — the SOW Collective, or Shift Our Ways — using 5,500 square feet of donated land, soil, compost, plants and trees to start a community garden in Arleta that will provide free vegetables for nearby residents in need.
"Even though I'm unemployed, I'm not that stressed yet," she said. "It's nice to be able to help feed people."
— R.D.W.
An ad agency owner accelerates his exit plan
Jimmy Smith, 58, Los Angeles
Occupation before coronavirus: Advertising agency chairman and chief creative officer
For advertising executive Jimmy Smith, the coronavirus was an affirmation of something he'd already been thinking: Time to get out of advertising.
For years, Smith had a magic touch for picking projects and spotting trends. He did award-winning campaigns for Nike and helped Gatorade switch to a new "G" logo. With his team at Amusement Park Entertainment, which he started in 2011, he created a film for Stride Gum featuring the first man to jump from an airplane at 25,000 feet without a parachute and land safely in a giant net.
But for all of Smith's success and accolades, he was never able to escape the racism he views as endemic to the ad business, where he has been told he is both "too Black" and "not Black enough."
"As decorated as I am, the agencies want you to work for them, and the brands are happy to come give you business as long as you're working for their traditional white ad agencies," he said. "But the moment you go out and open your own, we ran into a lot of opposition."
So when COVID-19 hit the ad business, slamming his agency's revenue, it was all the more impetus to push ahead with his diversification plan, which involves making the products themselves "rather than always waiting on a client to call."
One concept he's looking to patent is a pair of augmented/virtual reality glasses he's calling Q Umbono. The name derives from the word for vision in the Xhosa language of Nelson Mandela's tribe in South Africa. Smith's team is seeking funding to develop a prototype. With sports and other in-person entertainment on hold, investors who initially seemed chilly have warmed noticeably to the idea, Smith said.
"Once the shutdown hit, some of them have started calling us back. 'Hey, didn't you have some AR VR blah blah blah? I'm interested in that.' The phones are ringing."
— R.D.W.
Bringing people together for digital dance parties
Tyler Moore, 34, Cypress
Occupation before the coronavirus: AV engineer
Tyler Moore went into the coronavirus era an audio-visual engineer with a side hustle. He's hoping to come out a full-time multimedia artist — although, for now, he's still relying on unemployment checks to pay his bills.
Before the pandemic hit, Moore was installing control systems and other technology at corporate offices as an independent contractor. He would also DJ and VJ, creating visual experiences at events such as Anime Expo and at nightclubs throughout Southern California.
Now that many corporate campuses are closed, Moore spends his time preparing for the virtual raves that he streams from his Cypress home.
Under the moniker All Hell Breaks Loops, Moore creates spontaneous 3D visuals — ranging from a room filled with TV screens and dancing lasers to a rainfall of crying emoji faces — to accompany a prerecorded DJ set supplied by someone else. The three-to-five-hour live events air on the streaming platform Twitch.
"I am far busier now virtually than I was in real life," Moore said.
So far, the commission and tips he makes from livestreams haven't matched the $60,000 a year he made last year. He has earned about $2,000 from events since March. Moore started receiving unemployment in June, which he said has allowed him to focus on creative endeavors.
Since the killing of George Floyd in Minneapolis sparked outrage nationwide, he has been playing events to raise money for Black Lives Matter-affiliated organizations such as Reclaim The Block.
With in-person concerts, festivals and conventions unlikely to return until next year, Moore is hopeful he can turn his VJing into a sustainable career by winning commissions from DJs and other content creators.
"I'm kind of strangely thriving right now," he said.
— Kailyn Brown
A magician pulls a new trick out of his hat: teaching
Dean Apple, 61, La Quinta
Occupation before the coronavirus: Magician who performed mostly at corporate events and private parties.
It's not easy to do magic during a pandemic.
Professional magician Dean Apple's business first started to dip in early March, when a big gig for a Palm Springs hospital was canceled. A few days later, another performance was nixed. Eventually, the coronavirus-related cancellations tallied up to a dozen.
At the same time, Apple was grieving the loss of his mother, who died in March at the age of 89.
As a way to handle his grief, he poured himself into teaching children how to perform magic tricks with household items and put on magic shows for them in online Facebook videos. The goal was to help children learn enough to put on their own magic shows and perform via video for relatives who can't be there in person.
"It was a way for me to get out of myself and get out of the grieving and do something constructive for the community," he said of the switch to working with children. "I wanted the kids to know it's going to be OK. They may be quarantined at home, they may not know what's going on at school … but they can still be entertained."
His videos caught the eye of an Alaska resident and soon he was hired by a school district there to teach magic workshops and magic shows for students. A month's worth of videos netted him $2,400.
In the last two months, he's been hired by some day camps to teach magic workshops and do shows via video, and has gotten inquiries from individuals and private schools about video packages.
"For me to morph into being a kids magician only was really OK," Apple said. "I found I really love it."
His shows — assisted by his wife, Debbie Apple, whose stage name is "Pinky" — have also changed with the times. When Apple's ventriloquist dummy begins coughing, Apple hands him a face mask. Early on, during the height of panic buying, toilet paper appeared out of nowhere.
"You learn to adapt the magic to whatever the current situation is," he said.
Once the pandemic subsides, Apple isn't sure if he'll go back to doing only corporate events and private parties.
"I kind of like the virtual stuff," he said.
— Samantha Masunaga
A restaurateur and chef gets personal
Cal Peternell, 57, Berkeley
Occupation before the coronavirus: professional chef
After taking two years off to teach cooking at a prison and launch a podcast, chef Cal Peternell returned to the kitchen with the worst of timing.
The Lede, his restaurant, opened in late September 2019. It was still struggling to turn a profit when the coronavirus hit in March.
"We had a bunch of parties booked up for the spring, but just one after another, they canceled," Peternell said. "By the time the shelter-in-place order came down, business was suddenly, completely gone." The restaurant then lost its lease.
Peternell, who made about $35,000 in 2019, has applied for unemployment but isn't expecting much. "I did receive a stimulus check for $1,200, plus $500 for our 15-year-old son," he said.
Peternell also has periodic income for his upcoming fourth book. Titled "Bad Food Good," it's about "how do you sort of hack bad cooking into something amazing, or at least better," Peternell said.
Working out of his small home with his wife, youngest son and two adult sons who fled the virus in New York, he has found a new professional identity: the master chef who comes to your home to cook an intimate dinner for two.
"For a couple celebrating a graduation, I'm making cucumber and smoked black cod salad with basil, preserved lemon and nasturtium blossoms; baked pasta with mushrooms, peas and sage; and almond cake with cherries and whipped cream," he said. He charges $65 for a three-course meal, "which seems reasonable to me," and does one or two dinners a day.
With his two sons heading back East soon, Peternell is contemplating more personal chef work.
"It has potential, but it's hard to judge it when other family members are coming in to use the kitchen while I'm in there," he said. "It may require some capital investment if I'm really going to try this."
— R.D.W.
A Hollywood casting director casts herself as screenwriter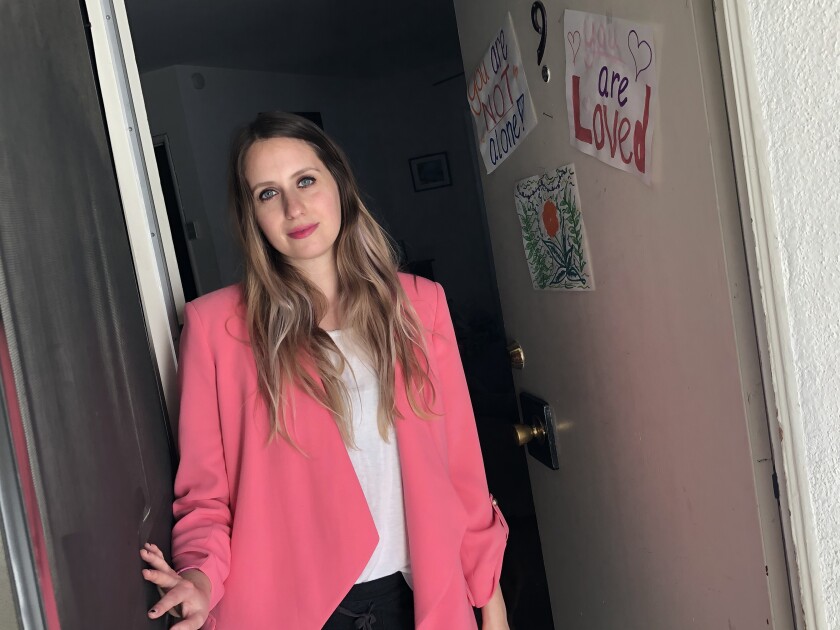 Lauren Herrel, 32, West Hollywood
Occupation before the coronavirus: Casting director
With Hollywood on hiatus, Lauren Herrel isn't making any money, but once the cameras start rolling again, she plans to be first in line.
As a freelance casting director with credits on everything from indie flicks to "Captain America: The First Avenger," Herrel was used to clocking 60-to-80-hour weeks. She made $1,300 per week, or a flat fee of $2,500 to $10,000 per project.
Then the coronavirus stopped all her projects in their tracks at the beginning of March.
"To go from 100 miles a minute to zero really threw me off," she said.
As a self-employed independent contractor, Herrel has so far been unable to collect any unemployment insurance. California launched its Pandemic Unemployment Assistance program to get money to independent contractors on April 28, but Herrel was just recently approved and hasn't received any money yet.
Stuck at home blowing through her savings, she turned to writing scripts.
"Once the industry goes back to work and streaming services are taking pitches again, they're going to be looking for tons of new content," Herrel said. "I want to make sure I'm ready for it."
She penned a sitcom script over the course of four days, and she's also reading other projects and staying connected to actors, directors and producers to see if there's any way to move something forward while the industry's in flux.
In addition, she's co-producing a virtual talk show called "The Ottoman Zone" that will feature celebrity guests discussing issues facing the country. So far, the work has been unpaid because she believes in the show's mission to elevate marginalized voices, but she's hoping that and her other side projects will eventually provide a stream of income.
"There's no right or wrong way to do quarantine, but I knew I wanted to stay active," Herrel said. "You have to put in a million percent because it's only on you."
— Jack Flemming
Once upon a time in Eagle Rock
Austin Eastlee, 30, Eagle Rock
Occupation before the coronavirus: Bartender

Austin Eastlee worked shifts at two bars — Echo Park's Spirit House and Glendale's Gold Rail Bar — before the pandemic shut them both down. With them went roughly $800 a week and his sense of purpose.
"I had this feeling of uselessness that was anxiety-inducing," he said.
After three weeks and four rejected Trader Joe's applications, he was chatting with a friend who enjoyed a relatively steady income as a musician and carpenter. "He had just bought a motorcycle and suggested I buy one too. I told him I had no money, and he said I could work for him for the time being."
For the last few months Eastlee has worked as a handyman for his friend, running errands and tackling problems for $20 an hour. The part-time gig nets him around $250 a week. Combined with unemployment and some cuts to his usual budget, it helps him cover half of the $1,660 rent for the one-bedroom guesthouse he shares with his girlfriend.
One afternoon saw him clean out an old shed. One saw him pick up a piano in Koreatown. One saw him shoot a music video in a garage.
"I jokingly call myself the Brad Pitt to his Leo DiCaprio," he said, referring to the main characters' relationship in Quentin Tarantino's 2019 film "Once Upon a Time ... in Hollywood."
In his free time, he's been taking psychedelics and revisiting some of his hobbies, which include drawing and making music. He's in the middle of recording an album, and he's also designing a character for his friend's indie video game in hopes of eventually leaving bartending for a more creative field.
"I want to be as self-reliant as possible when this is over," he said. "What can I do in the future where I won't be as affected by something like this?"
— J.F.
---