Looking to make extra cash? Your guide to side jobs and gig work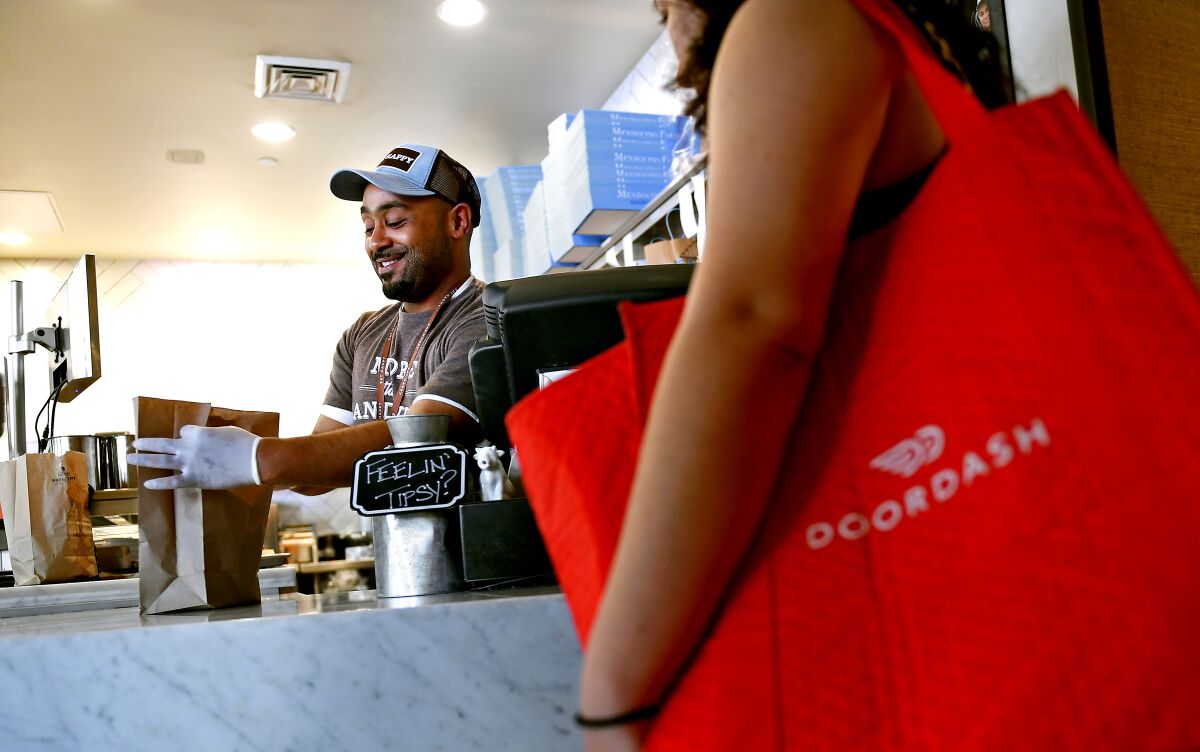 Thinking about making some extra money with a side job in the gig economy? There are a lot of options out there — but some of them are more legitimate (and lucrative!) than others. Before you start your side hustle, you want to make sure you'll actually make some money. Kathy Kristof, the creator of job review site SideHusl.com, writes for the L.A. Times about the best and worst of the side jobs, freelance gigs and ways to make a little extra cash.
She has reviewed gigs from driving for ridesharing apps and food delivery services to online tutoring and web development to selling and renting the stuff you already own. She also reviews options tailored to busy parents, teenagers and college students, remote workers, people who need some quick cash, retirees, and more.
Also: The red flags and scams you need to be aware of before you risk your time and sanity on a side job.

1

The benefits of self-employment — flexibility, independence and greater income potential — are well worth the challenges. But it pays to know the pitfalls and how to avoid them.

2

If you prefer to earn money through creative pursuits, there are plenty of websites that can connect you with acting, photography, fashion and other gigs.

3

Here's a step-by-step guide to a college debt repayment plan that won't hamper your holiday spending. Requirements? Discipline and a side hustle or two.

4

Some of these websites connect freelancers with work that pays well. Others are worth considering for non-financial reasons.

5

From creating custom songs to curating music playlists, if you're musically inclined, you can find work with reasonable rates through these websites.

6

Winter is high season for accounting work as businesses prepare their books for tax season.

7

The best thing about holiday jobs is that they help you to pay seasonal bills as they happen, instead of ringing up debts you'll regret in January.

8

If you want to turn selling on Etsy into a six-figure side hustle, forget about simply following your passions. You need research to help you stand out from the crowd.

9

If you have the digital skills to help companies go online and promote themselves there, you don't need to go into an office to find work.

10

Don't want to get sucked into working for an insignificant amount of money? Here are five time-wasting side gigs to avoid.

11

More than half of the nation's employers are seeking workers. And there simply aren't enough skilled employees to fill the open slots.

12

From driving kids to school to filling out surveys, there are plenty of ways to turn your free hours into quick cash. But make sure you know the downsides.

13

Americans are expected to shell out roughly $1,000 during the holiday season. The earlier you start to earn holiday money, the easier it becomes.

14

College students can earn money doing everything from tutoring to charging electric scooters. Here are some ideas.

15

If you have a sharp eye for written language, earning an income stream from proofreading presentations or reviewing books isn't as hard as you may think.

16

The goal of diversifying your income is to keep food on the table even in the worst circumstances. Nearly anyone can generate a second source of cash.

17

There are dozens of sites that can help you advertise your home for rent, and some of them are more cost-effective for both you and your renters than Airbnb.

18

If you enjoy taking photographs, you can try uploading your best shots to stock-photo sites and print-on-demand sites to earn some cash.

19

Posting an item on many platforms takes a while. List Perfectly's software can simultaneously fill fields in up to 12 online sales sites

20

Transcription work can be done at home. Some jobs pay handsomely. Others end up far below minimum wage.

21

Filling out surveys, charging scooters, getting your car wrapped with ads: These side gigs don't pay too well, but they're pretty easy.

22

If you're a native English speaker, you can teach English online to people in other parts of the world. In many cases, you don't need teaching credentials.

23

Don't use just any website to find freelance tech jobs. Some have freelancers bid against one another, which can push rates way down.

24

Through DishDivvy, cooks can sell homemade food. DishDivvy also pays people for referring customers to the site.

25

When your money makes money, that's called passive income. This can mean investing in dividend-paying stocks, licensing your art or renting out your belongings.

26

Consulting, tutoring and virtual assistant gigs are among the flexible and well-paid side hustles that retirees might want to pick up. Here's how to find them.

27

Housesitting comes with responsibilities, but it can help stretch your vacation budget. Here's how to find gigs.

28

Jobs at camps, resorts and national parks are rarely highly paid. But they often come with free or discounted meals, housing and adventurous activities.

29

Aside from patience and a clean criminal record, there are few prerequisites for landing a babysitting job.

30

Fiverr, an app that once urged sellers to charge just $5 for freelance work ranging from copywriting to legal services, is increasingly bringing its freelancers high income.

31

Some of the best-paying spring and summer side hustles involve helping people move, coaching, personal training or construction work.

32

A slew of delivery, baby-sitting, retail and evaluation jobs, among others, can be done without specialized training or previous experience.

33

How to get wedding work such as providing photography, videography and DJ services, doing hair and creating custom keepsakes

34

Extras don't get film credits or lines. But they can get union wages, meals and perks — such as getting to read novels or work on their side gigs while on the job.

35

Some of these positions require training and certifications, but the training often can be done in as little as a few months and, sometimes, while on the job.

36

Artists, designers, and cooks have found unexpected opportunity — and profits — in pandemic life, with lessons for every entrepreneur.

37

There's a plethora of side jobs for food lovers, including food photography and reviews, offering cooking classes, and working at restaurants, bars and — eventually — events.

38

The COVID-19 pandemic fueled rapid growth in delivery and tutoring jobs, which are expected to remain particularly hot.

39

Of the dozens of sites that allow writers to post a portfolio, four stand out.

40

Some of these jobs are optimal for the young and fit. Others suit people with more life experience and assets.

41

Housekeeping jobs tend not to pay very well, but there's an opportunity for more cash if you're willing to tackle specialized cleaning gigs or other kinds of physical labor.

42

Koji offers customizable templates for sale interfaces, fundraisers and games that can be easily posted to social media.

43

Health-related side jobs fall into several categories, including psychiatric, nursing and nonmedical care. Pay ranges are as wide.

44

People who are self-employed — even if they work side jobs for only a few hours a week — get a litany of federal tax deductions that are not available to those who work only as employees.

45

While side hustles that nurture the soul are not the highest-earning jobs, they allow you to feed your passions while padding your pocketbook.

46

Some online platforms provide invaluable matchmaking services, connecting freelancers with good work. Others charge far too much for questionable benefits.

47

There are hundreds of side hustles that could relieve a debt hangover. Here are a few that are in high demand and present relatively little COVID-19 risk.

48

Creating and leading small tours, hosting meals or giving cooking classes are great side jobs for when the COVID-19 pandemic restrictions recede, but people still don't want big crowds.

49

"Income" scams — most of which involve bogus job offers — have risen to record levels, the Federal Trade Commission said. Here's how to protect yourself.

50

Does Amazon Flex pay drivers more than Uber? Grubhub? Postmates? The answer varies widely based on the city.

51

These sites can help you find work, including remote positions as a virtual assistant and moving, caregiving and consulting gigs.

52

If you have a skill that other people want to learn, you most likely have an online class that could enable you to profit from a distance.

53

Smart marketing and paying attention to animal friendships are keys to success on Rover, says Dan Simms, who makes $3,000-plus a month on the dogsitting gig platform.

54

Launching a lucrative side hustle is all about looking for "pain points," says Nick Loper, founder of Side Hustle Nation. "If you had a problem that you've overcome, the solution may be the basis for a business."

55

Although all-purpose sales sites like Craigslist and EBay can be good, niche sites can often sell specific types of items faster and with less hassle.

56

If you crave a new iPhone but aren't sure how to pay for it, consider selling your old phone. There are lots of sites to choose from. Let's narrow it down.

57

If a teenager under 18 wants to pick up some odd jobs — with parental oversight — there's a platform for that.

58

The Dumpling Drive app aims to enable Uber and Lyft drivers to go into business solo. Drivers have to market themselves — but they also set their own prices and don't give up a cut.

59

They try to seduce you with promises that you can make money while having fun in your spare time.

60

Federal pandemic relief is stuck in limbo, but the bills still need to be paid. Here are some ways to make cash, fast.

61

If you're looking for a gig job, you face a cacophony of choices. So home in on the kind of work you want to do. Then vet the options.

62

Filling out online surveys doesn't pay well, but if you're bored anyway, they're an easy way to make a buck. Other options: Be a mock juror or make video reviews.

63

Consulting jobs are often found through word of mouth, but several online platforms can match you with companies willing to pay for expertise.

64

Gerson Lehrman Group is an international consulting firm that enlists freelancers to provide paid advice on a wide array of topics, including finance and marketing.

65

GrubHub is one of the better food delivery apps for drivers. It combines brisk demand with some pay guarantees and better-than-average delivery transparency.

66

Kevin Ha recently quit his day job, choosing to work gig-economy jobs on nights and weekends and spend his days with his new baby. He has strategies on how to optimize.

67

The COVID-19 pandemic has created a red-hot market for RVs and camping gear. This demand can provide a way to make some money when jobs are scarce.

68

As part of a larger strategy to boost your profile or sell other items, writing and publishing a book can pay off.

69

If you're looking for an opportunity to make some money with music or acting, you may be able to teach these skills through Lessonface.

70

A smartphone app called Dumpling helps set shoppers up in business for themselves.

71

Having any guaranteed pay at all differentiates Saucey from most other delivery options. But after accounting for gas and wear and tear on your car, you may be making just a shade over minimum wage.

72

If your employer or career is on a pandemic-induced hold, you might want to check out seasonal jobs in fun U.S. locations or overseas.

73

With part-time and seasonal job listings in almost every state, CoolWorks provides free access to a wide range of possibilities.

74

GoShare connects people who have trucks and muscles with people who need help with moving or delivery.

75

Uber and Lyft used to be the undisputed leaders in providing jobs for independent contractors who wanted to drive for a living. The coronavirus changed that.

76

With unemployment in the stratosphere, it may be comforting to know that you can make money without a job.

77

Thinkific helps you set up your own website aimed at teaching and selling online courses, allowing you to set the price and terms.

78

Peerspace allows you to rent out your home or office by the hour to people looking for wedding, photography and special-event locations.

79

Etsy is one of the oldest and best-established sites to sell art, crafts and hand-made items.

80

A smartphone app called Dumpling helps set shoppers up in business for themselves.

81

Wonderschool helps you set up a new day care program, leading you through the necessary licensing, certification, administration and marketing.

82

Working past retirement age is a growing trend. The collapse of traditional labor markets because of the coronavirus is likely to accelerate it.

83

Silvernest aims to be a combination of Airbnb and Match.com for empty-nesters who would like to rent out a room.

84

At Wize, tutors set their own rates and keep every dollar.

85

WAHVE users like the flexibility, but the pay is less than you may be used to. And while some jobs are full-time, they do not come with benefits.

86

Amazon Flex offers one of the few delivery jobs that can allow you to earn more than minimum wage.

87

FreeUp is a freelance marketplace for content creators, web developers, tech support, sales and marketing professionals, accounting, translation and administration work.