U.S. mask mandates on planes, buses will likely ease soon. Just not yet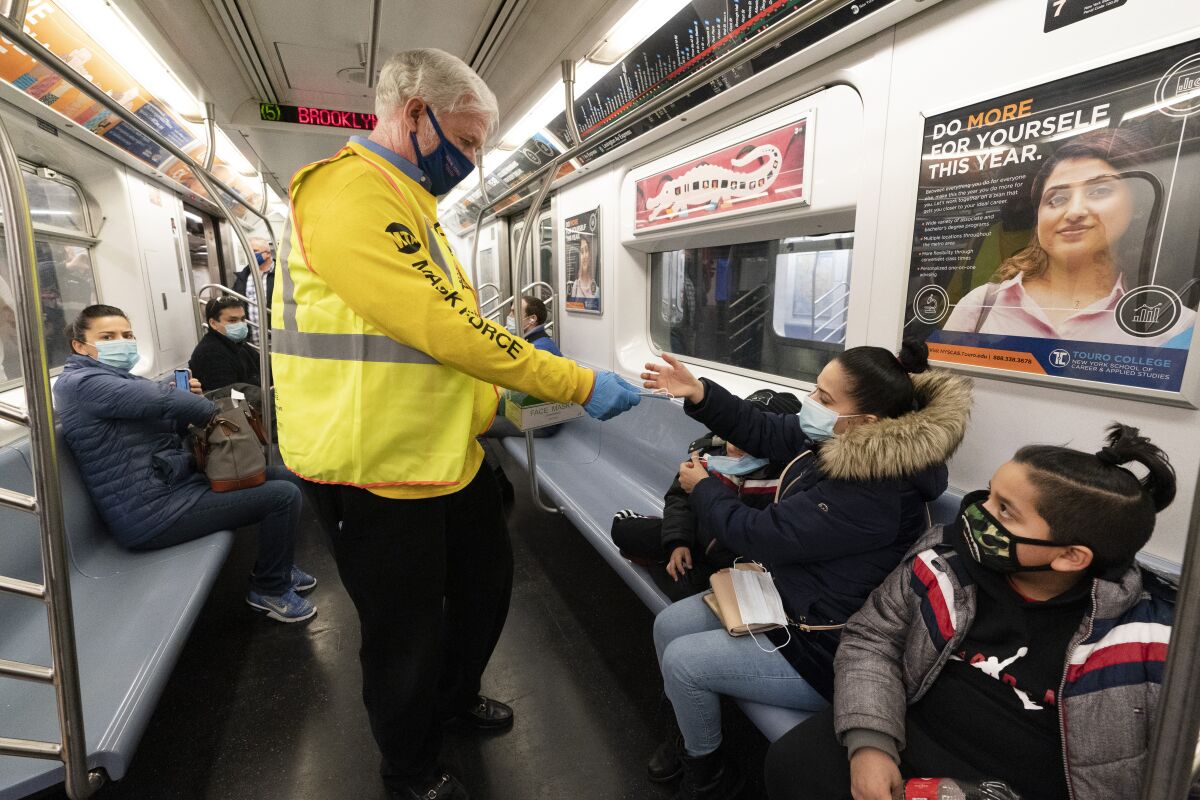 The existing requirement that passengers wear masks on airplanes, buses and other mass transit has been extended through April 18, with the Centers for Disease Control and Prevention announcing it is developing guidance that will ease the mandate next month.
The requirement, which is enforced by the Transportation Security Administration, had been set to expire March 18, but it was extended by a month to allow the public health agency time to develop new, more targeted policies. The requirement applies to planes, buses, trains and transit hubs.
On its website, the CDC said Thursday that it would "work with government agencies to help inform a revised policy framework for when, and under what circumstances, masks should be required in the public transportation corridor. This revised framework will be based on the COVID-19 community levels, risk of new variants, national data and the latest science."
As of March 3, more than 90% of the U.S. population is in a location with low or medium COVID-19 community levels, where public masking is no longer recommended in indoor settings.
Disneyland will follow California's guidelines by allowing vaccinated visitors to enter indoor eateries, stores and attractions without masks.
"We have to look not only at the science with regard to transmission in masks but also the epidemiology and the frequency that we may encounter a variant of concern or a variant of interest in our travel corridors," Dr. Rochelle Walensky, director of the CDC, said March 2, explaining why the agency was delaying removing the requirement for transit but allowed people to gather maskless in movie theaters and sports arenas.
Airlines have been requiring masks for passengers almost since the pandemic began in March 2020, but air carriers could enforce the requirement only by threatening to ban passengers from future flights for failing to wear the masks.
Soon after the Biden administration took over last year, the TSA adopted a federal mask policy, requiring passengers to wear face coverings in airports and on airplanes — except when eating or drinking — punishable by a fine of up to $1,000 for the first offense and up to $3,000 for repeat offenses.
Since September 2021, the TSA has imposed almost $400,000 in civil penalties against more than 600 passengers who refused to wear a mask on a plane.
Disputes over the mask mandate have been the top cause of onboard disruptions by unruly passengers, according to the TSA, which can impose fines on disruptive passengers of as much as $37,000 per incident.
In a statement, the Transport Workers Union — which represents mechanics, baggage handlers, flight attendants and other transportation workers — said it supported any "federal guidance based on science" but noted that the mask mandate has led to harassment and assaults against flight attendants.
"Regardless of how the TSA moves forward after April, any violence against flight crew should not be tolerated, and measures should be put in place to better protect them," TWU International Executive Vice President Alex Garcia said.
Air travel demand has been slowly rising but has yet to reach levels recorded before the pandemic.
The number of flights operated in 2021 — 6.2 million — was 78.1% of overall traffic in 2019, when U.S. carriers reported 7.9 million flights. In December, U.S. carriers reported 566,465 flights, or 85% of the number of flights flown in December 2019, according to the U.S. Department of Transportation.
News of the extension and policy review was first reported by Reuters.
Associated Press writer Zeke Miller contributed to this report.