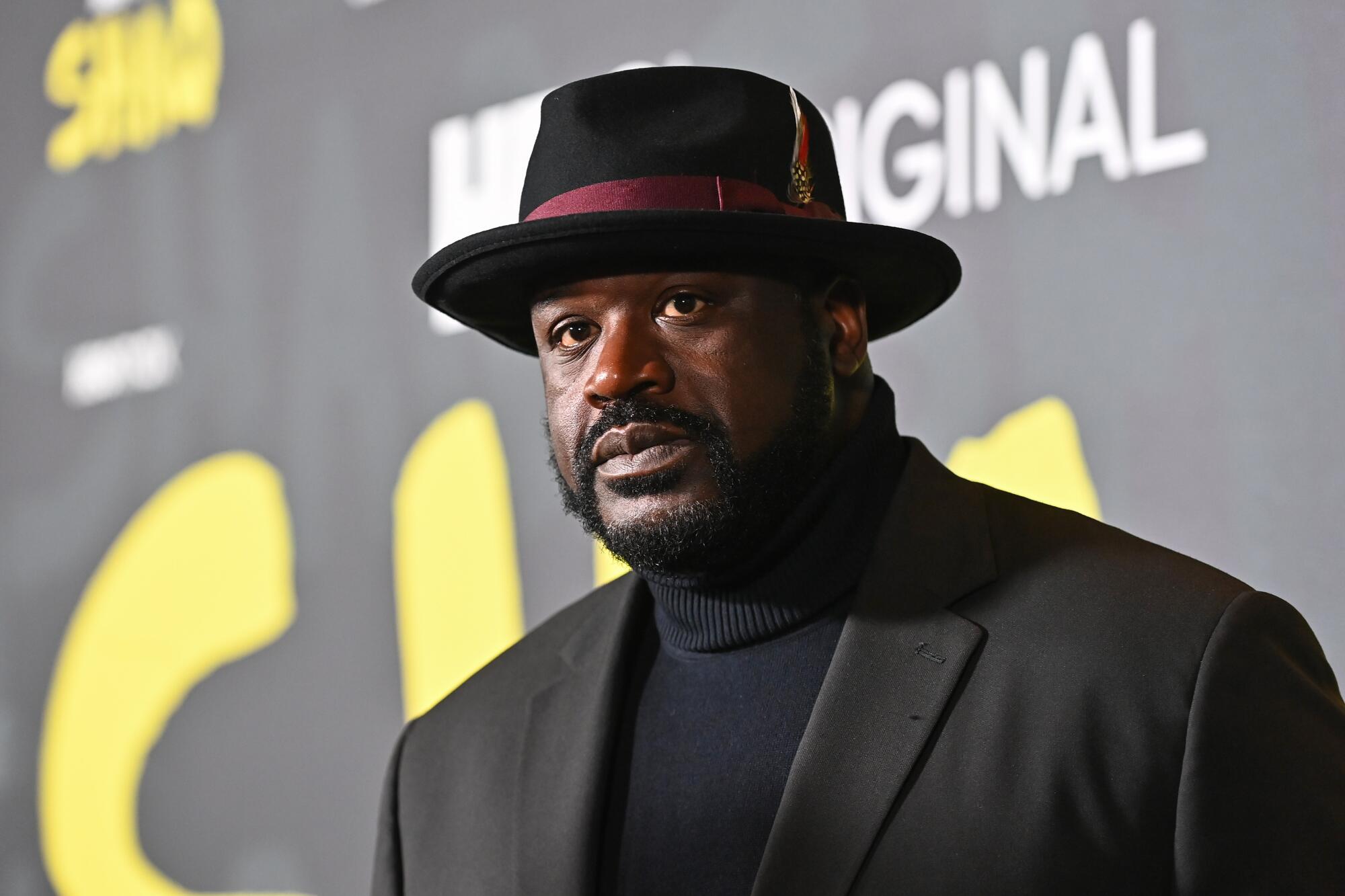 (Paras Griffin / Getty Images for HBO)
Shaq is everywhere.
Laughing it up with Charles Barkley on TNT. Serving as the post-crisis face of Papa John's pizza. Fist pumping for Carnival Cruise Line. Hawking Epson printers, air fryers, Icy Hot, car insurance, cereal and Shaqtoberfest.
"I've always been a businessman who is athletic," he said during a 2013 interview on CNBC.
There have been greats. There have been savvy athletes-turned-businesspeople. And of course, there have always been big personalities.
But none have melded it together into a multimillion-dollar, airwave-dominating, viral moment-making empire quite like Shaquille O'Neal.
Current and former L.A. Times staff members selected the 75 greatest Lakers players as the club prepares for its diamond jubilee.
The legendary NBA big man is now known to an even wider audience from the plethora of products he endorses, his basketball commentary on TNT and his extensive business portfolio, including such unrelated firms as the Majority ad agency, Ring doorbells and his own fast-food chain, Big Chicken.
"I think his brand is stronger now than it has ever been," said Natasha Brison, an associate professor at Texas A&M who specializes in athlete branding. "He's literally reshaped what it means to be a retired athlete."
O'Neal's sweeping interests make him ubiquitous in the business world and on your television screen.
He's a big believer in franchising, and over the years has owned 40 24-Hour Fitness gyms, 155 Five Guys restaurants, at least one Krispy Kreme doughnut shop, 17 Auntie Anne's pretzel stands and nine Papa John's pizza places. His Big Chicken chain will soon have 18 locations across the country and on two Carnival Cruise ships and offers its own franchise opportunities.
He's appeared in commercials for Icy Hot, the General insurance, Buick, Frosted Flakes, Novex Biotech, Reebok, Google, Pepsi, Ring, Gold Bond, JCPenney, PointsBet sports betting and Tonka.
He's worked with live events companies such as Thirteenth Floor Entertainment Group and Medium Rare to produce Shaqtoberfest Halloween carnival at the Queen Mary in Long Beach and the Shaq's Fun House Super Bowl festival.
He's partnered with Zales, Macy's and AriZona Beverages to put out his own Shaq-branded lines of products, including Soda Shaq, a giant can emblazoned with O'Neal's grinning head.
He's a board member at Papa John's, a founding partner of Majority, which focuses on diversity in advertising, and a shareholder in Genius Brands International, a children's media company with which he'll have an animated show titled "Shaq's Garage."
He's a strategic advisor for Forest Road Acquisition Corp. II, a special purpose acquisition company that looks for companies to merge with and then take public.
He's a brand ambassador and strategic consultant for mobile sports betting app WynnBet, a deal that forced him to sell his minority stake in the Sacramento Kings last year to conform with conflict-of-interest rules.
He's the second-largest independent stakeholder in Authentic Brands Group, a brand management firm that owns the likenesses of celebrities such as Marilyn Monroe, Elvis Presley and O'Neal himself and also buys distressed apparel and athletic brands and tries to turn them around.
The company owns Reebok — one of O'Neal's earliest endorsement partners acquired in a deal he pushed for — and earlier this year, Authentic Brands said it would acquire surf brand Boardriders, which includes Quiksilver, Roxy and Billabong.
(He's also a DJ, though that reportedly isn't a moneymaker.)
O'Neal's business holdings are indeed so extensive that his team has hosted a "Shaq Summit" for several years to get representatives from all of his brands and partnerships together in one room and plan out their campaigns.
Investor attorneys say they tried for months to serve Shaquille O'Neal in a fraud suit related to the FTX collapse. O'Neal wants the case dismissed.
It's a far cry from his early career, when he relied mostly on lucrative endorsement deals with the likes of Reebok, Taco Bell and Pepsi to supplement his NBA salary. Those deals boosted his annual income in the late 1990s to $25 million, but O'Neal wanted more than just a quid pro quo.
"I learned from the great Magic Johnson that it's OK to be a superstar basketball player," O'Neal said last year at the International Franchise Assn. conference in San Diego. "But at some point, you want to start investing in businesses."
(Johnson famously parlayed his skill and charisma on the court into his own sprawling business empire. Today he serves as chief executive of Magic Johnson Enterprises, an investment conglomerate with interests in areas such as entertainment, real estate and education. He also owns stakes in the Dodgers, the WNBA's Sparks and MLS' LAFC and is part of the group that is buying the NFL's Washington Commanders. Johnson, however, isn't nearly as ubiquitous on TV as O'Neal.)
In the '90s, O'Neal invested in Google, now known as Alphabet.
"My only regret is that I wish I would have bought more," he told author Zack O'Malley Greenburg for the book "A-List Angels: How a Band of Actors, Artists, and Athletes Hacked Silicon Valley."
In a bit of a rapid-fire format, a bunch of quick thoughts on everything I've seen, noticed or heard since the end of the Lakers' season last week.
He was an early investor in Apple ("All the stuff that Warren Buffett talks about? I'm in," O'Neal told Yahoo Finance in 2016) and invested in Ring before it was acquired by Amazon in 2018.
But his wagers haven't always paid off. O'Neal made deals with internet service provider Freeinternet.com and co-founded the shoe and apparel e-commerce company Dunk.net, both of which failed during the dot-com bust.
He had critically panned misses in acting ("Kazaam") and video games ("Shaq Fu").
More recently, O'Neal was served with a class-action lawsuit on behalf of former clients of the now-bankrupt cryptocurrency exchange FTX. (His lawyers allege he wasn't properly served and the suit should be dismissed.) Filed late last year, the lawsuit alleges that O'Neal, Tom Brady, Shohei Ohtani, Steph Curry and other celebrity endorsers did not properly evaluate the business they publicly backed and wrongly made FTX seem like a good investment to customers.
O'Neal has tried to minimize his involvement with the firm, telling CNBC in December that he was "just a paid spokesperson for a commercial."
"People know I'm very, very honest," he told the network. "I have nothing to hide. If I was heavily involved, I would be at the forefront saying, 'Hey.'"
It's not the first time O'Neal has been linked to a questionable product. In 2011, he and Lamar Odom were sued for endorsing Power Balance bracelets, a now-debunked wristband that promised to improve athletic performance. The case was later dismissed.
"I do believe that Shaq is given some grace," said Brison of Texas A&M. "This goes back to ... authenticity and him just being relatable. That relatability has been his strength."
O'Neal's seemingly fun-loving personality, willingness to poke fun at himself and apparent sincerity go a long way in making consumers feel that they know him. That, in turn, makes him appealing to companies.
"You have to let Shaquille be Shaquille, and the magic will come," his agent, Perry Rogers, said in the HBO documentary series "Shaq." "At the end of the day, we're in the fun business. That's who Shaquille is."
Sports marketing experts say O'Neal doesn't get embroiled in controversy and is largely apolitical, making him a safe and reliable bet for corporations. He also seems comfortable with who he is and where he's at in life — meaning his endorsements sometimes mirror his age group, rather than trying to reach back in time and target a younger batch of consumers.
"You've got to say 'likable,' as corny as it sounds," said Brandon Brown, clinical associate professor of sport management at New York University, when asked to describe O'Neal's brand. "And, I'd say, Shaq's trustworthy."
A Georgia mom was struggling to get shoes for her 13-year-old son with size 18 feet.
His random acts of charity — many of which don't appear to be publicized by O'Neal or his team — also don't hurt.
There was the story last year of O'Neal paying the dinner bill for everyone in a New York City restaurant, including the wait staff. That same year, he bought a washing machine and television for a couple at a Dallas Best Buy. He's covered funeral costs, donated $50,000 to the family of a mass shooting victim and provided a house for the family of a child who was paralyzed after being shot.
These real-world testimonies build up O'Neal's credibility, said Brown, who also serves as president of the Sports Marketing Assn.
"For so many consumers today, they're looking for authenticity," he said. "Shaq has just been caught on social doing so many things. He seems to be a good guy, authentically."
The financial strategy for a likable athlete with plenty of brand power can look very different from that of a player who is good on the court but does not connect as well with people.
"If you're a really great personality, and the brands are fun, and you can make a lot of money in endorsements, then you can rely less on your investment portfolio because you will be able to work for as long as the eye can see," said Ken Gunsberger, a managing director and private wealth advisor at UBS who works with athletes, artists and other high-net-worth individuals.
"Everybody loves Shaquille," he said. "And I think that's one of the things that makes him so special in his business life."
O'Neal's longevity has become an inspiration for other professional athletes. Clients have come into Allen Schreiber's office at wealth management firm TSG asking to replicate his success.
"Shaquille has set the gold standard in terms of establishing an amazing reputation for not only endorsing his companies he represents, but being involved," said Schreiber, a partner at the firm, which does not work with O'Neal. "It's one thing for any client, athlete or not, to endorse something, but to say that person is also an owner or shareholder of the company goes a long way."
Could there be another Shaq?
There are definitely some contenders. Serena Williams started a venture capital fund that invests in underrepresented founders and women and counts companies such as MasterClass and Impossible Foods as part of her portfolio. She has also appeared in ads for migraine medication — a health issue she has been vocal about.
"She's been very intentional about the partners she's working with, the investments she's backing and supporting," said Brison. "It's a very similar strategy to what Shaq has been able to do."
LeBron James founded a production company, wrote a children's book, opened and funded a public school in Akron, Ohio, and appeared in "Space Jam 2." Curry, the Golden State Warriors superstar, started a book club featuring diverse authors, founded a production company and invests in companies ranging from home fitness firm Tonal to online learning startup Guild Education.
But it's not just about the deals — not only would O'Neal's business successor have to have a lengthy and notable career on the court, but longevity off of it as well.
"It's tough to do either of those two things. And Shaq has done both," said Brown of NYU. "To see both combined, I think it will be a while. But nothing's impossible."