(Irfan Khan / Los Angeles Times)
On a hot Friday morning this summer, Marliss Myers pushed her grocery cart past the cluster of self-checkout kiosks and directly toward check stand No. 1.
It was the start of her weekly trek to the Albertsons in Arcadia, where the 83-year-old first met cashier Sharon Hechler almost a decade ago. Hechler spotted Myers, and her arms burst from her sides in excitement.
"Good morning, honey!" she said, pulling Myers into a hug. "You're nice and toasty."
"And you're cool," Myers said.
"Happy shopping."
The weekly interactions with Hechler provide a steady spark of joy in Myers' routine, which she has tried to maintain in the months since her husband died. The couple — he dressed casually, she in heels and with neatly coiffed hair — shopped together on Fridays for years, always picking out two steaks for dinner before checking out in Hechler's lane. After his death, Myers gave Hechler a copy of the eulogy she read at his funeral, a gesture so thoughtful it drove the longtime cashier to tears.
"We all need that human, personal touch," Hechler said.
Isolation and loneliness are an epidemic as damaging to Americans' individual and public health as smoking and obesity, the surgeon general said in an advisory.
This year, in a stark warning about epidemic levels of loneliness and isolation, the U.S. surgeon general dedicated a section of his advisory to the effects of technology on social connection. Two-thirds of Americans said technology has made it harder to meaningfully connect, and nearly 70% said it has led to a decrease in empathy, according to a recent survey from PlayUSA, a website that covers online gambling.
Still, 66% of respondents said they would choose a self-service kiosk over a human-run checkout, often citing speed and a preference not to talk to anyone. But there was a sharp divide along generational lines: Whereas 84% of Gen Zers prefer self-checkouts, the number dropped to 46% for baby boomers. The survey didn't include a breakdown of the Silent Generation, Myers' age group.
Having connections such as the one Hechler and Myers share — warm, low-stakes relationships often called "weak ties" — is a critical tool for maintaining emotional well-being later in life as social circles shrink, said Toni Antonucci, a professor of psychology at the University of Michigan.
"It's somebody who makes you feel important in their world," she said. "Somebody who makes you feel human."
---
Today self-checkouts are ubiquitous, making up nearly 40% of lanes at U.S. grocery chains, according to an estimate from retail consultant Catalina Marketing.
In 1987, soon after a Kroger near Atlanta debuted a prototype of the so-called automated checkout machine, The Times covered a retail trade convention where proponents proclaimed it as "a revolutionary product" expected to "sweep all of retail."
"A fully automated grocery store," it read, "may not be too far behind."
Since then, airlines, fast-food restaurants, theaters and many grocery chains have installed do-it-yourself kiosks in hopes of cutting costs and wait times. The often fussy machines are so firmly in the zeitgeist today that they've inspired memes, viral tweets and a satire news article headlined, "Unexpected Item in Bagging Area Finally Tips Man Over The Edge."
The push toward automation — a key point in several labor disputes this summer — worries many cashiers and the unions that represent them; in 2019, an AFL-CIO leader in Oregon took the first step toward advancing a ballot measure to prohibit grocery stores in the state from operating more than two self-checkout machines.
According to a projection from the U.S. Bureau of Labor Statistics, the number of people employed as cashiers nationwide is expected to fall by 10% from 2021 to 2031 — a loss of roughly 335,000 jobs. (Between 2011 and 2021, the number remained largely unchanged at 3.3 million.)
Although most convenience and grocery stores still rely on a combination of self-checkouts and human-operated aisles, there has been an increased push in recent years toward more automation, including some cashier-less models such as Amazon Go, whose stores use cameras to see what items customers remove from shelves, then automatically charge them as they leave.
But one supermarket chain in the Netherlands called Jumbo has taken a different approach, creating intentionally slow-moving lanes at several stores for older shoppers, or anyone who wants more time to chat with cashiers. The goal, company executives said, was to help tackle what they saw as a growing problem: loneliness.
---
From her check stand at a different Albertsons, this one across the street from a senior living community in South L.A., Christy Carr spends her shifts catching up with longtime customers, often giving them nicknames.
There is "Pinky" (for the color she dyes her hair), who avoids the self-checkouts because she's partly blind, and "Miss Crenshaw" (for her passion for tidying her neighborhood), who straightens the stack of newspapers in the store. One customer calls Carr "Snack Police" for checking the sodium levels on labels after learning the customer was struggling to manage her diabetes.
During her 35 years working for Albertsons, Carr has spent five at this store, and in snippets week after week, she learns the stories of her customers' lives. Other times, she pieces the stories together from the items splayed on the conveyor belt.
There was the customer in his late 70s who for years packed his cart with ingredients to make his wife's favorite dishes, including short ribs, oxtails and mac and cheese. Then one day, he started picking up only TV dinners and a bowl of pre-cut fruit. His wife had died.
"You have to start eating again," Carr told him.
"I know," he said. "I just don't have the appetite."
Several months after her death, as the fog began to lift, ingredients slowly returned to the belt. He had a girlfriend, he eventually told her, finally someone to cook for again.
Southern Californians leaned on new and old friends to build support systems as the COVID pandemic turned their lives upside down.
Sometimes people bring her containers of their favorite dishes and, years ago, a customer crocheted her a blue blanket that she still sleeps with every night. Carr loves to tease customers she knows will appreciate it, such as Darryl Jones — she calls him "D" — who she jokes needs the fire department on standby after the time he badly burned pork chops. One time he forgot to buy ice and had to come back, so now she reminds him each visit.
"Those little things really make it important to have a human," said Jones, 72, who said he makes a point to avoid self-checkouts. "A computer is cold. The courtesy is taken away."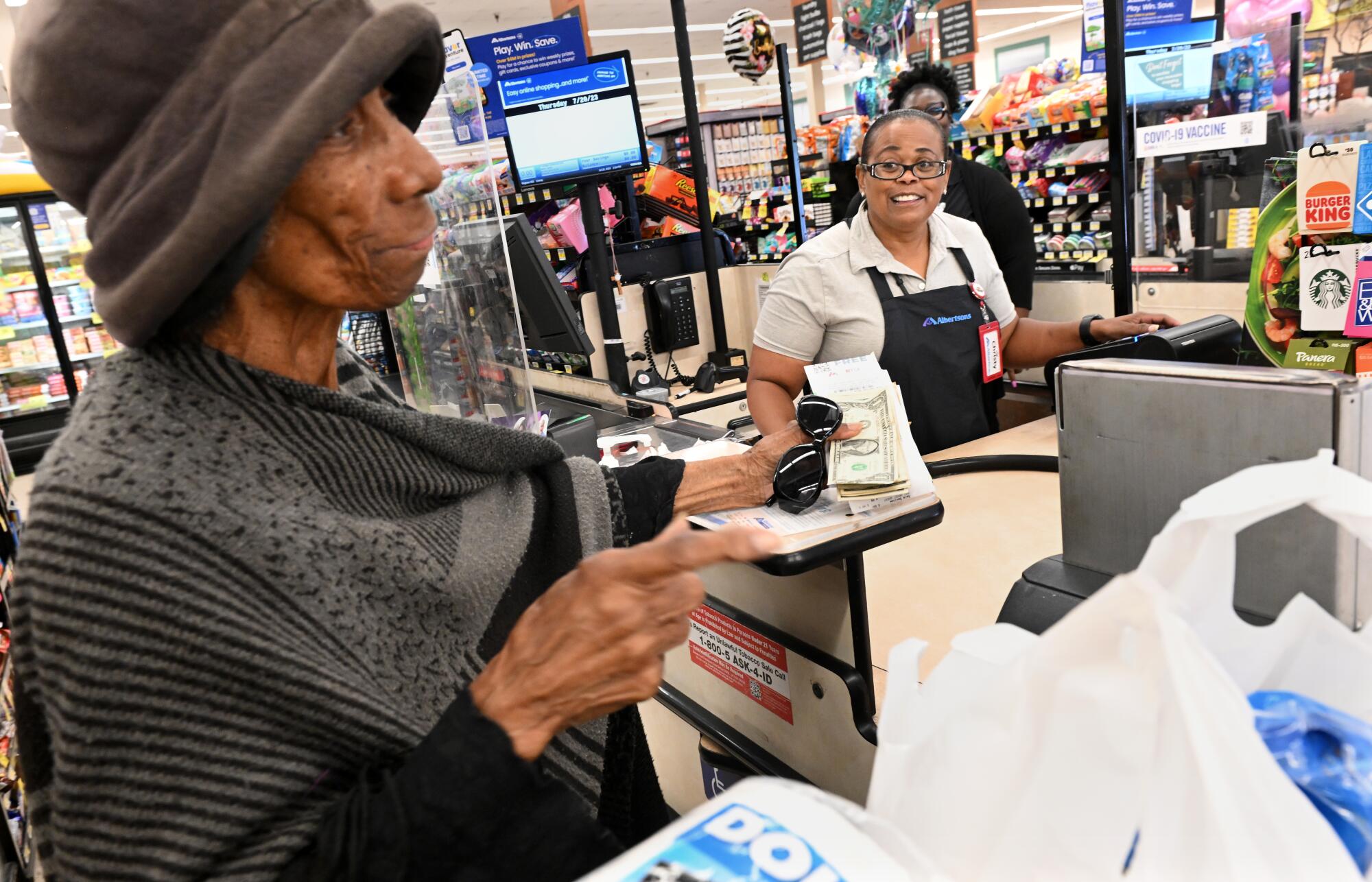 Another customer, Sade Avery, swings by the store most days after finishing her shift as a school bus driver to pick up items for her go-to dinners: ground turkey tacos on Tuesdays, hamburgers Wednesdays, fried fish Fridays.
Unless she's in a big rush or has only a single item, the 37-year-old skips the self-checkout and waits in Carr's line, eager for a few minutes to catch up with the cashier she has known since she was a young girl. When her children, ages 9 and 12, come shopping with her, Avery said, they immediately beeline toward Carr's aisle. Each time she spots them, a smile stretches across her face and she engulfs both of them in hugs.
"They adore her."
Studies show that the amount of social interaction a person has in their daily life is one of the most consistent predictors of well-being.
Yet another customer, Betty Kane — "Miss Betty" — walks to the grocery store, and Carr sometimes gives her a ride home when the shopping trip aligns with Carr's lunch break. Other times, Carr calls her a cab. Seeing the glimmer of recognition in the cashiers' eyes when she arrives always touches her, Kane said.
"They remember me here."
That same sense of belonging draws Maria Guadalupe Guevara to the Food 4 Less near her home in Boyle Heights twice a week.
The store put in self-checkouts recently, but the 71-year-old can't read well and said the idea of using them, especially to tally up her vegetables, overwhelms her. Besides, she said, she loves to visit with Aurora Hernandez, a cashier who endearingly calls her "Madre" and asks about her week as she rings up the items Guevara needs to make her Sunday batch of menudo.
On days that she's feeling particularly discouraged or worried, Guevara said, her husband sometimes suggests a solution.
"Go visit Aurora," he tells her. "She'll cheer you up."
---
For Myers and Hechler, the connection dates to 2014.
After Myers' longtime market went out of business, she decided to try the Albertsons a short drive from her home and happened to go through Hechler's aisle. She mentioned both her search for a new store and that, on Fridays, she and her husband, Bob, had a tradition of eating steaks together.
Hechler summoned a manager and, a few moments later, he returned with two free T-bones to welcome the couple as customers. Myers has returned almost every Friday ever since. After 2015, when they retired, Bob started joining her, tracing the aisles together.
After meeting as teenagers at El Monte High School, the couple went on to have three daughters and built a company together that power-washed parking lots. Later came grandchildren and great-grandchildren, and they often lay awake at night, Myers said, marveling aloud over how blessed they had been.
Ken and Audrey Mattlin live with a family of robots that can play trivia, turn on the TV and act as security. But will all this technology cure loneliness?
But by the spring of 2021, slowed down by his declining health, Bob stopped leaving the house as often, and Myers started grocery shopping alone. A few days before Christmas, not long after he fell in the driveway one evening, he died in the hospital. On a trip to the store soon after, Myers slipped Hechler a copy of the eulogy.
"I treasure it," said Hechler, who last month celebrated her 50th anniversary of working for the company.
Although she often feels exhausted, Hechler can't imagine her life without seeing her customers. She would miss the small jolt she feels while delivering her signature farewell picked up from her grandfather — "Toodle-oo!" — and watching customers' faces light up.
Hechler said she would miss the small moments of connection — the customer who gave her a container of pickled beets to add to her salad and the man in his 80s who cried at the register as he told her that, months after he lost his wife, his dog had died too. She wrapped her arms around him and said a silent prayer.
"People need people," she said. "I just can't imagine the cold world without checkers."
On a recent Friday, Myers traced her typical route through the store, starting at the meat counter, where the butcher recognized her.
"Salmon?" he asked.
She nodded, asking for 1 pound cut into two pieces, then picked out a birthday card for her eldest daughter. While snaking her way through the aisles, she traded eye contact and a smile with each fellow customer who met her gaze, but some never looked up from their phones.
Column One
A showcase for compelling storytelling from the Los Angeles Times.
As she added staples to the cart — cottage cheese, coffee, a few items for a Sunday potluck with her daughters and their families — she spotted several things that reminded her of Bob.
She picked up a package of his favorite chocolate macadamia cookies and, in the frozen section, she stuck her forehead up against the fogged glass, smiling when she spotted the SeaPak brand of shrimp scampi.
"Bob loved these," she whispered.
After grabbing a few more items, she headed toward Hechler's aisle.
"How has your week been, my dear?" Hechler asked.
"Terrible," Myers said, explaining that, although she was mostly kidding, she'd been having a hard time nailing down an appointment time with an alarm company.
"Then we're two peas in a pod," Hechler said. "If it's not one thing, it's another."
Hechler spotted the birthday card and remembered that, like Myers' daughter, her customer's birthday was in August.
"How old will you be?"
"83."
"We're always grateful for birthdays."
"That's the truth."
Myers pulled out a check, which she had filled out ahead of time, leaving only a blank for the amount, which came to $92.65. Hechler laughed, telling Myers that, some Fridays, she was the only customer who paid with a check.
The two women embraced, and as Myers walked off, Hechler called out.
"Toodle-oo, my dear!"
Watch L.A. Times Today at 7 p.m. on Spectrum News 1 on Channel 1 or live stream on the Spectrum News App. Palos Verdes Peninsula and Orange County viewers can watch on Cox Systems on channel 99.