Gary Winnick, Global Crossing founder and once L.A.'s richest man, dies at 76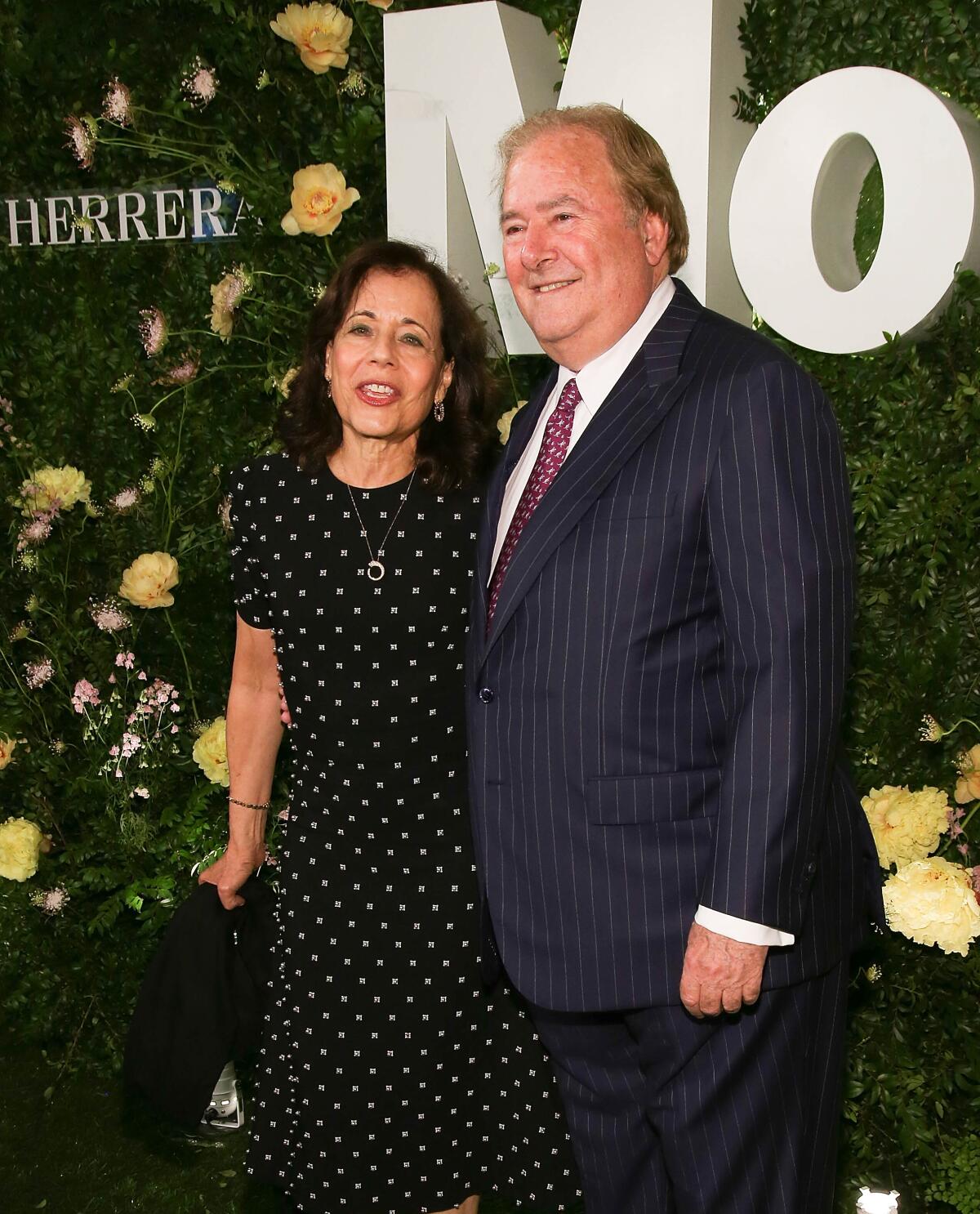 Gary Winnick, who rode the dot-com boom to briefly become the wealthiest businessman in Los Angeles before his star imploded in a scandal that came to represent the era's excesses, has died. He was 76.
Winnick died unexpectedly Saturday at his historic and extravagant Bel-Air home, which he had recently put on the market for $250 million, making it the most expensive residential listing in the United States.
Winnick started out in furniture sales and worked with investment banker Michael Milken, the junk bond pioneer, before he came up with the idea for Global Crossing amid the dot-com boom.
The Beverly Hills company had an audacious plan to lay fiber-optic cable under the ocean floor to feed the growing demand for bandwidth by the first generation of internet companies that had sprung up in the second half of the 1990s.
Lauded as a master salesman, Winnick raised more than $20 billion for the immense project, which laid more 100,000 miles of cable connecting countries around the Earth. Global Crossing was worth more than $50 billion in 1999, with Winnick's stake valued at some $6 billion.
"My dad was a fighter. He loved it. He loved the big fight. When he started global crossing, it was about picking a fight with the big telcos," said eldest son Adam.
That meteoric rise landed him at No. 1 on the Los Angeles Business Journal's list of wealthiest Angelenos that year, prompting The Times to publish an article shortly thereafter that began, "Who the hell is Gary Winnick?"
Business: Gary Winnick sits atop the city's wealthiest citizen list after riding the technology wave and laying cable under the ocean.
The public soon found out, as the New York native proceeded to spread his newfound largesse around, contributing more than $100 million to causes such as the Special Olympics, the Los Angeles Zoo and the Simon Wiesenthal Center, making him one of the leading philanthropists of his adopted city.
In 2000, he acquired Casa Encantada, a historic 60-room Georgian mansion completed in 1938 that looms over the Bel-Air Country Club, paying $94 million, at the time a record for any home in the United States. He then launched a multimillion-dollar renovation of the home.
The dot-com bubble burst that year, sweeping away once household names such Webvan and Pets.com — and the projected demand for cable bandwidth upon which Winnick had built his empire.
By 2002, Global Crossing had filed for bankruptcy, listing $12.4 billion in debt and wiping out investors, including many company employees, some of whom had briefly become paper millionaires through their 401(k) investments.
Winnick became the object of fury when it was learned that he had sold more than $600 million worth of Global Crossing stock over the years — and as he continued his meticulous renovation of Casa Encantada, which included sculpting plaster crown moldings employing historically accurate techniques.
Word is out that financier Gary Winnick is quietly floating his estate in Bel-Air for sale at $225 million.
Particular questions arose around a May 2001 sale of nearly 10 million shares worth about $124 million, which was conducted after warnings by top executives that the company was in financial trouble. As the company's chairman, Winnick claimed he was not aware of those warnings.
Winnick was hauled before a House subcommittee to explain himself, and it was speculated that he would invoke his 5th Amendment protections and refuse to testify. However, he surprised legislators in October 2002 when he instead offered to contribute $25 million to employees who had invested pension money in the company.
"You just shocked a lot of people, and you should be proud of that," said subcommittee Chairman James C. Greenwood (R-Pa.), who was caught off guard.
The offer pleased some employees but was also criticized as stingy, with one former employee saying it was like "having somebody pick your pocket and then offering to give you back lint."
Winnick also contributed $55 million to a $324-million settlement with shareholders and former employees who had sued Global Crossing executives and directors, alleging securities fraud.
Global Crossing Ltd. founder Gary Winnick will be absolved by federal regulators for his role at the company that made him one of the richest men in Los Angeles -- and one of the most vilified executives in corporate America.
While other tech titans whose companies failed around the same time went to prison, including Bernard Ebbers of WorldCom as well as Kenneth Lay and Jeffrey Skilling of Enron, both the Securities and Exchange Commission and the Department of Justice decided not to pursue charges against Winnick — who long maintained that he did nothing wrong and was the victim of a market collapse.
"I have no apologies for anything," he told the Business Journal in a 2015 article discussing new ventures he was pursuing through his family office investment firm Winnick & Co.
Winnick was born on Oct. 13, 1947, in New York City and grew up on Long Island in an entrepreneurial family. One grandfather sold restaurant supplies in the Bowery and another had a garment factory. His father, Arthur, owned a food service equipment business. Though it failed, Winnick said it never occurred to him not to go into business.
After graduating from Rosalyn High School and attending college close to home at the C.W. Post campus of Long Island University, he joined Wall Street investment banking house Burnham & Co. in 1972. He later moved to the West Coast, where Milken set up his junk bond shop in Beverly Hills in 1978.
Winnick learned the telecommunications business at the firm, later known as Drexel Burnham Lambert. He worked there for 13 years before leaving in 1985 to form an investment company called Pacific Asset Management.
Michael Milken, who once brought mighty corporations to their knees in ferocious junk bond-financed takeover battles, was reduced to sobbing uncontrollably Tuesday as he pleaded guilty to six felony counts.
Drexel collapsed a few years later amid insider trading allegations that prompted Milken to plead guilty to violating securities laws, sending him to prison. Milken was pardoned by President Trump in 2020. Winnick was never accused of wrongdoing but had been subpoenaed to testify in the case before it was settled.
After the fall of Global Crossing, Winnick maintained a low profile, and his youngest son, Matthew, said his father had been living a more balanced lifestyle, including enjoying time with his grandkids. "My dad had been spending his time in a variety of endeavors. The primary focus has been his family philanthropy, as well as managing his Winnick & Co. and its investments," he said.
He had also decided to downsize. After briefly considering offers for Casa Encantada in 2019, he put the 8.5-acre, 40,000-square-foot mansion on the market earlier this year. The Los Angeles Business Journal in October estimated his net worth at $2 billion.
Still, after decades in business, he seemed energized in the 2015 interview with the Los Angeles Business Journal, as he talked about the new investment plans he had for L.A.'s tech startup scene.
"I retired twice in my life. I retired at age 37. I lasted through lunch," he said. After a second retirement a few years later, he took up kickboxing and weightlifting but decided "I'm going back to work and probably will never retire."
At the Winnick Family Children's Zoo in Los Angeles, Maury Laham, 71, stood at the railing of the sea lion exhibit as two sleek animals frolicked in the rushing water below.
He also looked fondly back at the legacy of Global Crossing, saying the company was "transformational," claiming, "The internet would not be the internet today without that network. Would we have an iWatch today? Would we have an iPhone today?"
Winnick is survived by his wife of 51 years, Karen, as well as three sons and eight grandchildren. He is being buried Tuesday at Mount Sinai Memorial Park and Mortuaries in Los Angeles.