Activision Blizzard to lay off 8% of workforce – more than 780 employees
There were signs of trouble at Activision Blizzard.
Fans turned against major new releases in 2018. Top executives fled the Santa Monica video game giant, which publishes flagship titles such as "Call of Duty" and "World of Warcraft." Bungie, a legendary studio, suddenly broke off a long-term deal with the company in January, taking a major franchise with it.
And on top of it all was "Fortnite." The upstart, free-to-play online battle royal game kept posting record user numbers and soaring profits — based solely on in-game costume purchases — raising fears that industry stalwarts like Activision were chasing an obsolete business model, pursuing a shrinking pool of gamers who will choose to pay to play.
On Tuesday afternoon, the signs resolved into a clear distress signal: The company is laying off approximately 8% of its workforce in the face of drastically lowered revenue expectations for 2019.
Based on a reported workforce of 9,800, more than 780 Activision employees could be out of a job in the coming months. Over the course of the afternoon, employees were spotted leaving the Santa Monica headquarters, toting white cardboard boxes to their cars.
Blizzard President J. Allen Brack, in a note to employees obtained by video game website Kotaku, said that the cuts were slated to hit nondevelopment teams hardest.
"Currently staffing levels on some teams are out of proportion with our current release slate," Brack wrote. "This means we need to scale down some areas of our organization."
The layoffs were confirmed on a call following the release of the company's fourth-quarter earnings on Tuesday. The company hit analysts' consensus on earnings but missed the mark on revenue for the quarter, bringing in $2.84 billion, short of the $3.04 billion expected. Activision also reported that it expected to bring in $6.025 billion in 2019, a major decline from its 2018 revenue of $7.5 billion.
At the same time that it planned to cut hundreds of jobs, the company announced that it was bumping dividend payments to shareholders by 9%.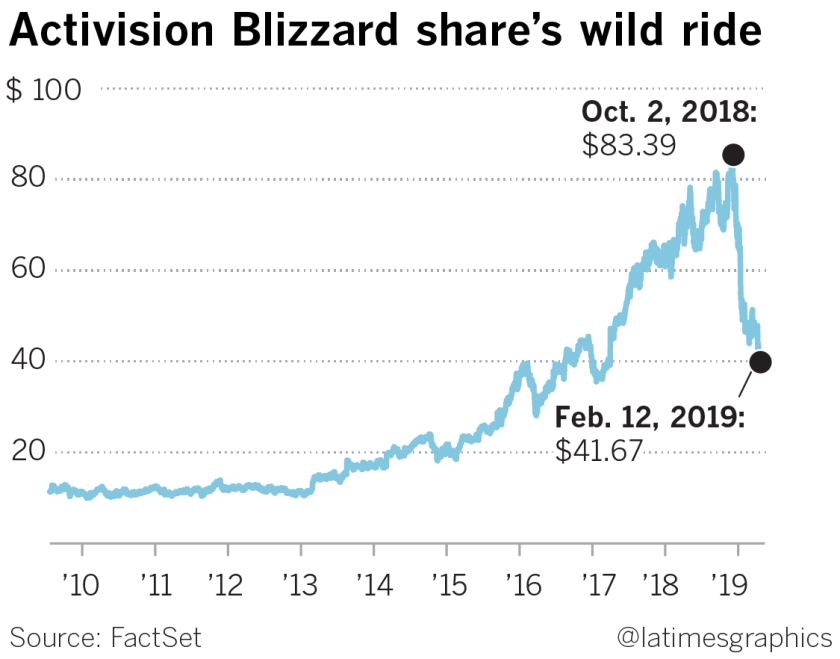 Activision stock rose nearly 4% to $43.26 per share in after-hours trading following the earnings report — a bump that does little to counter its nearly 50% loss in value since October 2018, when it traded at more than $83 per share.
"While our financial results for 2018 were the best in our history," Activision Chief Executive Bobby Kotick said on the call, "we didn't realize our full potential." In tandem with the layoffs, he said that the company plans to increase the number of developers working on key franchises by 20% over the course of the year.
The company's reduced forecast comes after a turbulent year in the video game industry. The meteoric rise of the free-to-play online shooter "Fortnite" — which some estimate has generated billions in profit for its creator, Epic Games, by charging players for cosmetic upgrades for their digital avatars — shook investor confidence in the business models of major publishers including Activision Blizzard.
The last three months have been rough for Activision in particular. In November, the company faced customer backlash and took a hit to its stock price after announcing that the newest installment in its "Diablo" franchise would be a mobile game rather than a full PC title.
In January, the chief financial officers of both the Activision and Blizzard divisions left for greener pastures at Netflix and Square. Later that same month, the acclaimed game studio Bungie, the company behind "Halo" and "Marathon," announced that it was splitting from Activision with just one year left to go in a 10-year contract, and taking its online shooter "Destiny" in the divorce.
But some analysts argue that fears of losing market share and player attention to games like "Fortnite" are overstated — and that Activision is well placed to catch up.
"It's just a challenge to the business model," said Michael Pachter, research analyst at Wedbush Securities. "The market has been acting like no one will ever adapt, and no one will pay for a console game again — that's stupid."
Activision was founded in 1979 by former Atari employees as the first third-party video game developer in the nascent industry. Over the years, it created major robot fighting games such as "MechWarrior" and "Heavy Gear." It merged with Vivendi, the parent company of "Warcraft" publisher Blizzard, in 2007.
For the last decade, Activision Blizzard was a dominant force in the industry, with its "Call of Duty" franchise racking up chart-topping sales while "World of Warcraft" forged a path with online subscriptions. When it acquired "Candy Crush" creator King Digital Entertainment in 2016, it became one of the world's largest mobile gaming companies.
The story of "Apex Legends" is a case study in how Activision could find new footing. The new free battle royal game from Electronic Arts Inc. launched last week — and by Tuesday morning, the company said 25 million players had already signed up. After a months-long slump, Electronic Arts' stock has returned to its highest price since October.
"Two weeks ago people thought EA couldn't do anything right," said Matthew Thornton, director of digital entertainment and marketing at SunTrust. "Then they launched 'Apex Legends' and it's an overnight sensation. If you've got a big balance sheet with good developer resources, you're in the game."
"Apex Legends" is a spinoff of one of Electronic Arts' struggling tentpole titles, "Titanfall 2," and could illustrate a path forward for Activision Blizzard: making one of its online battle games free to play.
The "Blackout" battle royal-type game within "Call of Duty" was Activision's first attempt to compete with "Fortnite's" success but is open only to those who paid for the latest "Call of Duty" game. Blizzard's "Overwatch," which the company has tried to position as a major esports title by funding million-dollar tournament prizes, is similarly pay to play, and has seen its viewership on the streaming platform Twitch plummet in recent months.
"Activision should say props to EA for being innovative enough to launch 'Apex Legends' as free to play, then they should do the same with 'Blackout,'" Pachter said. "Emulation is the sincerest form of flattery."
Times staff writer Melissa Gomez contributed to this report.
Follow me on Twitter: @samaugustdean
---