Airbnb tries to fight racism with rule changes
Reporting from San Francisco —
Accused of doing too little to thwart discrimination on its short-term home rental platform, Airbnb announced policy changes Thursday that are intended to educate and punish hosts who don't follow its rules and protect guests.
In a 32-page report written by former American Civil Liberties Union director Laura Murphy, Airbnb detailed new policies such as voluntary anti-bias training for those who list their homes on the service, and suspensions for those who violate its code of conduct.
The San Francisco start-up will offer 24/7 personalized support to guests who cannot book a listing because they have been discriminated against, and give users quick and easy ways to report discrimination. Airbnb also pledged to diversify its workforce.
Brian Chesky, Airbnb's co-founder and chief executive, wrote on the company's website: "Discrimination is the opposite of belonging, and its existence on our platform jeopardizes this core mission. Bias and discrimination have no place on Airbnb, and we have zero tolerance for them."
The moves come as diversity, discrimination and the social responsibility of firms that operate peer-to-peer platforms have become issues du jour in the technology industry.
The news drew mixed responses from observers, who were split between applauding the new policies and calling the effort too little too late.
"There are parts of it that make me feel optimistic, and there are parts that are almost laughable," said Rohan Gilkes, the founder of Innclusive, an alternative to Airbnb that is slated to launch next month.
Gilkes, 40, said he liked a new feature that bars a host who has turned down a prospective guest from accepting a different guest on the same dates. The feature hits close to home for Gilkes, who penned an essay this year titled "I'm a black man – here's what happened when I booked an Airbnb." In the essay, he wrote about a host telling him that certain dates were unavailable only to later accept a booking from his Caucasian friend for those very dates.
Although he thinks that the date-blocking feature is a step in the right direction, Gilkes believes that Airbnb needs to go further by implementing blind booking. Hosts and guests can currently see information such as a person's first name, a short bio and a profile picture.
"If you look at what Uber did, you don't get to see the person's name or photo until after you've been matched with them," he said. "It doesn't solve the problem of someone canceling a booking once it's been made, but at least it lets you gather data, you can isolate the issue and you can take action."
In Airbnb's report, Murphy said information such as user photos "are essential to Airbnb's overall mission of building a community." Instead of introducing blind booking, it will experiment with reducing the prominence of a user's profile picture.
But even that move drew criticism.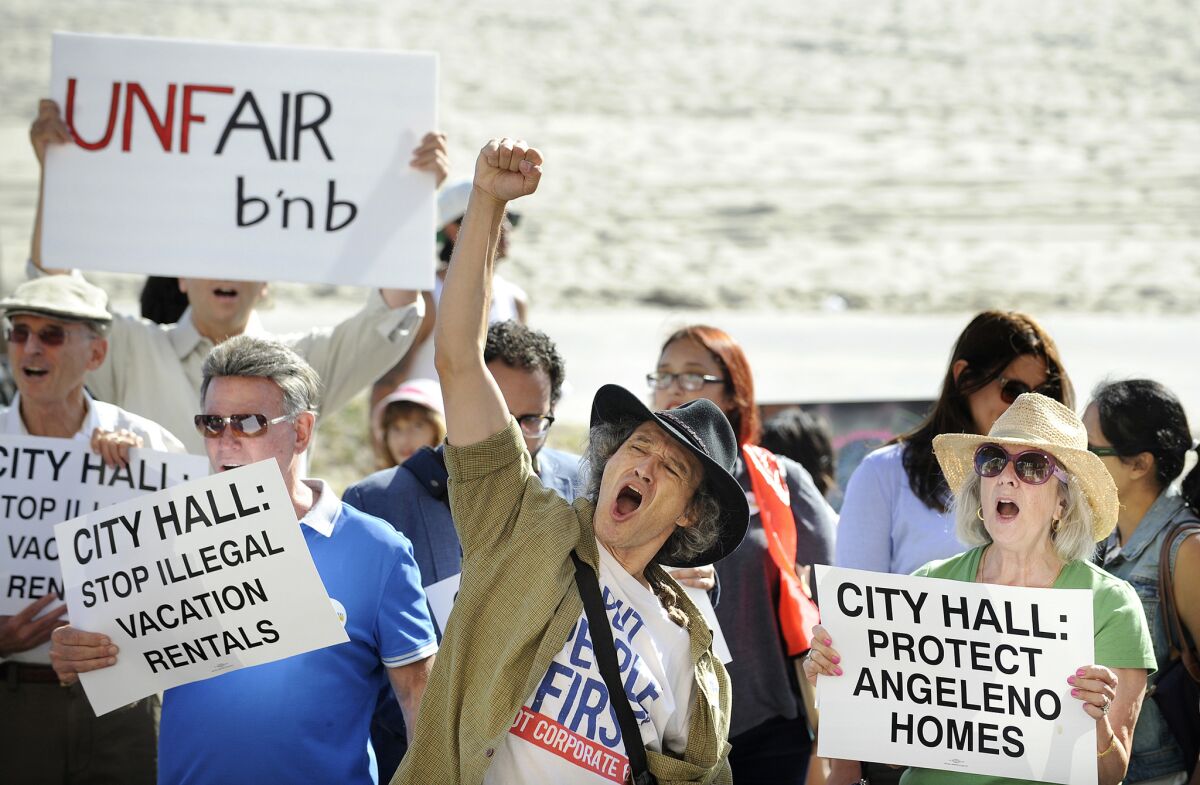 "I feel like that takes away from the community aspect and makes things less transparent," said Stefan Grant, 27, the co-founder of Noirbnb, a black-owned competitor to Airbnb that rolled out this summer.
Grant and Noirbnb's co-founder, Ronnia Cherry, made news last year when, while they were staying at an Airbnb home, neighbors called the police assuming that they were burglarizing the house. Their story was one of several prominent case studies showing the challenges that people of color face when using the service.
"People shouldn't have to hide who they are because other users are prejudiced," Grant said.
Blind booking would tackle discrimination on the platform to some extent, but the problem reaches far beyond that, according to business strategy and branding experts.
That's because racial, gender and sexual identity discrimination aren't procedural problems, they're human problems, and companies can't create a feature that will make them go away while also hanging onto lofty notions of community, said John Paolini, partner and executive creative director of brand engagement firm Sullivan.
A major hotel chain can establish hard-and-fast rules to halt discrimination among its staff, but Airbnb can't come across as too heavy-handed if it wants to retain hosts. It must strike a balance to retain the "sense of community," Paolini said.
"Ultimately Airbnb is a de facto hotel, even if it doesn't want to be," Paolini said. "While it may have begun as a community between hosts and guests when its base was smaller, the platform is now just too widely used to maintain that sense of community."
Other business experts think that it's possible for Airbnb to nudge its users into better behavior, but it will take more than new policies.
"We have to think of it in layers," said Bernice Ledbetter, a professor of faculty organizational theory and management at Pepperdine University. "We can't legislate morality through laws and guidelines. We can corral behavior, but we can't change attitudes. I think Airbnb is trying to change attitudes and the way people think by talking about discrimination."
In that sense, Airbnb finds itself in the same boat as other tech companies whose users have discriminated against each other on their platforms.
Instead of retroactively suspending users for their actions, these companies are trying to proactively educate and prevent discrimination in the first place. After being criticized for not doing enough to curb racism on its platform, neighborhood social networking site Nextdoor implemented a feature this year that required users – when reporting a crime or suspicious character – to describe a person's dress in addition to his or her race.
Business strategists believe that moves like this are important first steps and their effectiveness will have to be measured over time.
Airbnb won't be alone in figuring out its discrimination problems.
"This challenge is particularly endemic to the digital world," Paolini said. "The Internet has created the illusion that we have no responsibility for each other's humanity, and this is something the Internet is going to struggle with for a very long time."
Twitter: @traceylien
ALSO
Snapchat hires White House staffer
Wells Fargo to pay $185 million settlement for 'outrageous' sales culture
Federal appeals court upholds $200-million penalty for California energy crisis
---