Apple's new iPad: Retina display, 5-megapixel camera, 4G LTE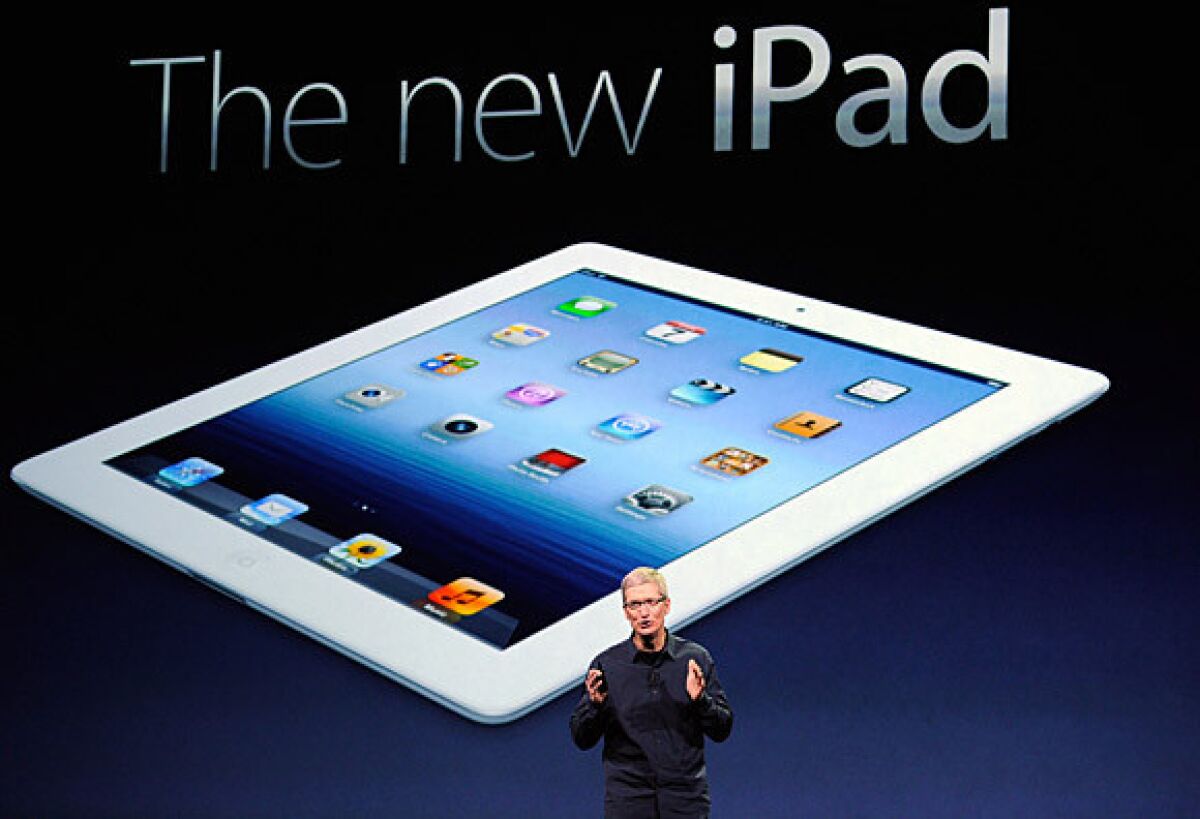 <i>This story has been updated. See note below for details.</i>
Apple's new iPad has been unveiled and it's called -- the iPad. Not iPad 3 and not iPad HD, contrary to rampant speculation around both monikers.
But other rumors did end up panning out Wednesday as the next iPad will have a retina display, better cameras and 4G LTE connectivity.
Apple unveiled the new iPad at the Yerba Buena Center for the Arts, the same location where the first two generations of iPads have been launched over the last two years.
Apple will also begin taking pre-orders for the new iPad today and it's set to hit stores March 16. Here are the details from Apple's event:
Retina display
The new iPad will feature a 2048 x 1536 pixel resolution display, with 3.1 million pixels total spread across the screen. The new display qualifies as a "retina display" in that it has a dpi (dots per inch, which is a measure of how many pixels can fit in a square inch) of 300 or greater (in the new iPad's case, a dpi of 326).
The name retina display is used because such a dense screen should allow pixels to be indistinguishable from each other to the human eye at a distance of about 10 to 12 inches away.
Previous to the new iPad, retina displays on Apple devices were confined to the iPhone 4 and iPhone 4S.
So, why does this matter? Well, for one thing, the screen will be able to display with more detail and clarity apps, websites and video. Apple also announced Wednesday that its iTunes store will now stream full high-definition 1080p video, up from 720p before.
Also, the new new iPad will feature much improved cameras, and the new screen will better show off those photos and videos shot on the device.
5-megapixel rear camera
The new iPad will also feature a 5-megapixel "iSight" rear camera that can shoot up to 1080p video. Up front will be a VGA quality, 0.3-megapixel "FaceTime" camera for video chats and some lower resolution photos.
"Backside illumination allows you to take great photos in low-light conditions and a new video image stabilization feature removes the bumps and shakes typically seen when filming with a hand-held device," Apple said in a statement.
This is a major jump from the iPad 2's VGA-quality front and rear cameras, though the rear camera could technically shoot 720p video. The first generation iPad had no cameras.
4G LTE
Verizon and AT&T will sell 4G LTE versions of the new iPad -- no word yet on a Sprint 4G LTE iPad, though Sprint does sell the iPhone like its two rivals and plans to launch its 4G LTE network later this year.
Why is this important? 4G LTE networks are faster than 3G cellular networks (the previous two iPads were offered in 3G variants but not 4G). The new iPad in its 4G LTE flavor will have a maximum download speed of 73 megabits per second.
A5X processor
The new iPad does not feature a quad-core central processor as was rumored. Instead, Apple has modified the A5 chip from the iPad 2 and iPhone 4S by pairing the CPU with an improved quad-core graphics processor to the chip to better handle 1080p video and the new tablet's retina display.
As usual, Apple is pretty secretive about its processors, not detailing clockspeeds or any other technical information.
"The powerful new A5X chip with quad-core graphics was specifically designed by Apple to deliver a fast, responsive user experience while supporting the incredible retina display," Apple said, adding that the A5X will deliver "double the graphics performance of the A5 chip."
No Siri, but there is voice dictation
No, there will be no Siri in the new iPad. But, there will be voice dictation for a number of tasks.
"Instead of typing, tap the microphone icon on the keyboard, then say what you want to say and the new iPad listens," Apple said. "Tap done, and iPad converts your words into text. You can use dictation to write messages, take notes, search the Web and more. Dictation also works with third-party apps, so you can update your Facebook status, tweet, or write Instagram captions."
Pricing and availability
Apple is taking pre-orders on the new iPad today and it will arrive in stores March 16 in the U.S., Australia, Canada, France, Germany, Hong Kong, Japan, Puerto Rico, Singapore, Switzerland, Britain and the U.S. Virgin Islands.
The price of the new iPad will maintain the same price points as the iPad 2 and the first-generation iPad.
A wi-fi-only 16-gigabyte new iPad will sell for $499, while a 32-gigabyte model will retail for $599 and a 64-gigabyte unit will run $699. If you want a new iPad with 4G LTE capability, the prices are: 16-gigabytes for $629, 32-gigabytes for $729 and 64-gigabytes for $829.
[Updated, 11:45 a.m. March 7: Information was added to this article about the new iPad's A5X chip, voice dictation and pricing.]
RELATED:
Apple store closed, company is 'updating stock'
Apple iPad 3 rumors: From the feasible to far-fetched
Apple live: Tweeting the unveiling of company's latest gadget
Follow Nathan Olivarez-Giles on Google+, Facebook or Twitter