Sneaker marketplace GOAT acquires Flight Club, a rival consignment shop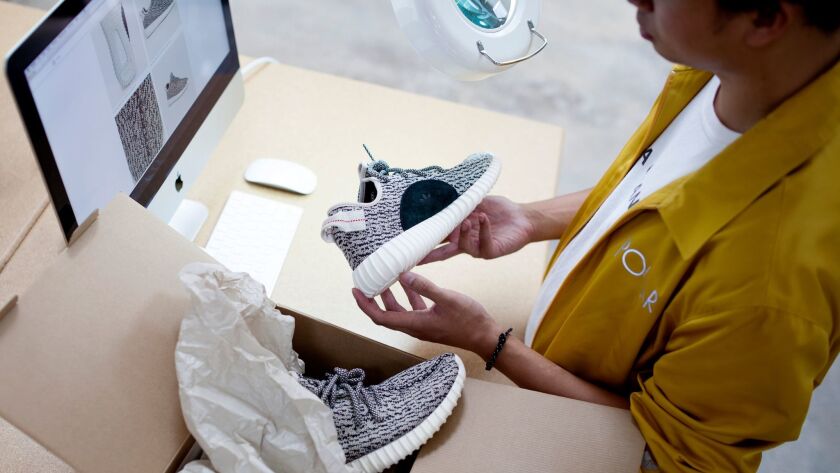 In a deal that highlights the growing popularity of collectible sneakers, Culver City's GOAT, an online marketplace for high-value sneakers, is buying Flight Club, an influential sneaker consignment store with outposts in New York and Los Angeles.
The two brands trade in the kinds of high-end, limited edition sneakers you won't find at your ordinary Footlocker — such as rare Nike Air Jordans and rapper Kanye West's Yeezy line, largely associated with Adidas. Buyers of the shoes often line up days before a release to snag a pair. Some then choose to sell them for a premium at GOAT or Flight Club.
For GOAT, the acquisition provides the 3-year-old company its first bricks-and-mortar presence, a loyal customer following and access to more sellers.
For Flight Club, the deal gives the company founded in 2005 access to GOAT's e-commerce and mobile platforms.
"Flight Club is a cultural icon," said Eddy Lu, chief executive of GOAT. "But they were missing the tech side. We've grown into an established player, but we don't have the retail yet."
The price of the acquisition was not disclosed, but involves a mix of cash and equity, according to a GOAT spokeswoman. Both brands will continue to operate independently, she said.
In addition to the purchase, announced Thursday, GOAT said it raised an additional $60 million in funding through Index Ventures.
Lu said the San Francisco venture capital firm would help GOAT expand into international markets such as China and Australia.
GOAT, which stands for "Greatest Of All Time," has billed itself as a place to authenticate sneakers in a $17.5-billion industry rife with counterfeits. The company uses both employees and proprietary software to inspect the shoes that end up on its exchange.
The company has raised a total of $96.7 million in funding.
Flight Club will retain its name and headquarters in New York. Together, the two companies have 300 employees.
Follow me @dhpierson on Twitter
---