Venture capital firm March Capital Partners debuts with $240-million fund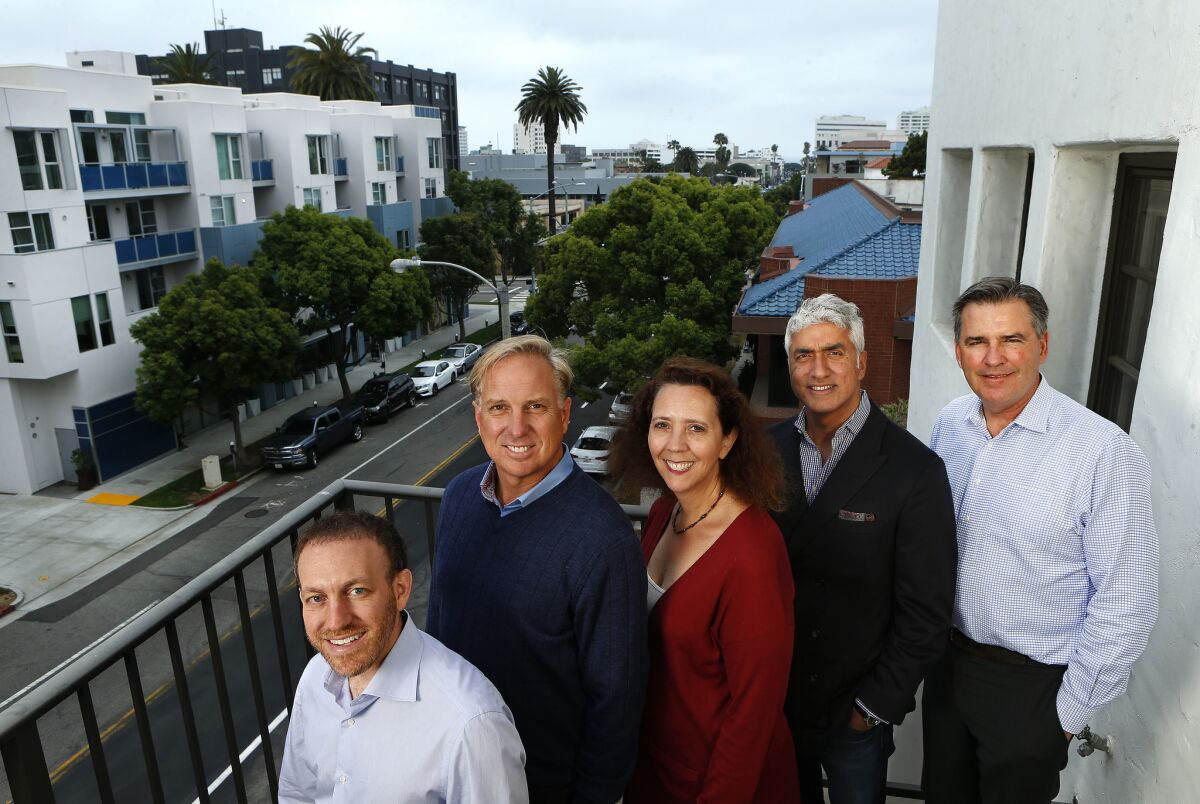 It took nearly three years, but the four men behind Los Angeles' newest venture capital firm say they have amassed more money for an initial fund than anyone before in Southern California.
March Capital Partners pulled together $240 million from about 50 wealthy families, institutions and other investment groups. The Santa Monica firm plans to spread that money across dozens of technology start-ups worldwide during the next two years. Before formally launching Tuesday, March invested in 18 companies.
"The ambition is to be globally competitive from Los Angeles, which I don't think anyone else has," March Capital partner Sumant Mandal said. "There's no one in Los Angeles doing what we're doing."
Mandal and March partner Jim Armstrong were previously together at Santa Monica's Clearstone Venture Partners, which wound down about three years ago as funds diminished and some colleagues moved to new endeavors. (Clearstone continues to invest additional cash in companies already in its portfolio, according to founder and managing director Bill Elkus.)
Clearstone almost exclusively was the first major investor in companies, leading what's known in start-up finance as Series A deals and often taking 30% ownership. The policies enabled Clearstone to thrive at a time when selling to a big a company was the only way most Southern California start-ups generated a return for investors.
The big stake ensured a sizable payday for Clearstone as ad tech company Rubicon Project and online media software company Ankeena Networks took off. But the limitations meant leaving millions of dollars on the table because they had to pass on opportunities in start-ups further along.
March aims to be more flexible.
Bringing in Jamie Montgomery, a longtime investment banker who sold his company in 2013, provides them expertise in assessing older companies. March plans to regularly invest in subsequent rounds at the companies it funds, increasing its ownership stake and its board role.
It has invested twice in Indian online payments start-up BillDesk, including via a $45-million check that was backed in part by specially earmarked funds from March's investors.
Montgomery did two investments with Mandal and Armstrong before finalizing plans for March to prove to potential investors that they work well together. One of the deals was for Telesign, a Marina del Rey start-up whose software helps apps keep out hackers and fraudulent users.
Montgomery plans to continue his annual summit in Los Angeles for private tech companies, including from March's portfolio, to mingle with potential clients and investors.
March expects to focus on companies developing software that works behind the scenes to power major industries. Investments so far have included marketing software maker Bridg, video game statistics analyzer Dojo Madness and networking company VeloCloud Networks. March also is a stakeholder in the Hive and Fabric, which are spaces in the San Francisco Bay Area that provide mentorship to start-ups. Five of March's investments come from the incubators, and March tripled its money when one of them sold seven months after launching.
March will touch on consumer-facing start-ups too, including new media technologies and video game-related companies. Partner Gregory Milken, the son of former junk bond magnate Michael Milken, co-owns a video game competition team. Mandal is keeping eye on investment opportunities in India. They plan to add more partners at some point.
Entrepreneurs likely to win over March need to be self-aware and adaptable, the partners said.
"You ask tough questions, and if people dig in their heels and are obstinate, you know they are not going to be able to think about another path forward when something goes wrong," Milken said.
Founders must also have a good sense of when to launch a product and create buzz around their company.
"The best entrepreneurs slow down and really understand when the market is ready to consume their product," Mandal said. "It's one of the arts that's key to success."
Montgomery offered a number of explanations for the firm's name -- springtime and a sense of renewal, the term for the frontier of the Roman empire. But his colleagues zeroed in one thing: Moving forward purposefully.
To that end, Montgomery said they're undaunted by the slowdown in start-up investing and initial public offerings over the last few months. Last year, entrepreneurs skipped March because they would pay only half the price for shares as some other investors. Prices are more reasonable now, and the long-term outlook hasn't changed.
"When we were starting off there was a lot of talk about mobile and social, and fair enough we could see that and there were some great companies being built here like Snapchat. But we could also see underneath that there's a next generation of IT being invented and the scope of opportunity there is big," Montgomery said.
HelloTech merges with rival to the north
On-demand tech support provider HelloTech merged with larger rival Geekatoo last week, accelerating a push to become a slicker and faster version of Best Buy's Geek Squad unit.
HelloTech sends workers into people home's to help with computer issues and to install smart gadgets, like Internet-connected thermostats or app-controlled video doorbells. The Los Angeles company had thousands of fewer workers nationwide than Geekatoo, which offered the same services. An hour of help costs $79.
HelloTech will be the only name going forward, with its chief executive Richard Wolpert leading the new entity.
Investor moves north
Chirag Chotalia is leaving Los Angeles, where he was vice president at Pritzker Group Venture Capital, to join DFJ's start-up investment team in the San Francisco Bay Area. Chotalia helped Pritzker invest in local companies such as Honest Co. and Dollar Shave Club over the last two years.
He said he looks forward to "being a bridge" between the tech communities of Silicon Valley and Los Angeles, where he plans to continue to spend "significant" time.
Matt McCall, a partner at Pritzker, said the firm planned to triple its team in Los Angeles as it tries to replace Chotalia and add to the 23 investments it's already done in the region.
"Full steam ahead for us in L.A.," McCall said by email.
Snapchat Lenses lawsuit withdrawn
An Illinois man mysteriously withdrew a privacy lawsuit against Snapchat Inc. last week, two days after filing the case in federal court. Mark Siegal had alleged that the Venice app company was violating his state's law that mandates what companies must disclose when collecting biometric data such as fingerprints and facial scans.
Siegal's attorney, Tina Wolfson, didn't respond to requests to comment.
Snapchat's popular Lenses feature can animate user's selfies on the fly, like outfitting someone with a virtual "Iron Man" mask. Though the technology can recognize a mouth or a nose, the company says it doesn't gather or store data that would enable it to identify a specific face.
Facebook and Google are battling similar lawsuits based on the 2008 Illinois law. Unlike Snapchat, both companies produce templates of faces to automatically recognize people present in photos.
Elsewhere on the Web
Facebook co-founder Eduardo Saverin's new venture capital fund B Capital Group announced it has $143.6 million to invest and will have offices in Manhattan Beach, according to Nasdaq.com.
Chicago online lending start-up Avant, which has offices in Los Angeles, is laying off 60 of its nearly 1,000 employees and dumping major initiatives planned for this year, including a credit card, according to the Chicago Tribune.
Two people who worked at wireless charging start-up Ubeam have taken similar jobs at Apple in the last four months, according to the Verge.
Two former DreamWorks Animation workers who led the movie studio's early efforts in virtual reality left the company to form their own VR-related start-up. Their Santa Monica company, Spaces, has raised $3 million from investors including Comcast Ventures, the investment unit of the media company that recently agreed to buy Dreamworks, according to Venturebeat.
Snapchat plans to revamp the look of its Discover feature and show certain Stories higher on a user's feed based on popularity, according to reports.
In case you missed it
Snapchat is taking over as the top sponsor of the free Santa Monica Pier concerts and also is planning to bring about 300 workers to offices near the city's airport.
Policy fights, partnerships and perseverance will be crucial in what AOL founder Steve Case calls the third wave of start-ups. He explains in an interview.
Video of a solid kick to the groin? That'll get you $250. A clip of a harrowing close call while skydiving? A cool $2,500. Each pratfall has its price because companies like Jukin Media have built an improbable business model cutting deals for these snippets of human folly.
Some Uber drivers object to proposed $100-million settlement that doesn't give them enough money or address all their concerns.
Coming up
Video game sports is scheduled to hit a new milestone Friday with a live broadcast at 7 p.m. on TBS as two teams battle in the shooting game "Counter-Strike: Global Offensive." TBS outfitted a 10,000-square-foot space at its Atlanta headquarters for the matches, with 26 cameras and a huge array of lights. There are even special training facilities for the teams. ELeague, as the competition is dubbed, will be available in more than 80 countries and runs for 10 weeks.
MORE BUSINESS NEWS
The date on the milk carton says it's expired, but is it?
Wells Fargo plans to launch mobile-wallet service
Facebook investigation reveals no evidence of bias against conservative topics, company says
Twitter: @peard33
---
UPDATES:
4:15 p.m.: Updated with comment from Bill Elkus of Clearstone Venture Partners.
The original version of this article was published at 6:00 a.m.