Some Uber drivers object to proposed $100 million settlement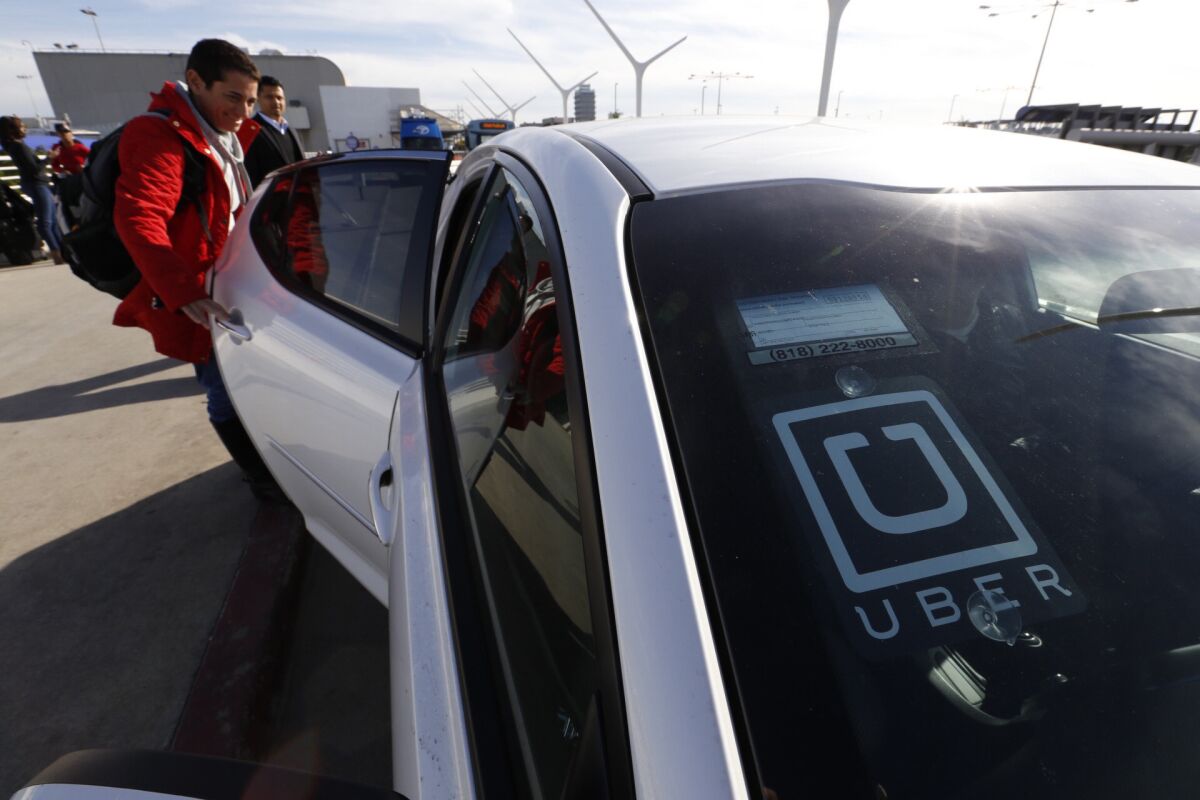 Reporting from San Francisco —
One hundred million dollars is enough to fund a blockbuster movie, snap up several Beverly Hills mansions and, in Uber's case, potentially settle two class-action lawsuits filed by drivers in California and Massachusetts who want to be classified as employees rather than contractors.
For former Uber driver Brandon Marshall, though, it isn't enough.
While Uber customers were gawking last month at Uber's proposed class-action settlement figure, Marshall, a 33-year-old Angeleno, was writing a five-page objection letter to the judge presiding over the case. Around a dozen other Uber drivers and lawyers have filed similar objections, arguing that the company shortchanges drivers and that they want the case to go to trial.
Marshall did the math. If the court approves of Uber's proposed settlement, Marshall, who drove for Uber full time for nearly two years, could receive a one-time payment of around $6,000 to $8,000. The question of whether drivers are employees of the San Francisco company — which would entitle them to benefits such as minimum wage, overtime, unemployment insurance and social security payments — would remain unanswered. Uber would continue operating as it always has, with a few tweaks to its driver termination policy.
It would be, in his eyes, a raw deal.
"In the beginning, whether or not we were classified as employees was irrelevant because the money was so good," said Marshall, who in 2014 could make $1,000 driving 20 hours for Uber in Los Angeles.
As Uber lowered its fares, thought, Marshall found himself driving for twice the amount of time, only to earn less. His overall bookings, he said, put him below minimum wage. Some rides — after Uber took its commission and Safe Ride Fee, and after vehicle depreciation — were "basically being done for free," he said.
"It got to a point where I thought: 'I want my money back. I need my mileage back. I need reimbursement.' "
It's a common theme among the objections filed.
"For the past 22 months, I have driven [for Uber] upwards of 60 hours per week, put on over 100,000 miles on my car, had brakes and tires replaced twice, [and had] oil changes every month," said Craig Preston, 52, of Irvine.
Drivers, he said, will continue to spend thousands on vehicle repairs and gas. They'll continue to put wear and tear on their cars. What relief does the settlement really offer?
"It seems like drivers got the worst end of the deal," said Harry Campbell, founder of online community the Rideshare Guy, where drivers in the gig economy share advice with each other.
For many drivers, he said, it's hard for them to ignore the fact that Uber is worth $62.5 billion — a valuation it has gotten off the work of its drivers (not to mention its technology). Money aside, Campbell believes the non-monetary changes proposed as part of the settlement don't address concerns that are of high priority for drivers.
One example is Uber's clarification on gratuities: Drivers can now put a sign in their vehicle soliciting tips from passengers.
Drivers want tips, Campbell said, but having a sign in the car isn't the same as having an in-app tipping feature, which Uber competitor Lyft offers.
"Most passengers take Uber because it's cashless," he said. "So to have them fumble for $1 to $2 to tip the driver isn't convenient or consumer friendly."
Uber declined to comment for this story.
Lawyers also have chimed in with objections. Los Angeles attorneys Brian Kabateck, Mark Geragos and Christopher Hamner are pushing to have plaintiff attorney Shannon Liss-Riordan removed from the case because they don't believe the settlement is in the best interests of the drivers.
One of the named plaintiffs in the case, Douglas O'Connor, sought their services and filed a separate objection to the settlement Monday, claiming it was a sellout and an unjust result "that only benefits Uber."
"People don't understand how bad this [settlement] is in the long run," Kabateck said. "This is a horrible situation, to have people who aren't really employees but function as employees. They've got to pay their own Social Security taxes, their own health insurance. Meanwhile, you have a giant corporation making billions of dollars on the backs of these people.
"It's the most perverted demonstration of the disparity today between the haves and the have-nots."
Objections filed by individuals and attorneys are not uncommon in class-action settlements of this size, according to Todd Scherwin, a labor attorney at Fisher & Phillips who is not involved in the case. The combined classes of California and Massachusetts amount to some 385,000 drivers. But how much weight they'll have on a judge's decision depends on what they're arguing.
"If somebody had truly done their homework and was putting forward a damage model that shows what drivers are being shorted, that may get the judge's attention," he said. "Anything less than that is not going to be given much weight."
This means drivers asking for the case to proceed to trial probably won't have much luck. Personal attacks on the plaintiff attorney — as a few objectors have made — also will carry little weight.
"There's always the perception that the only people making money on this are the plaintiffs' lawyers," Scherwin said. "I don't think the judge looks at that. The judge decides what's a fair amount to pay."
Class-action attorneys can take up to a third of what their clients are awarded, according to lawyers with experience in class-action settlements, although the final figure is determined by the judge.
Plaintiff attorney Liss-Riordan told The Times she believes the settlement is the best outcome for drivers, given the circumstances. Had the case proceeded to trial, "We were facing the imminent risk that the class could be decertified and the case gutted," she said.
"I did not settle this case because I do not like trials or I am afraid of them. I love trials. [But] given what I was able to negotiate Uber to agree to for this settlement, I made the reasoned judgement (in consultation with the drivers that were the plaintiffs, in this case) that that was too much to risk."
If the settlement is rejected, Liss-Riordan said she is ready to do what she has to do "to battle on against Uber."
A hearing for the settlement is scheduled for June 2.
For people like Marshall, who now drives for Lyft because he can make a bit more through bonuses and tips, a settlement that doesn't address whether drivers are truly employees or independent contractors is a far greater risk. (Lyft faces a similar lawsuit that it also is trying to settle; a federal judge rejected the initial settlement offer of $12.25 million, saying it was too low.)
More people are working in the gig economy, he said. They're working longer hours. They don't have control over what they make. And they don't have employee protections or benefits, either.
"The public needs to decide and have a debate about it, and they're not," Marshall said. "It's like if one store stays open on Thanksgiving, they all stay open on Thanksgiving, and before you know it, we're all working on holidays," he said. "We're slowly destroying ourselves."
Twitter: @traceylien