Storage start-up Clutter wants to get into renting, selling and donating your junk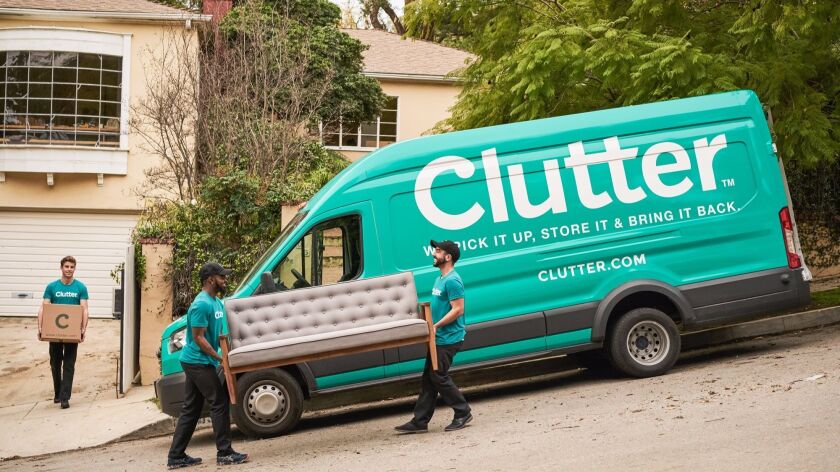 Clutter, a Culver City start-up that picks up, stores and returns goods to people, landed a $64-million investment to bring its storage service to more cities and launch new services.
The funding — announced Tuesday — comes from an investor group helmed by European venture capital firm Atomico, which was co-founded by one of the creators of Skype. Other new backers include GV, the venture capital arm of Google parent Alphabet, and Fifth Wall, a Los Angeles investment fund focused on real estate technology.
The start-up's central premise is that leasing storage facilities on the outskirts of the city is cheaper than owning urban warehouses, and that it can use the savings to offer constant pick-up and delivery. In effect, it's trading the safe, steady bet of real estate for the riskier play of being a high-user-growth, high-profit-margin subscription company.
Here are six other things to know about Clutter:
— Most start-ups decide on expansion targets by market size, meaning going first to where they can reach the most customers. Clutter says it decides based on talent: It seeks regional general manager applicants in several big cities at once, and then hires only in the city with the strongest applicant (assuming one does stand out). That's how the company, which serves most of California's big cities, opted to launch in Chicago this week.
— Clutter says people store items that have sentimental meaning, financial value or are just junk. The company wants to start helping people make money from possessions that have value by handling leasing, donating or selling of seldom-retrieved stuff, which can include lawnmowers and tents. Because Clutter movers photograph and log every item stored, the company knows exactly how often items are called back home. That means the company also could nudge people to allow it to throw away never-retrieved materials — potentially freeing up more storage space for new customers who may better take advantage of the firm's delivery and retrieval service.
— Clutter's movers tag items as junk, sentimental or utilitarian as they pick them up from people's homes and offices. The company is developing software that would allow a computer to automatically categorize goods. Telling an Ikea lamp apart from a 19th century antique won't be a quick project. But relying on computer recognition could lower fees for customers, who currently pay for the time it takes movers to log items.
— An initial public offering of Clutter's stock is likely in five years, co-founder and Chief Marketing Officer Ari Mir said. As the company isn't profitable, going public would give customers confidence that Clutter won't disappear overnight, Mir said. At the time Clutter does pursue an IPO, he hopes the company is producing a gross profit margin of about 65%.
— Though Clutter says it hasn't been involved in any lobbying efforts, cities are making it more difficult for competitors such as Public Storage to do business by blocking further development of self-storage facilities within their boundaries. Clutter also faces competition from smaller companies pursuing a similar business model.
Atomico's Hiro Tamura said he hopes his firm can help Clutter strategize on moving more quickly to neutralize such threats.
"They're very thoughtful and meticulous operationally," he said of Clutter management. "I'm of the view, if anything, they can be more aggressive. That's probably where I'll spend most of my time, making sure that they don't slow down."
— In addition to security cameras, the company conducts random audits at its warehouses to check whether security procedures are being followed. Things have been misplaced, but they're found eventually. Court record searches reveal just one case in which a customer has sued over damaged items. Though the company offered reimbursement, the plaintiff said she was seeking more. At least one customer has grumbled because the company auctioned items in storage, though the individual apparently stopped paying the monthly bill for several months.
Cash infusion could bring Smartlabs more recognition
A long-time tech executive who sold his last company to digital mapping giant Nokia Here has bought a controlling stake in 20-year-old Irvine start-up Smartlabs and invested $1.4 million.
Rob Lilleness says he plans to maintain the 60-employee company's two divisions. One arm operates a long-running online shopping website for smart gadgets, such as lightbulbs that can be controlled through a smartphone app. The other, newer business, Insteon, designs electrical wall outlets and switches that can be monitored and operated through an app. It has about 4 million pieces of equipment installed in the U.S.
Lilleness left Nokia Here in May and invested in Smartlabs through his new investment fund, Richmond Capital Partners, two weeks later. He bought newly issued shares, as existing investors and shareholders accepted a drop in their ownership in exchange for their stake being more highly valued.
Lilleness spent a year prowling for investment opportunities related to Internet-connected electronics. He plans to focus on overseeing Smartlabs but said he would do more deals as he builds the team at Smartlabs.
The top goal is improvement in Insteon's software. Lilleness plans to open a new software-focused office in Seattle, where he lives.
"You can have a fully automated home today, but it will cost you tens of thousands of dollars if not $100,000-plus, and it requires a network administrator to build it out for you," he said. "For a mainstream consumer, it's just got to work and it's got to be elegant."
He declined to disclose sales, saying only that they are growing.
"There's been two large innovations for home lighting and electricity — Edison and the lightbulb, and the dimmer switch from manufacturer Lutron," Lilleness said. "I fully believe Insteon is the third."
Ride-hailing app aimed at women gets seed funding
An Uber competitor whose drivers are exclusively women has raised $2.47 million from wealthy individuals.
See Jane Go plans to use the funds to expand service from Orange County and Long Beach to the rest of Southern California by the end of the year, said President Mark Theissen.
The Laguna Hills start-up has picked up about 850 drivers in nine months. The independent contractors will pick up men only if they are accompanied by a woman. See Jane Go connects men to drivers too, but those drivers aren't part of the company's network.
Theissen said especially popular in sprawling Orange County has been the service's pre-scheduled rides, which allow people to have a car waiting for them with at least two hours' notice. He declined to provide specific usage data, saying it could tip off rivals with similar pitches in other cities.
"What we get is people looking for a safe alternative form of transportation," he said. "In many cases it's people who've excluded themselves from using Uber and Lyft in the past."
He added that half of drivers haven't worked for Uber or Lyft.
Theissen joined See Jane Go in February after selling his previous software start-up, Cirro, to Toba Capital.
Elsewhere on the web
In case you missed it
Coming up
Online publishing software maker Playbuzz hosts a discussion at Leona Venice at 6 p.m. Wednesday about the future of media. Panelists include content experts from Disney, ad agency Deutsch L.A. and media company Fullscreen.
Twitter: @peard33
Times researcher Scott Wilson contributed to this report.
---