LinkedIn wants to be your personal assistant with new Contacts app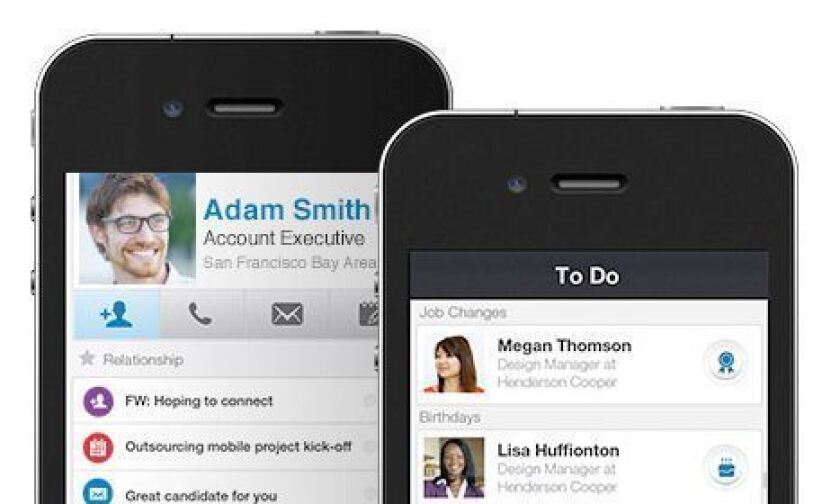 LinkedIn, the business-centric online social network, is rolling out an iPhone app and website feature that combines users' address books, calendars and email accounts in one location.
Like a virtual personal assistant, the new app, dubbed LinkedIn Contacts, culls contact information from the user's various email, calendar and address book services and puts them in one place.
It also automatically updates the contact information each time there is a change, whether it be in the user's Google or Outlook account. Included in that information are details from past conversations and meetings you have had with the contact.
PHOTOS: The top smartphones of 2013
Additionally, LinkedIn Contacts notifies users every time one of their contacts has a birthday or changes jobs. Users can also annotate the contacts with notes and set reminders for individuals in their address book.
The LinkedIn Contacts app is available now at the Apple App Store, but it will roll out to users on the Web in phases. The Web feature will launch in the U.S. with invitations going out to some users Thursday. Then, over time, the rest of LinkedIn's users will be invited to use the feature.
LinkedIn said it was working on a version of the app for Android smartphones but it has not set a release date.
ALSO:
Amazon reportedly working on its own set-top TV box
Charity offers coffee with Apple CEO Tim Cook to highest bidder
Apple updates new campus building plan with details on bikes, public art
---
Get our weekly Business newsletter
Tips for how you and your finances can get through the pandemic.
You may occasionally receive promotional content from the Los Angeles Times.