Snap CFO Tim Stone's exit after just 8 months adds to concerns about exec turnover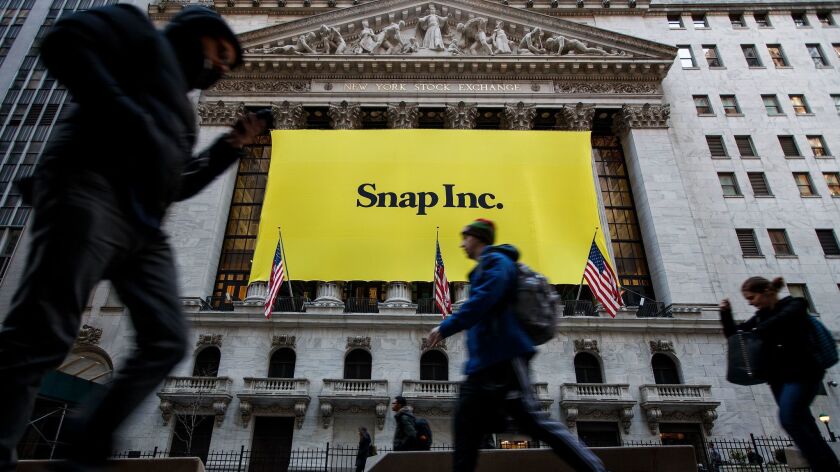 When Tim Stone joined Snap Inc. as chief financial officer in May 2018, investors breathed a sigh of relief.
With 20 years at Amazon under his belt, Stone was hailed as a veteran who could bring stability to the social media company, led by 28-year-old co-founder and Chief Executive Evan Spiegel, that had veered off course after an overhyped public offering and a disastrous redesign that pushed users away.
On Tuesday, after just eight months on the job, Stone's pending departure was revealed in a federal filing. On Wednesday, the Venice company's stock price dropped nearly 14%.
"Tim's transition is not related to any disagreement with us on any matter relating to our accounting, strategy, management, operations, policies, regulatory matters, or practices (financial or otherwise)," Spiegel wrote in a memo to the company.
As Snap's stock continues its persistent decline — down to $5.64 from its post-IPO high of $27.09 in 2017 — employee stock option packages have dwindled and executives have headed to the exits. In the last six months, at least 11 senior staffers have left, leading analysts to question whether Spiegel's tight hold on the company's reins is starting to hurt its outlook.
"With all the departures, it's been very clear that the problem is becoming more focused," said Brent Thill, an analyst with Jeffries. "He's a controlling shareholder, that is the vision, so no one's going to take that away from him, but we all need help in our life — he needs help."
Spiegel and co-founder Bobby Murphy together control a majority of Snap's voting shares. The company noted in the same SEC filing Tuesday that its financial performance for this quarter was expected to exceed the guidance issued in its October earnings report.
But that ray of sunshine was seemingly eclipsed by Stone's departure, which follows a long string of executive exits.
Among them are Kristin Southey, who was brought on in October as vice president of investor relations after a career doing the same at the video game behemoth Activision Blizzard. She quietly left just one month later.
Kristen O'Hara left a job at Time Warner to join Snap as vice president of global business solutions in September. A few weeks later, Spiegel announced that he was hiring a former Amazon executive, Jeremi Gorman, for the job. O'Hara left soon after.
Veteran Snappers are also disappearing from the company's Santa Monica headquarters, including some long considered to be in Spiegel's inner circle. Jason Halbert, the former Army Special Forces officer who served as Snap's vice president of people and global security — and reportedly drew employee complaints for his aggressive style — announced his departure on Monday. Nick Bell, the vice president of content who joined from News Corp. in 2014 and pioneered its Discover feature, announced his departure in November. And Mary Ritti, who had led corporate communications since 2013 and was among Snap's first ten employees, departed in December.
Snap also lost two vice presidents on its hardware team, Mark Randall and his successor, Sahil Sharma, in August and December; its long-serving head of global strategic partnerships, Elizabeth Herbst-Brady, in early January; and its vice president of marketing, Steve LaBella, and chief strategy officer, Imran Khan, in November 2018.
Stone asked to be promoted to a chief operating officer-type role after Khan's departure, according to Bloomberg. After being passed over for that role, Stone reportedly appealed directly to Snap's board for a significant raise before deciding to leave the company — his pay package included stock options that were worth $20 million when he was hired but had nearly halved in value by the end of 2018.
Stone did not respond to a request for comment.
"There's always been this concern about adult supervision at the company," said Mark Mahaney, an RBC Capital Markets analyst. "Where's the Eric Schmidt, where's the Sheryl Sandberg?"
The fact that Stone built a career at Amazon — a company with a famously intense workplace culture that took years to reach profitability — only makes his departure more notable, Mahaney said.
"People who stuck it out at Amazon for 20 years were rewarded for their patience — anyone who left Amazon when it was really bad after nine months missed a huge opportunity," Mahaney said. "This raises the question of the credibility of management. What did he see that made him not willing to stick it out?"
And according to an internal employee survey obtained by the tech news website Cheddar in October 2018, the upper ranks of management aren't alone in eyeing the exits. That survey found that 40% of Snap's approximately 3,000-strong workforce was not planning on staying at the company. Shrinking stock packages and tumultuous leadership aren't a good formula for retaining talent, according to one analyst.
With Spiegel still holding tight to the reins of power, "their management structure is, for lack of a better word, immature," said Brian Wieser, an analyst at Pivotal Research. "In many cases, individuals are willing to put up with a lot of crap working for people in those positions, if they can compartmentalize it in the context of getting richer. It's a lot harder to separate those issues if you're getting poorer and missing out on opportunity elsewhere."
Snap has seen declining user numbers in the last two quarters. The fourth-quarter earnings report in early February will show whether the company has managed to reverse that trend. The company has faced stiff competition from Facebook, which has overtaken Snapchat among older demographics by copying its core features with its Instagram Stories product.
With more than 180 million users in the prime under-24 demographic, some believe the company can still turn toward stability in 2019.
"Our survey work suggests that there's a lot of teenagers that are still involved every day on the platform. That's really valuable," Thill said. "But they're effectively losing the lugnuts on the wheels, and you've got a shaky back end, and the question is: Is the thing gonna end up in the ditch, or are they gonna get it back on the road?"
Follow me on Twitter: @samaugustdean
---