SoFi CEO steps down abruptly, facing allegations of fostering toxic culture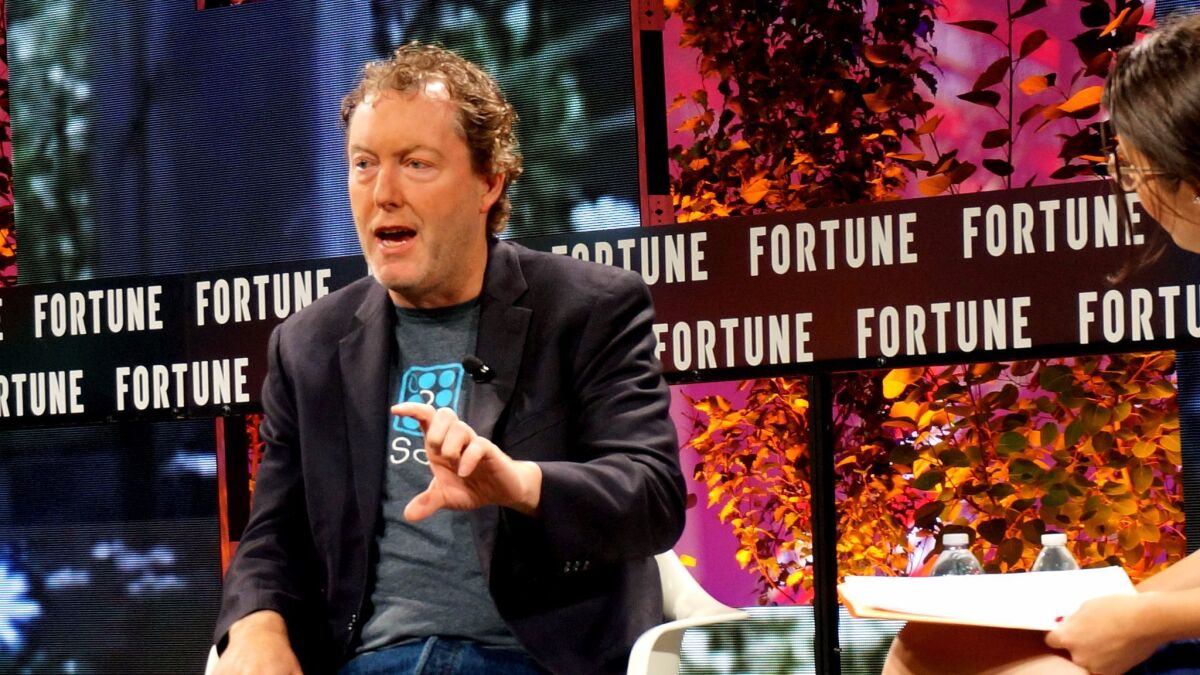 San Francisco —
Mike Cagney, the co-founder and chief executive of financial services start-up SoFi, stepped down Friday amid allegations that he fostered a company culture that enabled sexual harassment.
Tom Hutton, executive chairman of the San Francisco company, will become interim CEO.
"The business is strong, stable and well-positioned," Hutton said in a statement. "For now, there is no more important work than paving the way for future success by building a transparent, respectful and accountable culture."
Cagney, who co-founded the company also known as Social Finance Inc. in 2011, also left the board.
SoFi declined to comment further on the matter, which came following a brutal week for the company.
Cagney had written a memo to SoFi employees on Monday saying, "HR-related litigation and negative press" related to an August lawsuit had become "a distraction from the company's core mission."
In the memo, he announced he was stepping down as chairman but would stay on as chief executive until the end of the year to help find his replacement and facilitate a transition of power.
The following day, the New York Times published a story in which current and former SoFi employees detailed a "frat house" culture at the firm and accused Cagney of flirting with employees and using questionable tactics to grow the company.
In the wake of that story — and amid heightened sensitivity in Silicon Valley around sexual harassment — Cagney's sudden resignation was not surprising.
In June, Uber's co-founder and former CEO Travis Kalanick — who was not personally implicated in sexual harassment allegations but was blamed by former employees for creating a culture that allowed it to happen — initially went on an indefinite leave of absence before being pressured to resign a week later.
The same month, Binary Capital co-founder and investor Justin Caldbeck took a leave of absence after he was accused of sexually harassing female tech entrepreneurs. He resigned days later.
Around the same time, Dave McClure, a general partner at 500 Startups, faced similar allegations of inappropriate advances toward female entrepreneurs. McClure admitted to and apologized for being a "creep" and announced that he would be moving to a limited role at the company. He resigned shortly thereafter.
Although sexual harassment allegations have become a thorn in the side of many tech companies, they could be particularly damaging for SoFi, which is trying to persuade regulators to let it open a bank.
The company offers mortgages and student loan refinancing but wants to expand into providing credit cards and checking accounts. To do that, the company needs regulators to grant it a state bank charter and federal deposit insurance. The allegations of sexual harassment and other problems could be factors in that process.
Bank analyst Bert Ely said regulators will look at, among other things, potential reputational risks at SoFi when deciding whether to sign off on its plans. Getting rid of Cagney could smooth out that process.
"There's the reputation of the institution, and the reputation of the people who run it," he said. "Equifax has a very serious reputation problem, but it's a problem of the company. SoFi seems to have a problem with its now-departed CEO."
Still, the resignation is also likely to mean delays for SoFi's charter and insurance applications, meaning the company may have to hold off on its planned expansion into banking, said Brian Knight, a senior research fellow at George Mason University's Mercatus Center.
"Part of the application is, 'Who is your leadership team, and do regulators feel comfortable that this leadership team can maintain safety and soundness at the bank?" Knight said. "They're going to need to figure who that leadership team will be, and then have regulators look at them."
Cagney's resignation was spurred by a lawsuit filed Aug. 11 by former employee Brandon Charles, who was hired as a manager at the company's office in Healdsburg in Sonoma County.
He alleged SoFi had fired him for trying to report bad practices at the company, including sexual harassment by a manager at the Healdsburg office and the mishandling of loan applications at another office in Salt Lake City.
On Aug. 31, Charles amended the suit to include Cagney as a named defendant, alleging the CEO made sexual comments about female employees and fostered a culture that allowed sexual harassment to continue unabated.
Times staff writer James Rufus Koren contributed to this report.
Twitter: @traceylien
---
UPDATES:
11:15 a.m.: This article was updated with additional details and comments from bank analyst Bert Ely and researcher Brian Knight.
This article was originally published at 7:05 a.m.
---