Trump takes credit for SoftBank CEO's pledge to invest $50 billion in the U.S.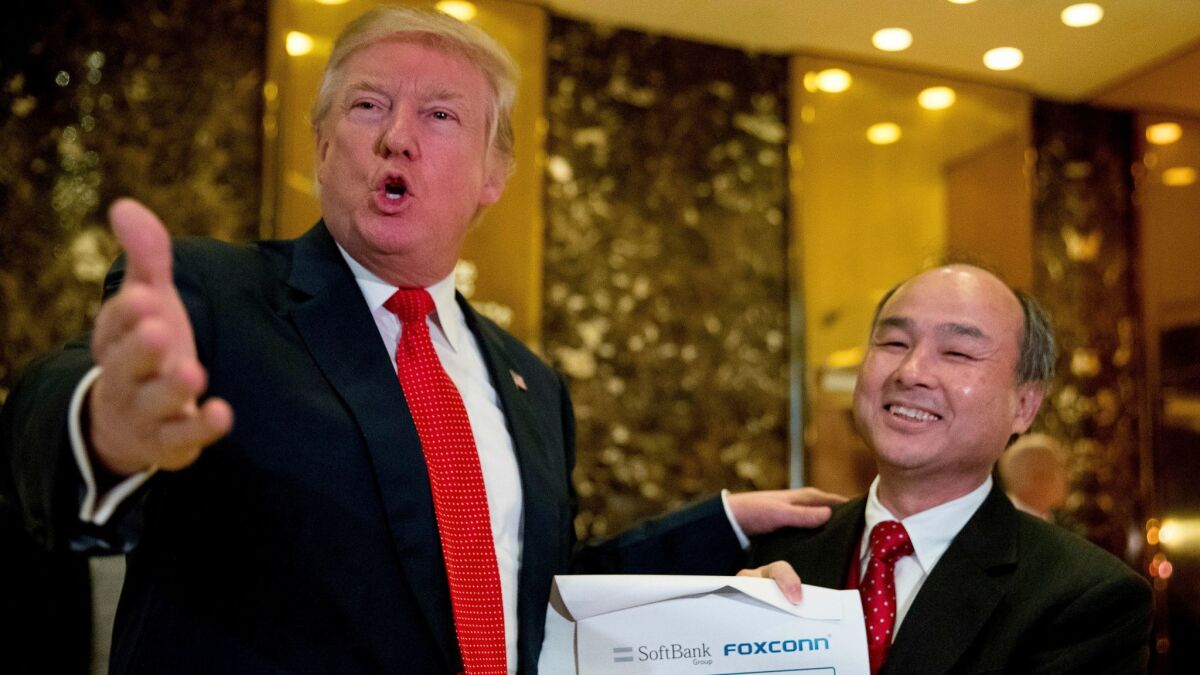 After meeting with President-elect Donald Trump on Tuesday, Japanese tech billionaire Masayoshi Son said he would invest $50 billion in the United States and "commit" to creating 50,000 new jobs over an unspecified time period.
Son is the founder and chief executive of SoftBank, one of Japan's largest technology outfits, which owns the U.S. mobile carrier Sprint. Sprint shares initially spiked after the announcement. Son left Trump Tower in New York after being escorted down the elevator by Trump, who touted the pledge in front of waiting reporters.
The announcement is the latest instance in which Trump appears to be conducting economic policy via ad-hoc deal-making — sometimes taking credit regardless of whether he deserves it. Last week, the president-elect spoke at the Carrier furnace plant in Indianapolis after the company announced plans to keep 800 jobs at the plant instead of outsourcing them to Mexico. Trump quickly claimed he had saved those positions, even though the company is still shifting more than 1,000 jobs from that factory and another Indiana plant to Mexico.
Similarly, the week after the election, Trump tweeted that he had dissuaded Ford Motor Co. from moving a Kentucky factory to Mexico. The claim was a stretch; Ford had no plans to move the plant and had already agreed to keep producing one specific model there, although it did back away from a plan to shift production of the Lincoln MKC, a small SUV, from Louisville to Cuautitlan, Mexico.
Trump quickly took credit for Son's commitment on Tuesday, writing on Twitter: "Masa said he would never do this had [Trump] not won the election!"
"I just came to celebrate his new job," Son said. "I said, 'This is great, the U.S. will become great again.'"
Trump plans to meet with leading tech executives next week, a group that will include venture capitalist Peter Thiel — one of Trump's few supporters in Silicon Valley — and Cisco Systems CEO Chuck Robbins. The job commitments that Trump claims to have produced are symbolically resonant. Still, the economy has generated 2.25 million new jobs in the last 12 months and many economists say that accelerating this pace may be difficult in the long run because of the aging U.S. population.
Financial details about Son's commitment and its time frame remain unclear. SoftBank and T-Mobile did not answer emailed questions. Sprint spokesman Dave Tovar referred questions to SoftBank. Foxconn, a tech manufacturer that makes iPhones for Apple in China, also did not answer questions. Its logo was next to SoftBank's on a piece of paper Son carried.
Sprint has struggled since SoftBank acquired it in 2013. The carrier's attempt to join with rival T-Mobile failed in 2014 after regulators objected to combining two of the four largest mobile telecom companies in the United States. T-Mobile has surpassed Sprint to become the No. 3 carrier, while Sprint has struggled with cost cuts and layoffs. (AT&T and Verizon are the largest wireless carriers.)
Analysts have predicted, however, that a Trump-led Justice Department and Federal Communications Commission would be more likely to allow telecom mergers, including a deal between Sprint and T-Mobile. T-Mobile has 50,000 employees and a stock market value of $46 billion — but the similarities between those numbers and Son's commitment could just be a coincidence.
In October, SoftBank announced that it would establish a $25-billion fund for technology investments that could grow to $100 billion. SoftBank said it signed an agreement with a fund run by the government of Saudi Arabia and other investors.
In addition to Sprint, SoftBank owns Britain's ARM Holdings. ARM is known as an innovator in Internet-connected devices and in technology used in smartphones. It also sells the Pepper human-shaped companion robot for homes and businesses and runs a solar energy business in Japan. The company, founded in 1981, also has within its investment empire financial technology and ride-booking services.
---