Who might buy Yahoo, and what would they gain?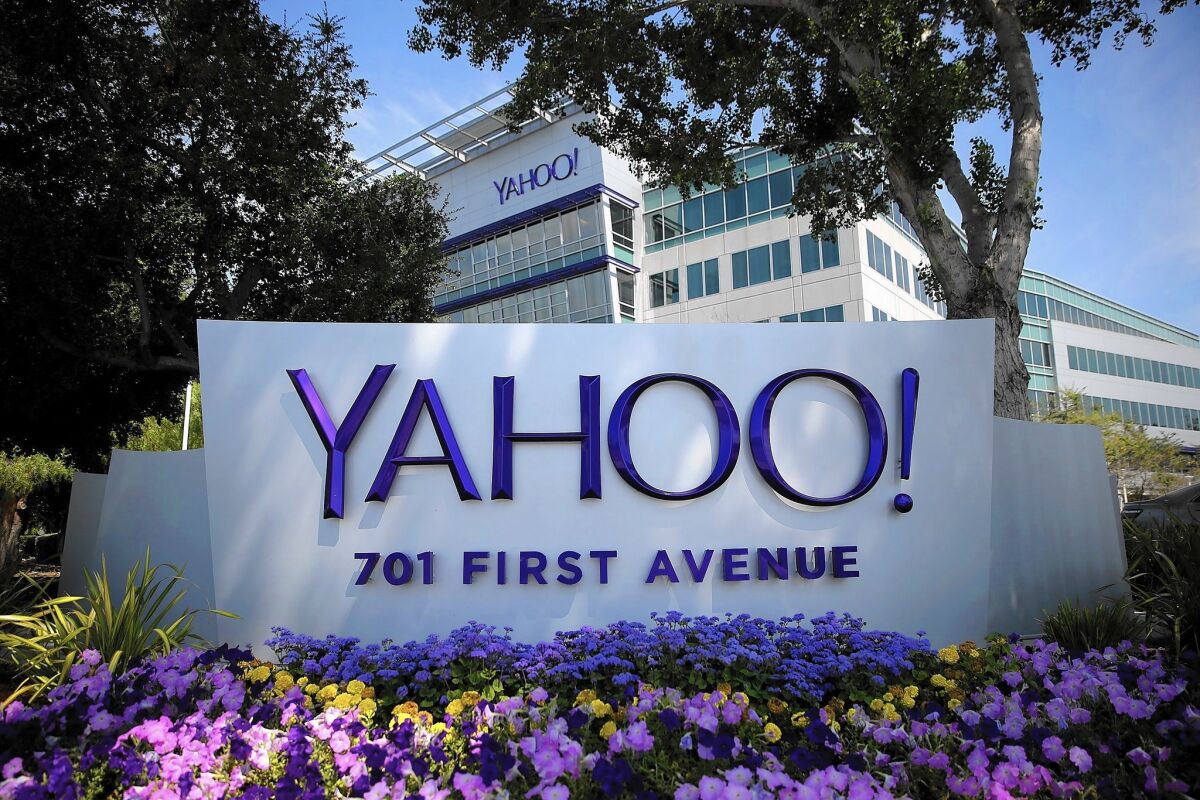 Yahoo's turnaround strategy could turn into a sell-off strategy starting Monday.
After a tumultuous decade that saw the Internet company lose the battle for search to onetime underdog Google, churn through five chief executives plus an interim CEO, and largely miss out on tech's move to mobile, the Sunnyvale, Calif., company sought "strategic alternatives" this year — industry-speak for a buyer.
Bids are due Monday.
A sale would mark an end for a company once considered a giant of the Web, but it's an option investors — who have grown increasingly frustrated with Yahoo's direction — have rallied behind.
Under Chief Executive Marissa Mayer, Yahoo has spent millions trying to be a media and technology company, while doing neither particularly well. Though its websites get nearly 1 billion visitors each month, the company has struggled to attract the big ad dollars its competitors reap. Costly bids at creating original content — including hiring high-profile news anchor Katie Couric on a $10-million-a-year contract — have yet to pay off. After building up a video arm intended to compete with Netflix and YouTube, the company quashed the project and canceled its original programming — a $42-million revival of the TV show "Community" and two comedy shows — after only one season.
Yahoo's failure to spin off its stake in Alibaba — worth $32 billion — only added to investor scrutiny.
Although Mayer has in the past been hesitant to explore a sale, tech analyst Jan Dawson of Jackdaw Research said Yahoo is now clearly in selling mode, affirmed by changes it made to its employees' severance plans this month.
"At this point, the only way Yahoo doesn't get sold is if they insist on a price no one is willing to pay," Dawson said. "But it seems like there's a willingness on all sides to do a deal."
But even if the company overprices itself, Yahoo soon might wind up on the auction block again.
Activist investor Starboard Value last month sought to oust Yahoo's board of directors in a proxy fight, a move that, if successful, would end Mayer's reign. The new board of directors would presumably push to sell immediately. Shareholders are expected to vote on the board members in June.
That is, of course, if the board doesn't choose to sell before then.
So far, at least 40 potential buyers have reportedly looked at Yahoo's books, but analysts say only a handful of names have emerged as serious contenders.
Verizon
The mobile and broadband company is considered the front-runner to buy Yahoo. Aside from having the means to make an acquisition this large, analysts say Yahoo would complement Verizon as it continues to bolster its media efforts.
Last year, Verizon acquired AOL, a former Internet giant that itself had become more of a media company. Last month, it bought a 24.5% stake in AwesomenessTV, a Los Angeles entertainment company known for its digital videos. Yahoo properties such as Yahoo Finance and its online lifestyle magazines could be a valuable addition to the telecom's portfolio, expanding its audience and reach and opening additional revenue opportunities as its pool of new potential mobile and broadband customers dwindles.
The Daily Mail
The British tabloid newspaper and website confirmed it is in talks with private equity firms to consider a bid. Media analysts say it's somewhat out of the blue, but the two companies could be a good fit for each other.
"I think it's an opportunistic move," said Richard Broughton, research director at British data and consulting firm Ampere Analysis. "The U.S. certainly is a market where the Daily Mail group has been doing well, and this could be a springboard for them."
Analysts have noted that Yahoo and the Daily Mail trade in similarly low- to mid-brow, attention-grabbing content and target similar audiences — although those audiences are largely on different continents. A Yahoo acquisition could help Britain's most-visited news website quickly expand its U.S. footprint.
Google
Google's name has come up in media reports as a potential bidder, but analyst Jan Dawson says a Google acquisition seems implausible.
"Why would they want Yahoo?" Dawson said. "Google is an enormously successful company. It does some of the same things Yahoo does. Why would it spend a lot of money to get an inferior version of what it already has?"
There are bits of Yahoo tech from which Google could benefit, such as combining Yahoo-owned photo storage site Flickr with Google Photos. But that would be "a heck of a lot of money and work to add an incremental amount of functionality," Dawson said.
Not to mention the risk of antitrust concerns were it to snatch up Yahoo's email, search or online advertising business.
Microsoft
A Microsoft acquisition also seems unlikely. The tech giant famously tried to buy Yahoo in 2008 for $45 billion; an offer that Yahoo rebuffed.
Eight years later, Dawson doesn't think Yahoo has much that Microsoft would want. The company recently shut down and sold its display advertising business as Chief Executive Satya Nadella pushes the company toward the cloud, artificial intelligence and machine learning.
"Their search technology could potentially be interesting," Dawson said. "But Yahoo uses Bing anyway, so it's just a small slice of additional tech. They'd be buying 99% of stuff they don't want."
MORE: Get our best stories in your Facebook feed >>
IAC/CBS
Media companies IAC and CBS would "make more sense" as bidders, Dawson said, because "if you're already an online content business, Yahoo gives you scale and an audience."
IAC, which has shown a willingness to work with different business models outside of content (it spun off the Match Group last year, which is responsible for online dating apps Match.com and Tinder), could find a creative way to repackage Yahoo's properties for new revenue streams.
CBS, a more traditional media company with websites and a broadcasting network, could leverage Yahoo's size to have a greater online footprint.
But Yahoo also comes with a lot of baggage. If IAC or CBS were to win a bid, they'd have organizing — a task that they might not want to undertake.
Private equity
Private equity firms are rumored to be interested in Yahoo's assets — and if they win Yahoo may wind up being sold off piecemeal.
"Private equity may recognize that an asset like Yahoo has tremendous potential that has not been unlocked yet," said Peter Csathy, chief executive of business consulting and legal services firm Manatt Digital Media. "They'll look for synergies, they'll look at cost reductions. Their job is to find undervalued assets and build those up for an ultimate, significant return on investment."
::
Yahoo by the numbers
1 billion – the number of people who visit Yahoo every month
9,000 – the number of employees Yahoo expects to have by the end of 2016 after it culls 15% of its workforce
$35.33 billion – Yahoo's market cap
$32 billion – The amount of Yahoo's market cap linked to its stake in Alibaba
22 – the number of offices Yahoo has closed since Marissa Mayer joined the company. Another five will close by the end of the year, including those in Milan, Madrid and Mexico City
ALSO
Supreme Court rejects challenge to Google's online library of books
Sport Chalet parent Vestis Retail Group files for Chapter 11
Fitness app Strava faces an uproar over an elite cycling user linked to doping